Tony Ferguson calls out UFC champ Eddie Alvarez and Khabib Nurmagomedov
Tony Ferguson's fight against Lando Vannata didn't start the way he wanted, but it certainly ended the right way.
Ferguson faced the UFC newcomer on short notice after his original opponent Michael Chiesa was forced out of the fight due to injury less than two weeks ago and Vannata stepped up to the challenge and nearly pulled off the massive upset.
Despite being an 8-to-1 underdog, Vannata scored a head kick in the first round that nearly finished Ferguson, but after that near disastrous moment, the No. 3 ranked lightweight came back to finish the fight with a D'arce choke in the second round.
"We were preparing for Michael Chiesa so if anything I was just more prepared for a wrestler and just underestimated his stand up," Ferguson told FOX Sports following the victory. "After just getting hit a couple of times, that's exactly what I wanted and that's the type of fighter I am.
"I battled through it and I took some of his hardest shots and I put fear in his face."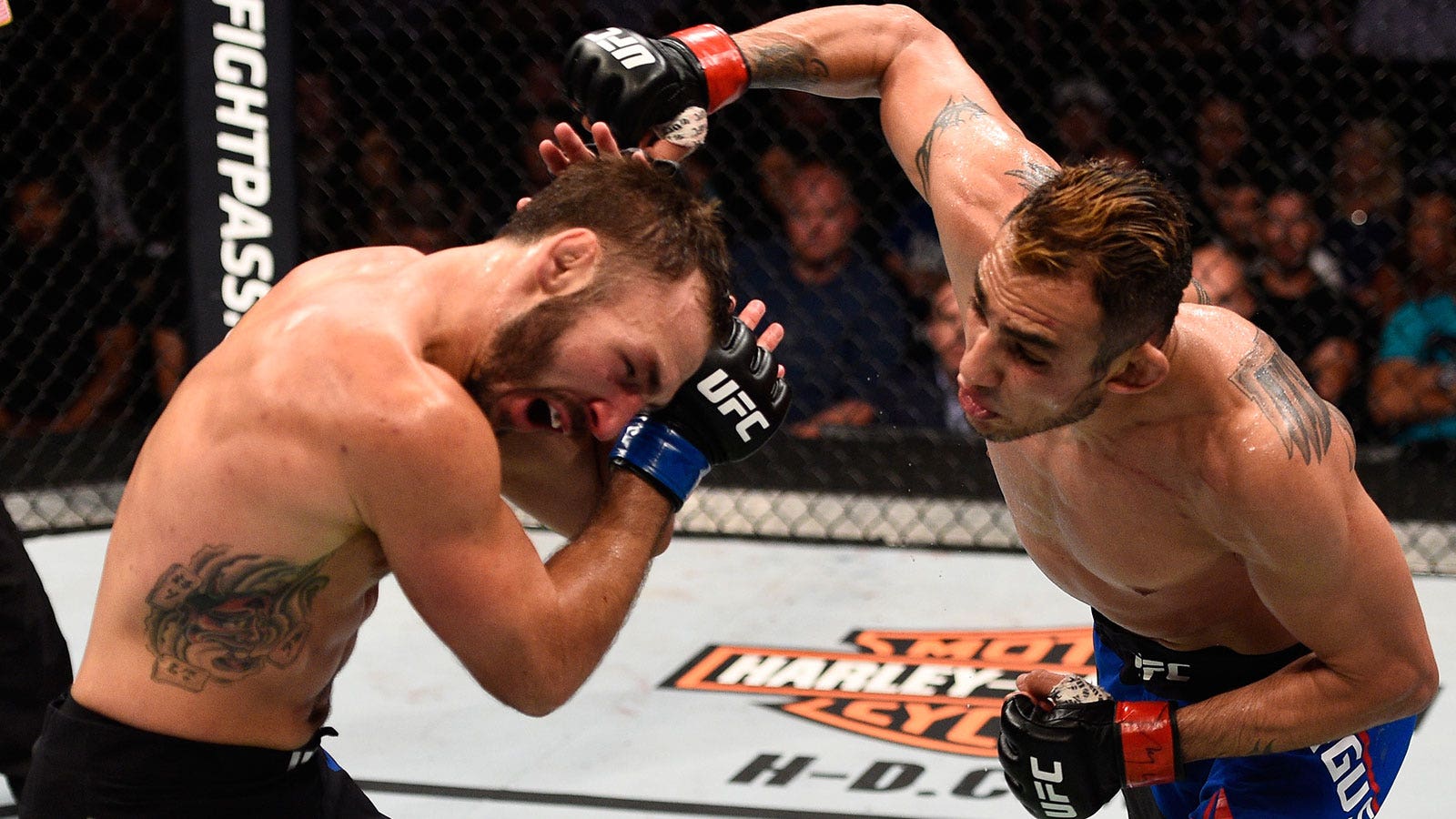 With a potential title shot looming ahead of the fight, Ferguson took a risk by facing a relative unknown in Vannata and it nearly backfired after a first round kick saw the UFC rookie nearly get a stoppage win.
In hindsight, Ferguson says there's no regret in making the decision to compete on Wednesday night because fighters are supposed to fight and the name of the opponent is inconsequential.
"No, I'm not like Khabib (Nurmagomedov), I don't wait two years to go and fight," Ferguson said. "I don't wait six months to go and fight. I wanted to fight. My shelf life is very good and I wanted to make sure that I presented myself in front of Sioux Falls."
The fight played out differently than he expected, but in the end Ferguson still managed to get his eighth win in a row overall and it puts him directly in the path of new lightweight champion Eddie Alvarez.
Ferguson has been knocking on the door of a title shot several times during this recent win streak and he's now aiming directly at the champion if he's willing to step up to the challenge.
"All my performances are right there to put me in title contention," Ferguson said. "This fight was a short notice fight, I know he wasn't ranked but it was a very risky challenge to come in and take this short notice fight against Lando Vannata and props to Jackson-Wink over Albuquerque there. Every single fight is there and I'm ready for it."
If Eddie Alvarez wants to sign on the dotted line or he wants an easy fight, go ahead and fight Conor (McGregor), but I'm a hard type fight and I'm not somebody to joke around with.
— Tony Ferguson
Ferguson also took a shot at Nurmagomedov, who he has twice been matched up to face but injuries stopped both fights from actually happening. Nurmagomedov was observing Ramadan recently and was unable to fight in June, but Ferguson is more than happy to accommodate him for a bout later this year.
"I'd love to get that fight with Khabib and maybe we'll go on "The Ultimate Fighter" show and we'll put on a good show for the fans," Ferguson said.
With eight wins in a row, it's going to be awfully hard to deny Ferguson one of those two matchups for his next fight and now it's just a matter of time to find out who he'll be facing when he returns later this year.