Stephanie McMahon says WWE isn't promoting Brock Lesnar at UFC 200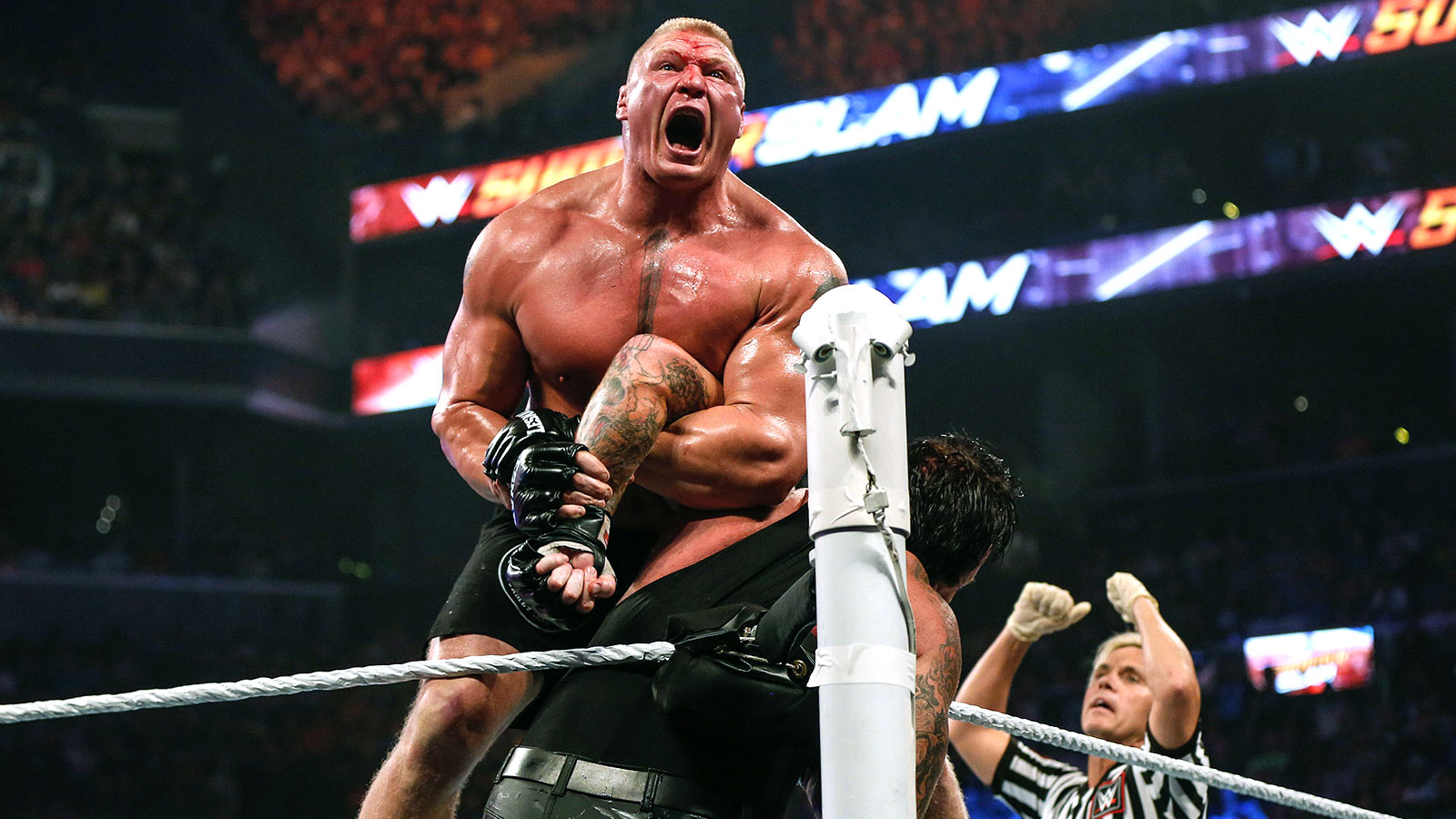 When Brock Lesnar returns to the Octagon on July 9 to face Mark Hunt in the co-main event at UFC 200, he does so with the blessing of his current employers at the WWE.
WWE president Vince McMahon gave Lesnar permission to fight in the UFC despite being under exclusive contract to the promotion and he was very thankful for that opportunity.
In the lead up to the fight, the UFC has touted Lesnar as a "WWE superstar" in promotional videos and commercials for the event, but it doesn't look like the professional wrestling organization will be returning the favor.
Despite a huge presence on social media as well as "Monday Night Raw", which is a top rated cable series for WWE, Lesnar won't be promoted by his employers ahead of his fight next weekend.
"Brock is a unique proposition, but just to get to the broader question: UFC is not a competitor to the WWE because we are entertainment and UFC is competitive sport. It's very different," Stephanie McMahon, chief brand officer for the WWE said in a recent interview with the Business Insider.
In Brock Lesnar's case it was really a special case that we are allowing him to do this fight. But like you said it's not really a cross-promotional opportunity, but we are allowing him to participate in that fight.
— Stephanie McMahon
Many spectators have been curious why Lesnar's presence on WWE programming has been virtually non-existent since the fight with Hunt was announced and now this explains why.
Lesnar was recently announced as the new cover star for the "WWE 2K17" video game, but there hasn't been much else mentioned about him on WWE programming in anticipation of this fight at UFC 200.
McMahon confirmed that WWE isn't really putting any promotional push behind Lesnar for his fight, but his appearance in the UFC will certainly serve as a unique opportunity to bring more eyeballs back to the professional wrestling organization in the end.
"We are not supporting the fight necessarily but, again, it's not a competitor to us and the more that our superstars, that's how we refer to our talent, the more they do outside of WWE, the more awareness it generates and the broader the audience can be that is then brought back into our properties. So we recognize the value of that," McMahon said.
McMahon also explained why the two properties are so different despite sharing many similarities in terms of athletic prowess and over the top personalities serving as stars.
McMahon says because the UFC is ultimately based upon performance, a star can fall back to Earth in a hurry after just one loss. But that's not the case with WWE. It's part of the reason why she doesn't look at the UFC as a direct competitor to the WWE product or vice versa in terms of the WWE stealing eyes away from the UFC.
"WWE is all about protagonists and antagonists where ultimately our conflicts are settled in the ring with action that is akin to Hollywood. It's incredible stunt-like action and the match itself tells a story, but our audience is engaged in the characters and their storyline. It has to be relatable to them so that they care to see the tragedy or triumph and we're at an advantage because we can script it," McMahon said.
"UFC, they can make a big star but the second that person loses, they lose credibility, and how do you continue to make that star rise? So I think we have the best of both worlds and the opportunity to tell the stories in the way we want to tell them."