UFC Sao Paulo: What to Make of Ryan Bader Fighting Out Contract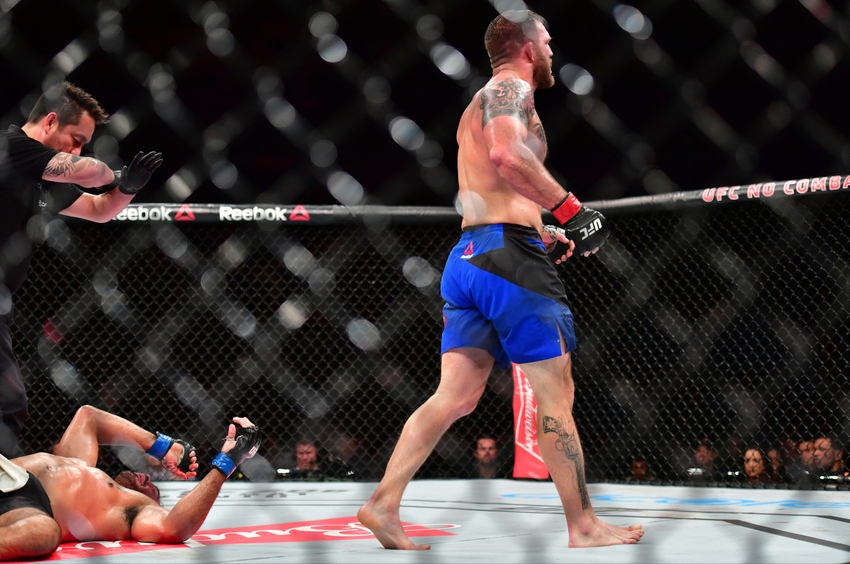 Welcome to the new UFC, where money talks, spectacle trumps sport, and fighters are more aware of their worth than ever. Call it the Conor McGregor effect, call it a long overdue awakening, but more than ever, mixed martial artists are hip to the business side of the game.
For a prime example, look no further than Ryan "Darth" Bader, a 20-fight veteran of the Octagon who was victorious in his light heavyweight headliner this past Saturday night at UFC Sao Paulo. Finishing the legendary Little Nog, Antônio Rogério Nogueira, in the third round of their marquee matchup, Bader produced his seventh win in his past eight trips to the cage.
He also re-established himself as a title contender in a division enduring an absolute drought of notable names in position for a shot at the belt. After all, outside of champ Daniel Cormier and the next man at the plate, Anthony Johnson, you have a hodge-podge of fighters injured (Alexander Gustafsson), suspended (Jon Jones), coming off a loss (Glover Teixeira, Ovince St. Preux), or lacking in star power (Nikita Krylov, Jimi Manuwa).
Then you have Bader, who is at least notable enough to headline Fight Night cards, and who has been in the spotlight since losing out on a title shot to Jon Jones way back in 2011.
This should make Bader a highly sought-after prospect in the 205-pound division that has already seen Bellator scoop up names like Tito Ortiz, Rampage Jackson, Wanderlei Silva, and Phil Davis. While the first three could be said to be past their prime without raising many eyebrows, the latter is a prime example of a perennial top-five light heavyweight talent jumping ship, and finding success, with the UFC's biggest rival.
The fact that Bader, who has more light heavyweight appearances in the cage than any other active fighter, opted to fight out his contract is telling, and may just be a sign of things to come. Speaking at the UFC post-fight press conference following the event in Sao Paulo, Bader stated that "I love the UFC and I love fighting in the UFC. Gotta make sense, though."
Want your voice heard? Join the Cage Pages team!
That's just it — fighters these days are realizing that any deal has to make sense. Fighting for peanuts simply because you're on a bigger stage, in an era where sponsorships no longer exist outside of Reebok, is pointless. In the past, a fighter might have accepted lower pay from the promotion knowing that the UFC platform allowed them larger opportunities elsewhere.
That reality has changed. Which is why the likes of Phil Davis and Benson Henderson are no longer with the promotion. It's too soon to tell if Bader will be the next name in that trend, and there's a good chance he won't be, but even going to the point of fighting out a contract is pretty uncommon for a top-five fighter.
Regardless, free agency is a bigger factor than ever in MMA, and Bader's name will be far from the last to test the waters as more and more fighters re-evaluate their worth in the grand scheme of the fight game. In the meantime, the UFC must act quickly to re-sign him, or risk losing one of the only viable contenders it has left in the weight class.
This article originally appeared on