UFC Sao Paulo: Thomas Almeida is Still Bantamweight's Future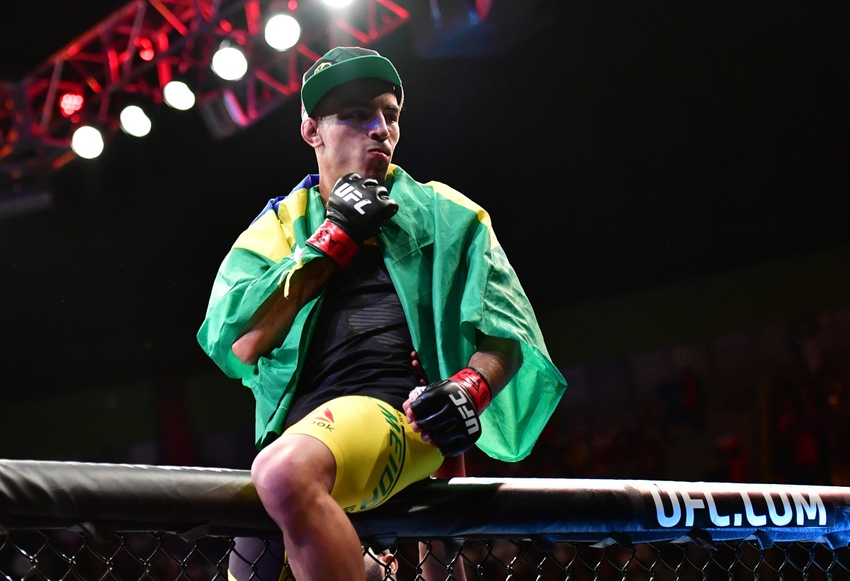 Despite a brutal setback to Cody Garbrandt last May, Thomas Almeida is still showing the promise that he is the violent and exciting future of the UFC bantamweight division.
Thomas Almeida showed the world that he is still one of the most dangerous fighters at 135-pounds with a relentless TKO over Albert Morales this saturday at UFC Sao Paulo. At just 25 years old, Thomas Almeida is one of the most exciting fighters to watch in the entire sport.
In Thomas Almeida's 23 fights, he has only gone the distance once, which was unanimous decision victory in his UFC debut against Tim Gorman. In every fight outside of his loss to Cody Garbrandt, Almeida has won a post fight bonus, four Performance of the Night awards and one Fight of the Night in his promotional debut.
Despite all his accomplishments, Thomas Almeida has been plagued throughout his career by being slow out of the gate, which was ultimately his downfall to Cody Garbrandt. Almeida simply could not mount any offense against Garbrandt, whose explosive hands made Almeida pay.
Another example was in his fight against Brad Pickett at UFC 189, Almeida again was stunned early and often, likely one big shot away from being finished. Yet just 29 seconds into the second round, Almeida let loose with a flying knee that was shown on highlight reels for months to come.
Once Almeida gets past his sluggish starts he is one of the most brutal and vicious fighters on the roster. His finishes are the result of relentless pressure, chasing opponents down until the referee can't stand to watch it continue.
Inside the Octagon, Almeida has landed 50-percent (250-501) of his attempted strikes according to his UFC.com profile. Dominick Cruz has landed 32-percent, TJ Dillashaw 40-percent, John Lineker 39-percent, and Cody Garbrandt 38-percent to put that into perspective.
Want your voice heard? Join the Cage Pages team!
With 21 finishes in 22 wins, 17 wins by KO, four by submission, Almeida's numbers are nearly unprecedented to see with that many fights.
With Almeida victorious in his tune up fight last saturday, what could possibly be next for the 25 year old? A few of the possible match ups are certainly worth getting excited about. The opponents are most likely John Dodson, Michael McDonald, and Johnny Eduardo.
If I'm the one making the matches, the Dodson fight is a no brainer. Both deserve a top 15 opponent and even the idea of the matchup will be enough to get fans excited. A victory over any of the three, especially in typical Almeida fashion, will put bantamweight on notice once again. A loss, however, and a lot more work would need to be done.
The future is bright for Almeida, but he can't be slow out of the gates anymore, he needs to make his moves now if he wants the future to stay bright. Can the young Thomas Almeida finally piece everything together and take the bantamweight division by storm like he seemed to be destined to just a few months ago? Only time will tell.
This article originally appeared on