UFC Sao Paulo: Claudia Gadelha Begins Journey Back to Title Contention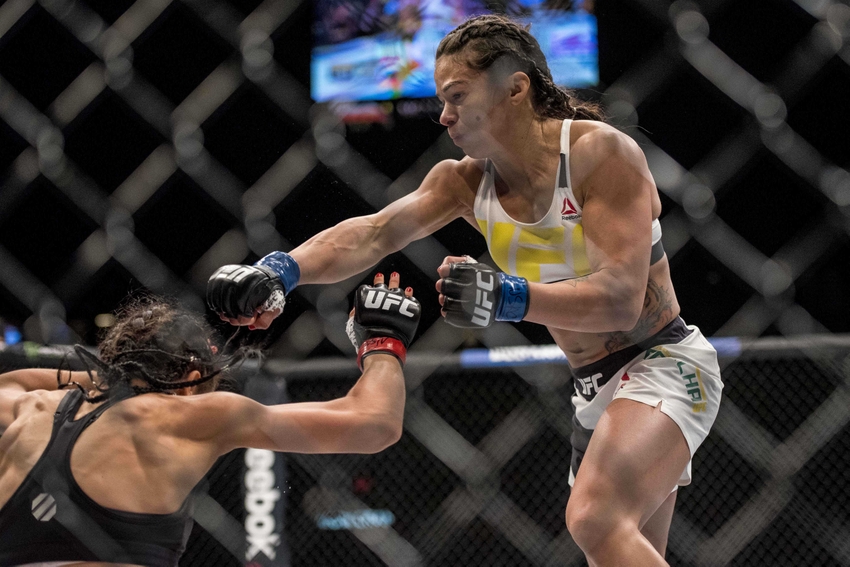 Former UFC strawweight title contender may be the consensus best fighter aside from the champion in the division, but she is far from another shot.
Consider Claudia Gadelha to be a fighter down, but not out. Far from it. Yet when she enters the Octagon tomorrow night in Sao Paulo, Brazil, she'll be further from the title than ever. Gadelha has twice faced Joanna Jedrzejczyk, and lost on both occasions. The second time, the loss came with the UFC women's strawweight title on the line. That makes a third bout between the two seem unthinkable at the moment.
Still, the title remains the goal for a fighter of Gadelha's caliber. There is really no other option. She's far too high level to be a gatekeeper, and remains one of the top names in the division. Thus, she has no choice but to return to action, even if it's against the far less notable Cortney Casey at UFC Fight Night 100.
The goal is simple: Beat Casey. From there, hope that a win will lead to bigger things. This is not a given though, a win over her unheralded opponent will not immediately drop Gadelha back into the mix.
That's the problem with losing to the established champ twice. Nor does it help that a higher profile opponent could not be secured. According to Gadelha, both Carla Esparza and Tecia Torres were high up on her wish list, but both declined to meet her for the bout. Those names might have streamlined a push back to the top for Gadelha, who remains ranked first overall Cage Pages' strawweight rankings.
Casey, on the other hand, will simply be a stepping stone, should Gadelha secure the victory. In the meantime, the bruising Jessica Andrade, having impressed since dropping down from bantamweight, may find herself getting the nod to meet Joanna Champion next. Gadelha will remain a fighter on the outside looking in.
If you're Gadelha, there is still reason for hope. The Brazilian contender is far too talented to be out of the title picture for long. Following Jedrzejczyk's victory over Karolina Kowalkiewicz at UFC 205, UFC President Dana White floated the idea of pairing up the two former title challengers. With a win over Casey, that would likely be the next fight to make.
Timing is key in matchmaking, and that sort of booking would allow a title fight with Andrade (or another possible challenger should one emerge) to play out. The winner of Gadelha vs. Kowalkiewicz would then be waiting in the wings.
For Gadelha, however, everything starts anew Saturday night in Sao Paulo. The march back to contention begins. Having lost to Jedrzejczyk, she'll need some impressive performances to justify a second title shot. A statement victory on Saturday would be a good start.
This article originally appeared on