UFC Sacramento: Paige VanZant Meets Michelle Waterson in Main Event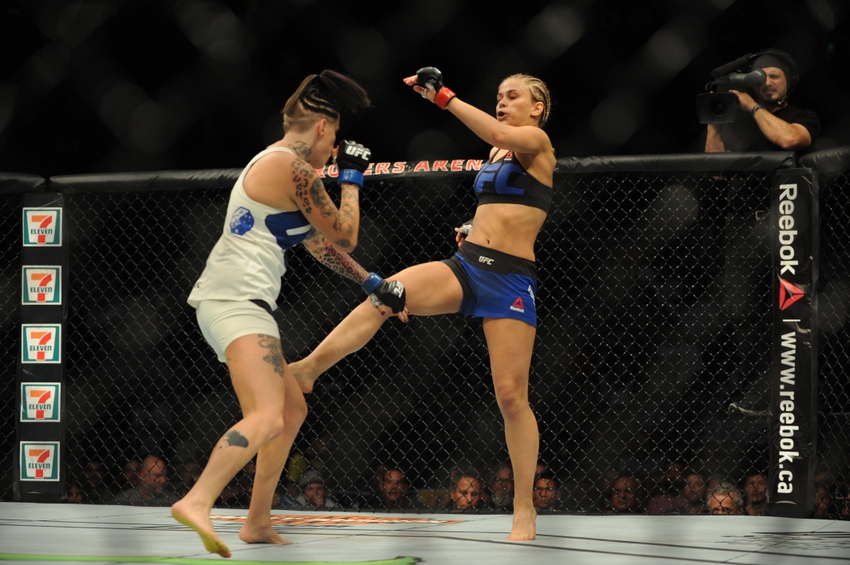 UFC Sacramento's main event will be a huge test for Paige VanZant in her second headliner, when she takes on former Invicta Champion Michelle Waterson.
The bout was officially announced on UFC Tonight.
Paige VanZant is coming off an incredible jumping switch-kick knockout over Bec Rawlings and will put that striking to the test against the dangerous former atomweight Michelle Waterson. Waterson has not fought since her promotional debut last July, pulling out of two fights with injuries in that timeframe.
Paige VanZant is currently ranked ninth in the strawweight division according to Cage Pages with an impressive 4-1 record in the Octagon. Some have accused matchmaker Sean Shelby of protecting her from the upper-echelon of talent at 115. However, the 22-year-old Dancing with the Stars finalist has been matched up with Joanne Calderwood, Rose Namajunas, and now Michelle Waterson.
Michelle Waterson garnered plenty of hype during her time in Invicta. "The Karate Hottie" was the atomweight champion, winning the title in an incredible battle with Jessica Penne. The Jackson-Wink fighter soundly defeated Angela Magana in her Octagon debut, but has since pulled out of bouts with Tecia Torres and Aisling Daly (who also pulled out).
Paige VanZant's typically clinch-first approach (aside from her last fight) might play into Waterson's excellent ground game. Waterson has won eight of her 13 career victories by submission.
For the second time, Paige VanZant will be joined by fellow young blonde Sage Northcutt.
Northcutt will settle his score with Mickey Gall in their highly anticipated bout. Gall of course called out Super Sage after dominating CM Punk on the main card of UFC 203. Northcutt obliged and trashed talked Gall by saying, "he could use some hair gel."
The young star showcase will take place on December 17 in the Golden 1 Center of Sacramento, California, on big FOX. The VanZant-Waterson, and Gall-Northcutt bouts are the only ones announced at this time.
This article originally appeared on