UFC's Woodley thought he couldn'€™t lose, but defeat helped put him on the right path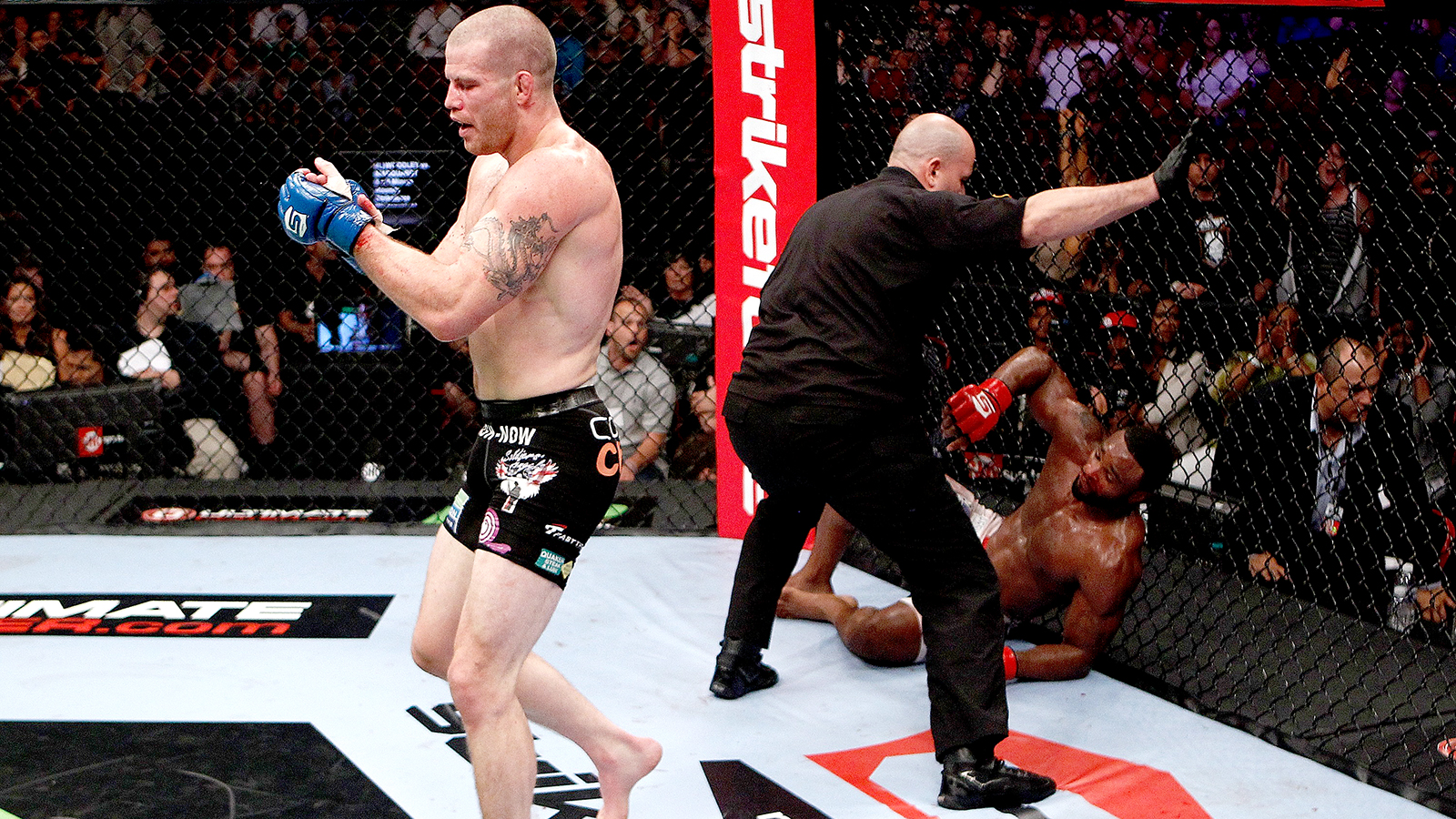 Tyron Woodley was undefeated and exceptionally athletic with a Division I wrestling All-American pedigree. Many people felt he was the chosen one, the next big star in mixed martial arts.
The only problem was he believed that, too. Woodley would show up to Strikeforce events wearing shirts with the slogan "I Got Next." Winning the organization's welterweight title, he thought, was a foregone conclusion.
"I felt like I was the uncrowned champion of Strikeforce," Woodley told FOX Sports. … "[I thought], there's no way I'm gonna lose."
Except he did. In devastating fashion. UFC veteran Nate Marquardt viciously knocked him out in the fourth round of their championship fight July 14, 2012. Woodley's once soaring stock plateaued. He absolutely could not believe it.
"I was so shocked," Woodley said. "I was so confused that could ever happen. I realized I wasn'€™t fighting for myself — I was fighting for my wife, my kid, my gym. I wasn't fighting for Tyron."
I was so confused that could ever happen. I realized I wasn'€™t fighting for myself — I was fighting for my wife, my kid, my gym. I wasn't fighting for Tyron.
Sometimes, in sports, you have to lose before you can really learn how to win. Woodley pulled himself together after that fight and got back to training and fighting because he enjoyed. Not because he needed to in order to support his family.
"It's a domino effect," Woodley explained. "If I fight for myself — my goal — everyone else is gonna benefit."
He'll take that mindset into UFC 171 on Saturday in Dallas. Across the cage from him will be Carlos Condit, the former UFC interim welterweight champion. Most people believe if Condit wins he'll get the next shot at the title. The way Woodley, 31, figures it, if he wins he should be the No. 1 contender, too.
"It's the biggest fight of my career," Woodley said. "It's to be No. 1 contender against [my] toughest opponent and it's not like he's out of his prime. He's actually younger than me."
After the Marquardt loss, Woodley (12-2) debuted in the UFC with a bang, a crushing knockout of veteran Jay Hieron in jus 36 seconds. His second UFC bout wasn't nearly as exciting. He lost a close split decision with Jake Shields last June that many people thought he won.
Then there was the bout that earned him this opportunity against Condit (29-7). Woodley destroyed Josh Koscheck by first-round knockout, earning him Knockout of the Night honors. It was kind of like a passing of the torch. Koscheck is like an older version of Woodley — a college wrestler who developed big power in his hands as an MMA fighter.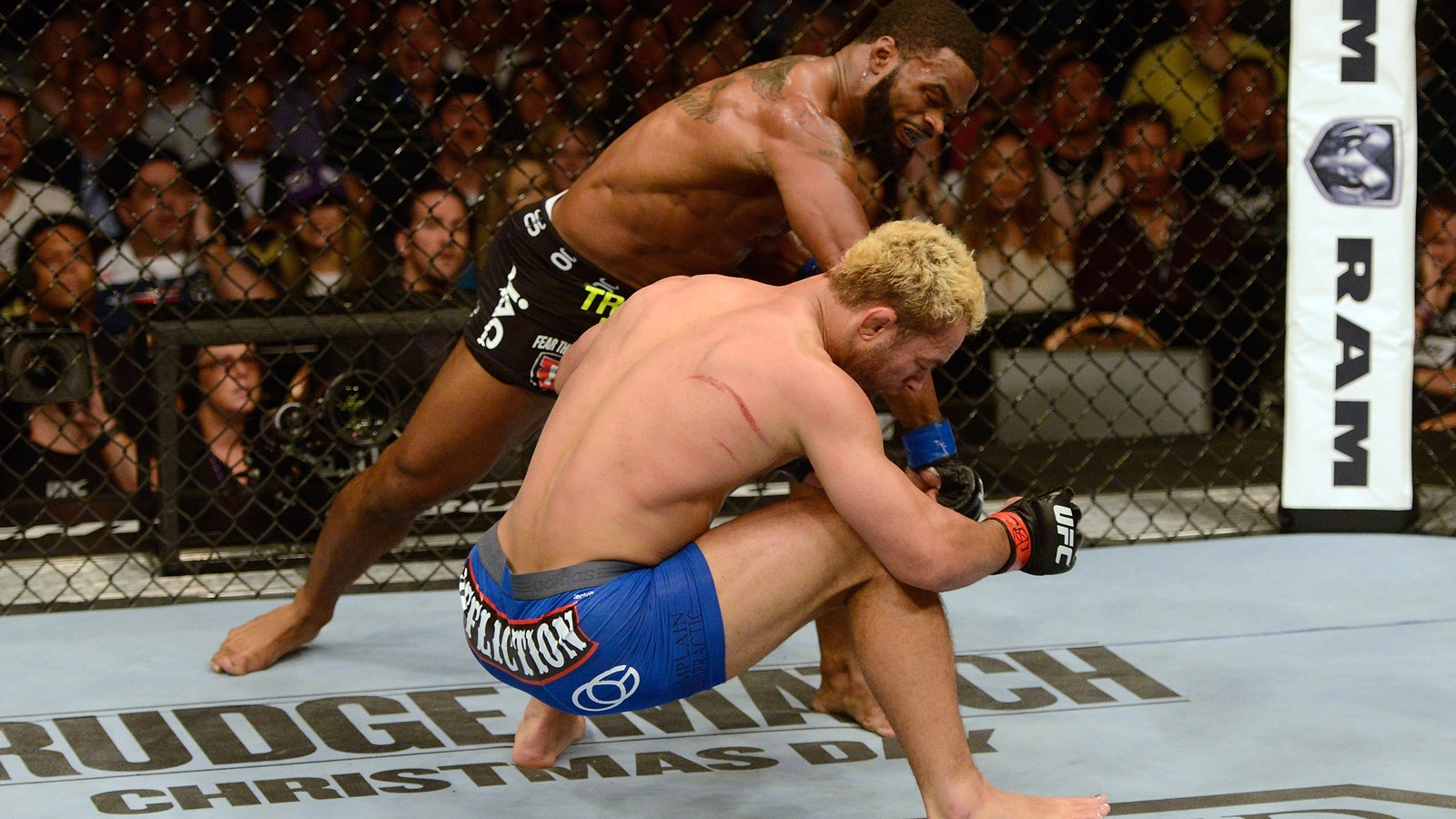 Woodley says he trains his striking "85 percent" of the time. He's so confident in his stand up that he sees that more as his base now than wrestling, though he promises to mix it up against the very versatile, technical Condit.
"I don'€™t have to use my wrestling unless I really want to," Woodley said. "I have that in my back pocket."
The skill set is certainly there for Woodley to make a run at welterweight in the post-Georges St-Pierre era. But he's only No. 11 in the UFC contender rankings, calling into question his credentials for a title shot even if he beats Condit. Woodley isn't worried about what the critics are saying.
"Who cares?" Woodley said. "When I beat Carlos Condit, I'm gonna be fighting for the title. Everyone else can have the numeral next to their names, I'll take the letter C."
That sounds like something the Strikeforce "I Got Next" Woodley would say. But he promises he's a changed man now.
"It's a marathon, it's not a sprint," Woodley said. "I got there quickly the first time. Mentally, I thought I was ready for it. It's a big response to hold that weight. It takes a lot of maturity. I think I'm a little bit wiser, a little more mature right now."