UFC Phoenix: Jussier Formiga to Meet Sergio Pettis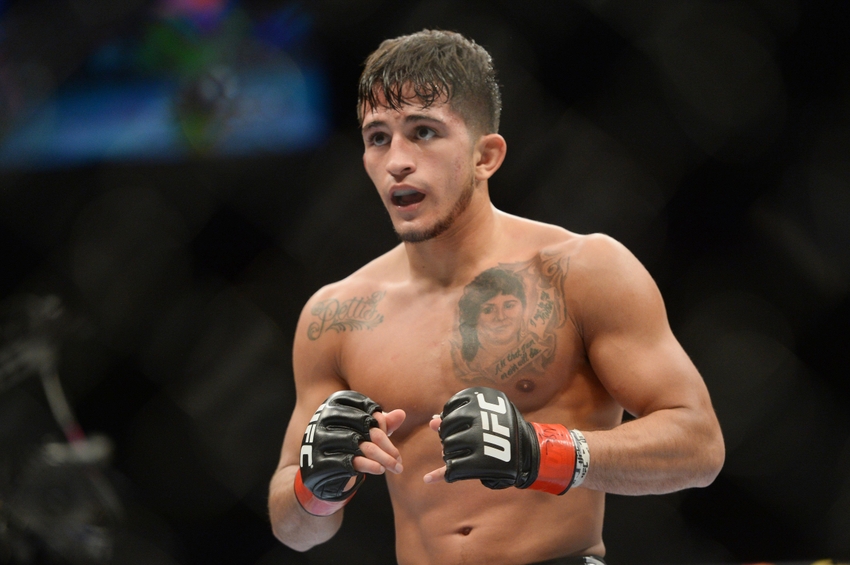 Sometimes an injury can lead to big things in the world of MMA. For UFC flyweight Sergio Pettis that meant pulling out of a fight against now #12 ranked Louis Smolka and getting a fight vs #3 Jussier Formiga.
Pettis will take on Formiga at UFC Fight Night 103 in Phoenix, Arizona, on January 15, 2017, at Talking Stick Resort Arena, according to Guilherme Cruz.
Pettis is the younger brother of former lightweight champion and current #6 featherweight contender Anthony Pettis. Sergio Pettis was able to resist the temptation of taking on higher-level competition, because of his brother's influence, and has worked his way up the ladder in the flyweight division.
Jussier Formiga is coming off a win over Dustin Ortiz in September following a loss to former title challenger Henry Cejudo. Formiga dominated the wrestling-based Ortiz in Brazil using a dominant jiu-jitsu based approach for a unanimous decision.
Sergio Pettis (14-2) is riding a two-fight win streak with wins over Chris Cariaso and Chris Kelades into Phoenix to take on the toughest test of his young career. Prior to that, he suffered an upset defeat at the hands of Ryan Benoit.
Jussier Formiga's (19-4) win over Ortiz brings his record to 4-1 in his last five fights. His victories include Scott Jorgensen, Wilson Reis, and Zach Makovsky. Formiga seems to lose only to the best of the best, with the only defeats in his 23 fight career coming to Ian McCall, John Dodson, Joseph Benavidez, and Henry Cejudo.
The card has not been completed as of yet, but here are the fights announced thus far:
Court McGee vs. Ben Saunders
Erik Koch vs. Tony Martin
Devin Powell vs. Jordan Rinaldi
Viktor Pesta vs. Damian Grabowski
Cyril Asker vs. Dmitri Smoliakov
Joachim Christensen vs. Bojan Mihajlovic
This article originally appeared on