Nick Diaz accuses Georges St-Pierre of cheating, lobbies for rematch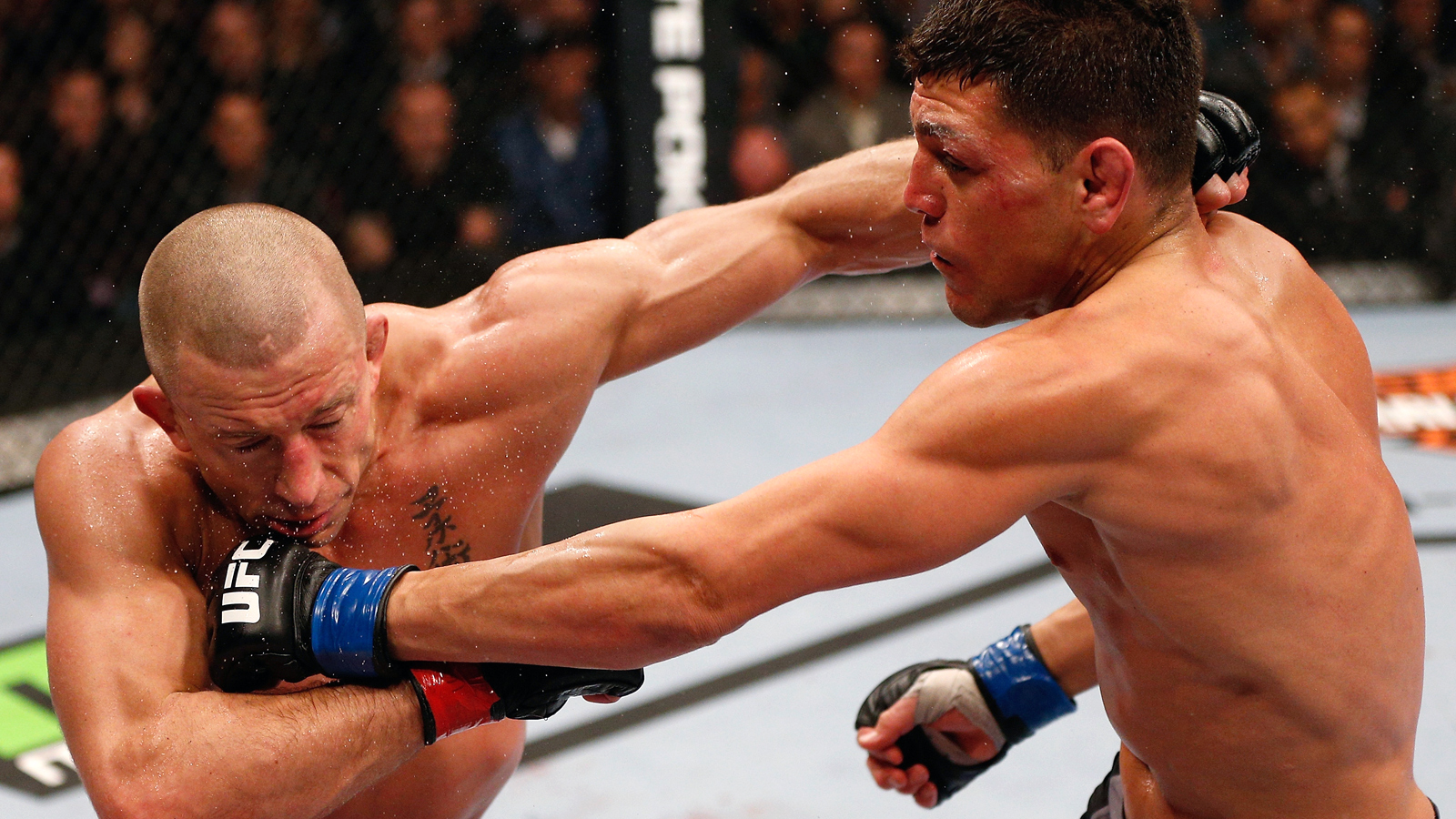 More than two years after they faced off at UFC 158, Nick Diaz is still lobbing steroid accusations at Georges St-Pierre and now is stating that the former welterweight champion failed to make weight for their fight in 2013.
Diaz exploded in an unprovoked rant about St-Pierre while appearing on Chael Sonnen's latest podcast after addressing his brother Nate Diaz and a fight he had with Benson Henderson in 2012.
Diaz stated that at the time of the fight he believed Henderson was on steroids, as he believes most fighters are using something illegal to get ahead, before unleashing a tirade aimed directly at St-Pierre.
"I'm actually pretty impressed with that guy (Benson Henderson). Fighting at 170 and everything like that, that's pretty crazy. At first I wanted to just go 'This guy has gotta be on steroids.' I'm pretty convinced about everybody is on steroids. I mean everybody," Diaz said. "Me and my brother, I don't think Frankie's (Edgar) on steroids, but these guys, a lot of them they're on steroids. That stuff messes with chemicals in your head. I'm just talking s–t on everybody right now cause as far as I'm concerned, everybody's on steroids.
"Georges St-Pierre was on steroids when I fought him."
Diaz's accusations go back to the drug testing conducted for the fight, which he believes was substandard at best — handled by the Quebec Athletic Commission, who oversaw the regulation for the bout held in Montreal.
Diaz essentially confessed to his own wrongdoing for smoking marijuana leading up to the fight (and did so in 2013 as well), but he says the fact that he didn't return a positive test is only further proof that the commission didn't actually test him or St-Pierre at the fight.
He believes that St-Pierre cheated and owes him a rematch for fighting on banned substances the last time they met.
"They didn't test us because I would have tested positive for sure. I thought it was my last fight ever. What do I care? It's like almost asking too much to win and not give away that fine. I'm like what do I care about the fine?" Diaz said.
"That dude needs to come back and give me another fight as far as I'm concerned. As long as I can fight. They did not test him for steroids for that fight. They did not test us."
Diaz explained his rationale by saying that the way the drug testing was conducted that night was not on par with similar tests he took in the United States.
"I pissed into like a film case, like an old-school roll of film, I literally pissed into a film case and they popped the top and put a piece of Scotch tape over it and wrote my f–king name on it and set it in the little box with everybody's specimen, everybody's piss right there, little film cases," Diaz said.
"When I was fighting in California, the whole WADA (World Anti-Doping Agency) thing comes in or whatever and they give you this little case and they pour the piss into that case and they twist it and lock it up somehow. So you can't open it. They have to put it in a machine that opens it. So you can open it. They say 'Here, try to open that' and then they slice like three parts in the tape and they put it over the top so you can't peel that off or change the names or do anything like that. They didn't test nobody for no steroids. They didn't test nobody for any smoking weed out there in Canada."
The Quebec Commission did release drug test results at the time of UFC 158 while stating that six fighters were tested for the event, but would not say which fighters were actually tested. For his part, St-Pierre has never tested positive for any banned substance at any point in his professional career and has actually lobbied for stricter drug-testing standards in the sport for several years.
Diaz's other accusation aimed at St-Pierre came down to the weigh-ins where he says the former welterweight champion came in heavy for their championship fight.
Now there were documented issues on the day of the weigh-ins after Diaz was told that the fighters didn't have to be on exact weight for the championship fight.
According to the unified rules of mixed martial arts, fighters in championship bouts are required to come in exactly on point or under the required weight for the division, which in this case would have been 170 pounds. On the day of the weigh-ins, Diaz was told that the fighters could actually weigh anywhere between 170 and 170.9 pounds and the overage up to 9/10th's of a pound wouldn't be counted.
"During UFC 158, no contestants exceeded the weight determined in their contracts," a representative from the Quebec commission said at the time.
"Currently, (the commission) does take into consideration the maximum weight determined by contract when it carries out the weigh-ins before a bout. However, our regulation on combat sports does not take decimals into account. Their consideration is a question of interpretation likely to be debated between the two parties under contract."
Diaz now says that he believes St-Pierre came in well over the 170-pound weight limit and that's only further cause for the two fighters to engage in a rematch.
"He missed weight by three pounds or more when I fought him. It's like one-pound allowance, it's not even a one-pound allowance during a title fight. That fight shouldn't have been a title fight and I should have gotten an immediate rematch," Diaz said.
"He missed f—ing weight. He f—ing missed weight. He didn't make weight. How is that not news? That's why they wanted that fight over there (in Canada). So he could f—ing cheat. I would have knocked that motherf—er out. He was not as good as me. There's no way that guy's as good as I am. There's f—ing no way. He held on the whole fight. In PRIDE FC and real rules, in real fights, you f—ing didn't fight the whole fight. I'm over here trying to fight. Neither of us are fighting, you're f—ing holding onto my leg, holding onto me around the waist the whole fight and any time you're not, you're getting punched up."
Diaz finished up his rant on St-Pierre by doubling down on the fact that he should get a rematch because he believes the former champion missed weight and shown preferential treatment while fighting at home in Canada.
"He didn't have to make weight. I should get another fight just by default on account of him being three pounds over," Diaz said.
"Then I really f—ed up by not walking up to the scale and looking at really how much over he was. He could have been seven pounds over. I don't f—ing know. They're in Canada and it's their beloved Georges St-Pierre. That's what happened there."