Miesha Tate wants to defend title before Rousey returns in November
Miesha Tate didn't get to celebrate her title fight win over Holly Holm at UFC 196 for very long before questions about a potential trilogy with Ronda Rousey started.
Rousey has been declared the No. 1 contender for the belt by UFC president Dana White and he's already said that's the next fight that's likely to happen with the women's bantamweight title up for grabs.
Unfortunately, Rousey is not likely to return to action until October or November and Tate wants to be an active champion who defends the belt as often as possible. So sitting and waiting until almost the end of the year isn't as appealing as fighting on a card like UFC 200 in July.
"I've been kind of tossing around the idea if it would be possible to fight at UFC 200," Tate told media gathered in Australia (video courtesy of Submission Radio). "That would be awesome, but I really have no idea what the UFC has in mind for that. I think they already have a couple title fights, so it may not be realistic.
"I'll stay ready if that's something that becomes an option or available, then great. If not, then we'll just see what's next."
Tate just sat out seven months while waiting to face Holm at UFC 196 and ideally she'd rather not sit out for another long stretch waiting for Rousey.
Then again, Tate has done it before and if that's what the UFC wants, she'd do it again — it's just not her preference.
"I think it's a long time to wait, but I've had eight-month layoffs before," Tate said. "The last fight I had was already end of July. I've waited that long before. It's not a strange thing for me to do, but ideally I think I'd like to fight one more time before."
Tate hasn't settled on Rousey as her opponent just yet either because no official offer has been made from the UFC.
Until that happens, Tate is keeping her eye on every potential opponent at the top of the women's division because since she won the title everyone from Amanda Nunes to Cat Zingano has been calling for a shot.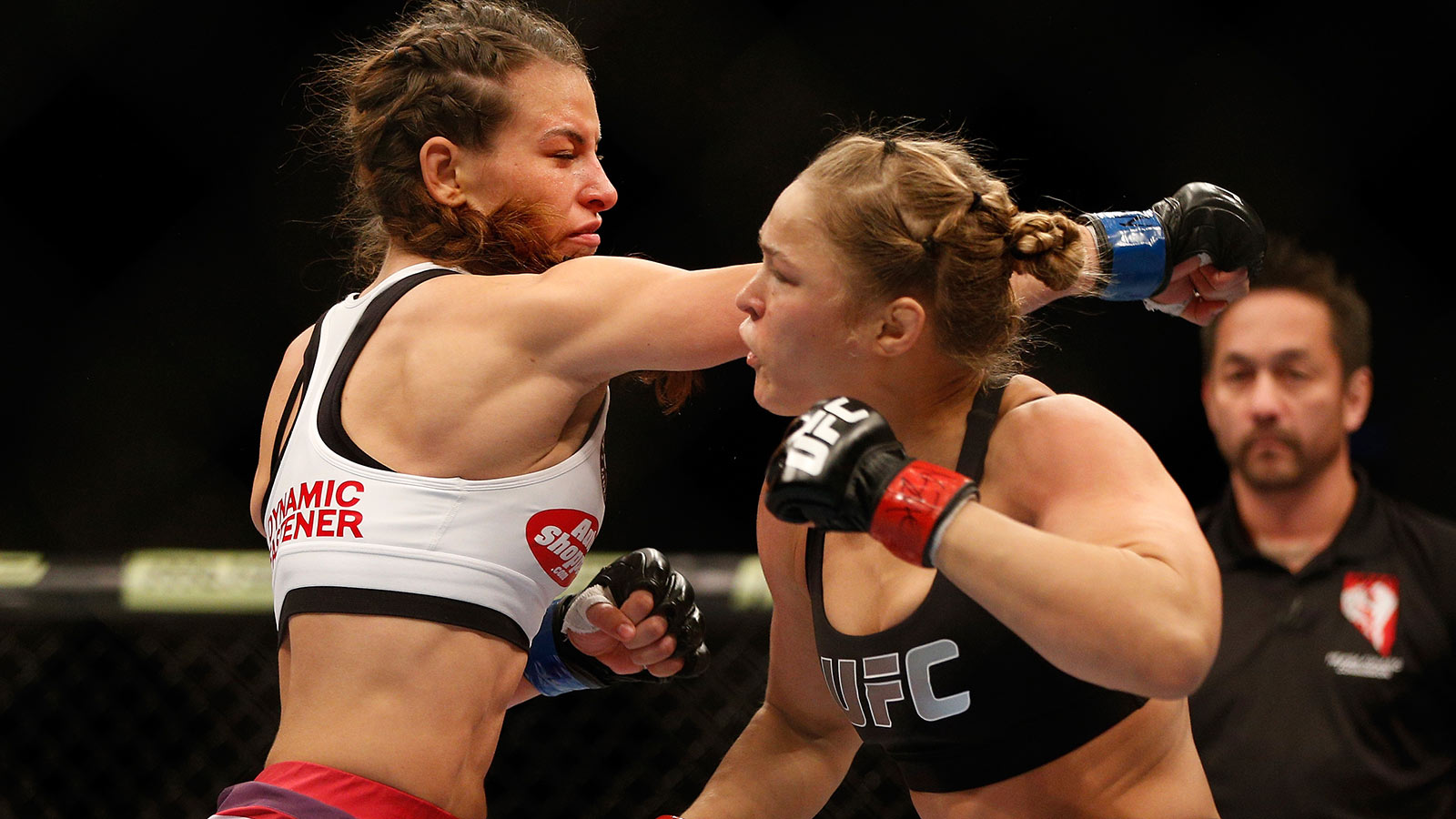 "I know there's a lot of really top contenders, a lot of girls in the division that are champing at the bit," Tate said. "I think I've been called out by everybody in the top six if not potentially the top 10, so they're all gunning for me, they're all dangerous, they all have their different attributes to bring to the table. So I think my job as the champ is to stay ready for whoever.
"I'm just going to stay in the gym, and I have to be able to beat every single one of them."
At some point, Tate would obviously like to avenge her previous losses to Rousey, but now that she's the one holding the belt, she's no longer in the position where she will pick opponents.
Tate wants to be a fighting champion, so if her first title defense comes against Rousey or someone else, that's who she'll get ready to face.
"Honestly at this point I don't really care," Tate said. "I think I just need to be ready to handle whatever is thrown my way. I don't think it's my job as the champion to pick who's next. That's not really what the champion does. The champion fights whoever they say is next and whoever has earned that position."
The last fight I had was already end of July. I've waited that long before, it's not a strange thing for me to do but ideally I think I'd like to fight one more time before
— Miesha Tate on waiting until the fall for Ronda Rousey to return
The one caveat to this entire situation could be Rousey's willingness to return in the summer as opposed to the fall. The former champion recently posted a video showing that her jaw and teeth had recovered from the knockout suffered during her fight with Holm.
Add to that, Rousey was expected to film a pair of movies — "Road House" and "Mile 22" — but as of now, neither movie has actually started production and there's no word whether she might be able to fight again before shifting her focus back to acting.