UFC Mexico: Tony Ferguson, Rafael dos Anjos and Ricardo Lamas Cash in $50K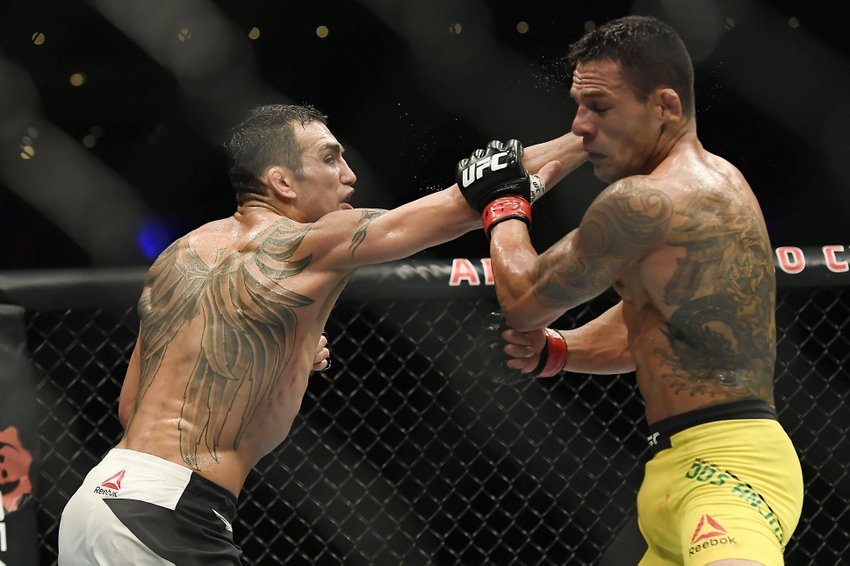 Everytime the UFC visit Mexico something special happens and Saturday's event was no different.
Two of the UFC's top lightweights Tony Ferguson and Rafael dos Anjos took part in an epic 25-minute Fight of the Night that earned them a nice a bit of extra pocket-money. The other Performance of the Night bonuses were awarded to Ricardo Lamas and Douglas Silva de Andrade.
The main event of Saturday's UFC Fight Night 98 card was a very important one as former 155-pound champion Rafael dos Anjos looked to bounce back to winning ways against Tony Ferguson who came into the bout undefeated in his last 8 fights.
Both men came out to impress and after 25-minutes of what can only be described to as wild, it was Ferguson who walked away with a 48-47 unanimous decision victory. Both men used all of their respective weapons landing knees, elbows, kicks and huge punches throughout the five round limit. Both fighters took home an extra $50,000.
With his very impressive 9-fight undefeated streak Ferguson could well be next in line for a title shot. As for dos Anjos who has dropped his second straight after losing his title earlier this year its back to the drawing board.
Want your voice heard? Join the Cage Pages team!
After a long period of time out of action due to numerous injury woes Douglas Silva de Andrade announced that he is back and announced it in brutal fashion. de Andrade landed a devastating spinning back fist that floored his Mexican opponent Henry Briones. The win marked number 24 for de Andrade who now moves to 2-1 in the UFC. Hoping that he stays healthy the Brazilian could well be a future contender at 135-pounds.
With title aspirations of his own Ricardo Lamas knew that he had to leave Mexico with nothing less than a dominant victory over Charles Oliveira and that is exactly what 'The Bully' left with. After a first round that saw Oliveira get the better of the ground game forcing Lamas to defend numerous submission attempts it was Lamas who came out in the second-round on fire, securing a deep guillotine-choke forcing the jiu-jitsu black belt to tap.
Mexico was yet again a violent stop for the UFC.  While all the nights big winners move one step closer to that ever elusive golden ticket known more commonly as a title shot it is Tony Ferguson who is the closest of them all. With the 155-pound title being defended next Saturday at UFC 205, it could well be him next in line.
This article originally appeared on