UFC Mexico Results: Silva de Andrade Batters Henry Briones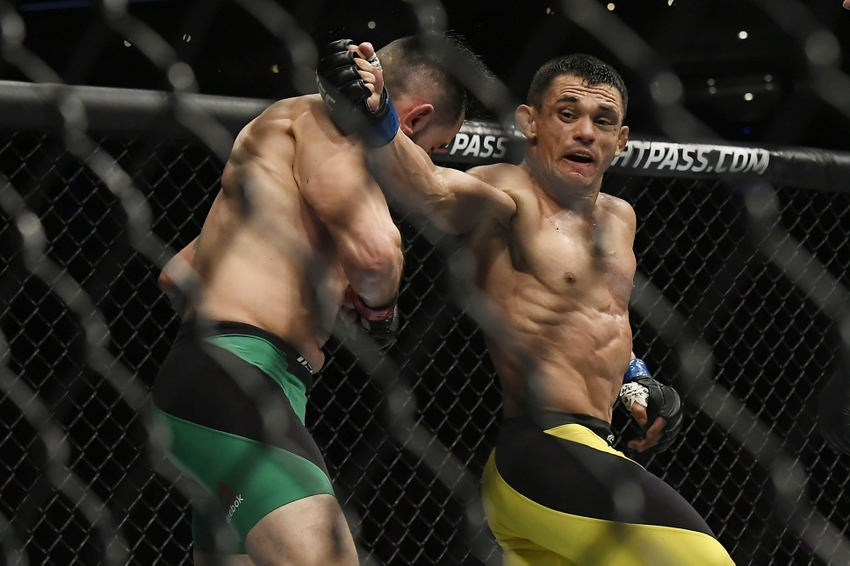 Douglas Silva de Andrade made his UFC return in a big way with a beautiful spinning backfist knockout of Henry Briones at UFC Mexico.
Douglas Silva de Andrade is 1-1 in the UFC and made his last appearance all the way back in February 2015, winning a decision over Cody Gibson. Since then, he has gone under the knife three times after the first two surgeries did not work. He makes his return tonight.
Henry Briones is also coming off a lengthy layoff, with his last fight coming in July 2015 against current title challenger Cody Garbrandt. He pulled out of a fight with Brad Pickett earlier this year, and is 1-1 in his UFC career as well.
Henry Briones started the fight with active footwork, while Silva de Andrade was pursuing the knockout blow. Several great exchanges were had with Andrade landing the heavier blows.
As the round continued, Silva de Andrade got warm and became very fluid with his strikes. Henry Briones landed a heavy right and began throwing heavy leather at Andrade. Andrade answered and the first round ended with some great exchanges between the bantamweights, both looking to take each other's heads off.
Briones started round two landing lengthy strikes on his entries. A two punch combination from Andrade put Briones on the back foot momentarily. The next heavy strikes were landed by Briones with another combination of haymakers.
Silva de Andrade knocked down Briones midway through the second round, but Briones bounced right back up and landed heavy body shots. Later in the round, Briones was clocked by a hard right but somehow stayed standing on wobbly legs. Briones answered with a jumping kick to the face of Andrade, somehow keeping his wits.
Andrade ended the round with a takedown and the fighters entered round three even on our scorecards.
Andrade opened round three landing the better shots, and he was able to stun Briones again two minutes into the round. The chin of Briones is to be admired. Silva de Andrade rocked him again with an elbow, then ended the fight with a spinning backfist. Briones was unhappy with the stoppage, as Keith Peterson prevented any follow-up shots from landing.
This article originally appeared on