UFC: McGregor-Diaz 3, Rousey-Cyborg Must Be on Same Card in 2017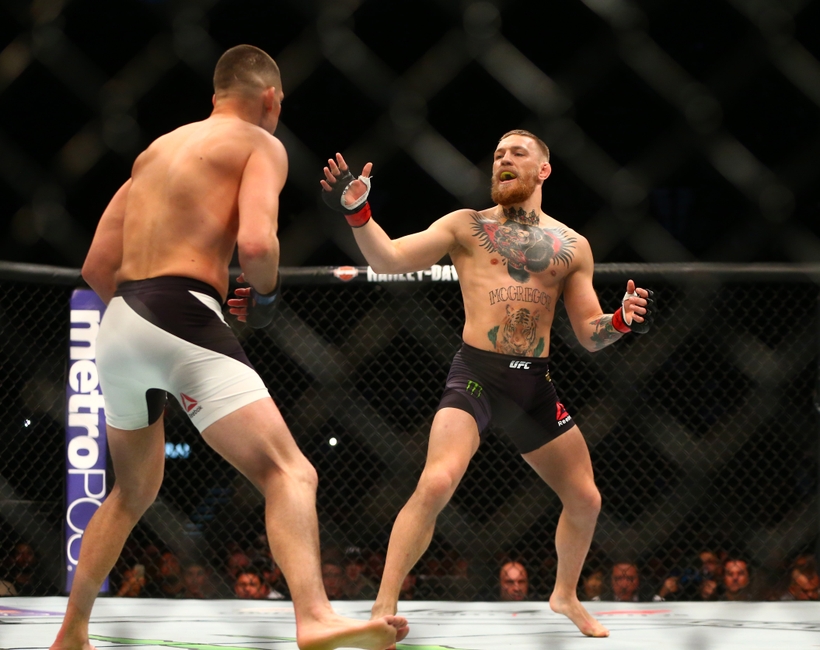 The UFC has seen plenty of big pay-per-views in the last 13 months. But a potential massive card in 2017 could give the company its biggest event ever.
The UFC has had a very exciting and successful year, from big pay-per-views buys, a myriad of title changes and a $4.2 billion price tag, the promotion captured a plethora of new eyes in 2016.
Prior to 2016, UFC 100, which occurred in 2009, was the company's biggest pay-per-view of all time in terms of buyrate, according to MMA Payout. UFC 193 followed it with 194 not too far behind. Both events took place in late 2015, which set up a challenge for 2016 to follow up strong. The promotion did just that and scored big this year.
Three of 2016's pay-per-views, UFC 196, 202, and 205, became some of the biggest events the company has ever featured. UFC 200 failed to live up to the hype due to the major fallout in the anticipated rematch between Jon Jones and Daniel Cormier for the light heavyweight title. But the two big events that occurred after that helped make up for the disappointment.
Those three pay-per-views joined UFC 100 as the company's top four pay-per-views in history. In the span of 364 days, from November 14, 2015, through November 12, 2016, there have been five pay-per-views that hold a spot in the company's top seven in buyrates.
The promotion will likely score high again with UFC 207 around the corner, which will showcase the return of Ronda Rousey. With 2016 expected to end with a bang, there is no doubt that President Dana White wants to continue to keep the punches rolling in 2017. There is an event that can be constructed, which could defeat UFC 202 for most pay-per-view buys of all time.
The trilogy between lightweight champion Conor McGregor and Nate Diaz, along with Rousey vs. Cris Cyborg, are the two highly anticipated matches fight fans are patiently waiting for.
In an interview with Andy Nesbitt of The Buzzer, White said he does not want to see a third bout between McGregor and Diaz. But he did say "never say never" when asked one more time about the possible trilogy. During a Facebook live Q&A session with fans right before the promotion's New York debut, White was asked again about the possibility of the fight. He echoed his sentiments from before, saying he does not want to see it.
Want your voice heard? Join the Cage Pages team!
Perhaps White doesn't want all three matches between McGregor and Diaz to happen within a short time span and wants to build hype by creating a longer timeframe from the rematch and the trilogy.
There is no doubt that the third fight will draw and there will be a lot of money to be made in a third round between McGregor and Diaz. Especially if the lightweight title is on the line after the first two fights were non-title bouts. White knows better than anyone that a lot of people will make a pretty penny when the third match happens with higher stakes.
The only caveat would be McGregor's expected absence from the sport after he announced that he will be a father in 2017. The length of his absence and the birth of the child are not known, leaving some uncertainty as to when the trilogy with Diaz could conclude.
You also have Rousey and Cyborg, who could possibly meet in the Octagon at some point in 2017. With Rousey announcing that UFC 207 would be one of her last fights and that she would be retiring soon, it may be safe to assume that the chances of her fighting Cyborg will happen much sooner, rather than later.
Although she will face women's bantamweight champion Amanda Nunes in her return, the match against Cyborg is still a vastly discussed subject among fight fans. In an interview with Jason Whitlock on Fox Sports, White said that Rousey vs. Cyborg will happen and that it would be the 'biggest card ever.'
It would make sense to have these two fights on separate cards to simply have more high buyrates. But having them together would surely guarantee the UFC its biggest event in history and likely shatter every notable record, including attendance at the location of the event and buyrate.
The ending of 2015 and 2016 has been full of success. With the sport of MMA being bigger than ever, it makes sense to keep attacking and build a major event to continue the streak of big pay-per-views.
This article originally appeared on