UFC: Lorenz Larkin Officially a Free Agent After Exclusivity Period Ends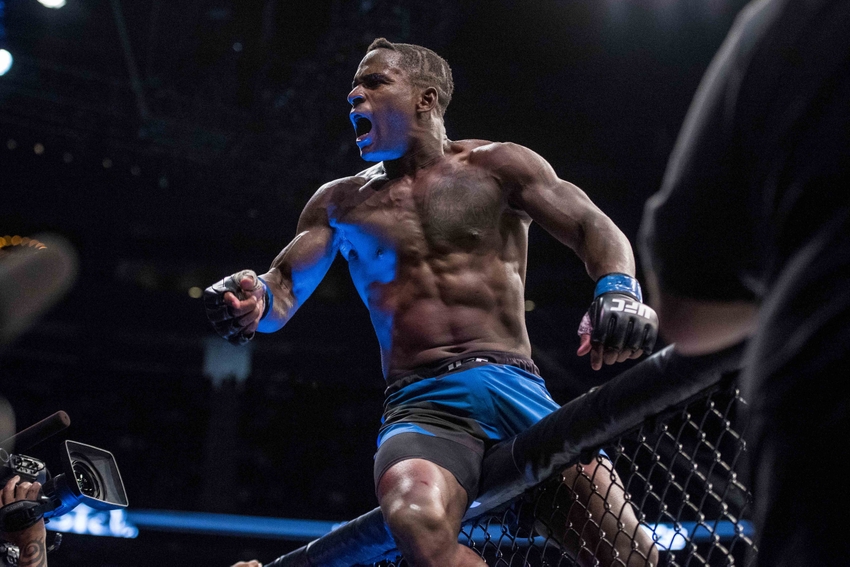 After a ten fight stint in the UFC, Lorenz Larkin is now officially a free agent after coming to the end of his three-month exclusivity period.
Lorenz Larkin (18-5-0-1) is now officially allowed to negotiate with promotions other than the UFC, with the three month exclusivity period having ended.
Larkin started his career off at light heavyweight where he would rack up a more than respectable 12-0 start to his career before succumbing to the highly ranked Muhammed 'King Mo' Lawal. The loss was eventually overturned following a failed test from Lawal. Despite the overturned result Larkin decided to drop to middleweight, where he would go on to beat future UFC welterweight champion Robbie Lawler in his final Strikeforce fight.
As the Strikeforce roster was slowly filtered over into the UFC after 2011's acquisition, Larkin also moved over to the UFC's middleweight division. He had a tough time early on going through a 1-4 slump before deciding to readjust and drop to welterweight.
Big day for free agent @da_MONSOON, who's now officially free to negotiate with other promotions. Three-month exclusivity period ends today.

— Ariel Helwani (@arielhelwani) November 21, 2016
The decision to fight at 170lbs  appeared to have been a resounding success as Larkin's fortunes reversed and he went 4-1 in his next five fights, with the final fight being a dominant stoppage over the surging Neil Magny.
While Larkin is looking for an increase in salary given his recent performances, that isn't his only motivation, as he told MMA Fighting's Chuck Mindenhall back in October;
It's just two things I'm looking for, and it's not like I have a vendetta against [the UFC], it's just whoever can meet my two needs. It's pretty much me getting the money I deserve, and the marketing. I feel like I'm an exciting fighter. Fans like to see me fight, and I'm not boring. I feel like I have personality. You can put me around people and I'm not like a Cro-Magnon or anything. So my thing is, they just never use me. I want to work. And that's my thing. I'm not just being selfish, being like I want this and that's it.
Larkin is clearly looking for something more than a small pay bump and rightly so. In recent days the UFC re-signed Ross Pearson. Pearson has now lost his last three in a row after losing this past Saturday to Stevie Ray. Taking that into account it's a wonder that the UFC hasn't already re-signed an exciting and dynamic fighter currently in the midst of a 4-1 run.
Also worth mentioning is the highlight of his current stint at Welterweight. Larkin's stunning victory over Neil Magny can't be overstated enough. It really should have been a great bargaining chip for renegotiations but it doesn't appear to have had the desired effect on the new UFC brass.
Magny – who also re-signed this past April – appears to have been afforded a good marketing push – and deservedly so might I add – which for some reason they appear reluctant to give to Larkin. Considering Larkin's impressive stoppage of Magny, he really needn't do more than point to this as a valuable reason as to why he deserves that same push and a much improved extended contract.
While contract negotiations aren't an exact science, most of us have opinions on what should happen. Educated fans and media tend to take metrics such as records, level of opposition and how impressive those victories (or unimpressive the losses) were into account. It's an entirely logical way to determine why a fighter should be re-signed or not. Unfortunately this is not always the case with the UFC.
Larkin should be a fighter the UFC wants to keep. Saying that, if both he and the UFC can't come to terms then the Bellator welterweight division is starting to look like a very appealing option. Prospective fights with Paul Daley, Andrey Koreshkov, Brennan Ward, Michael Page, Douglas Lima, and Rory MacDonald await. Interesting to note that Scott Coker has also shown a penchant for highlighting his ex-UFC talent in main and co-main events. It could be a positive move for Larkin, and one I assume he would be pretty happy to take if they meet his needs.
This article originally appeared on