UFC: Jose Aldo Calls Conor McGregor a 'Pu–y', Calls For Rematch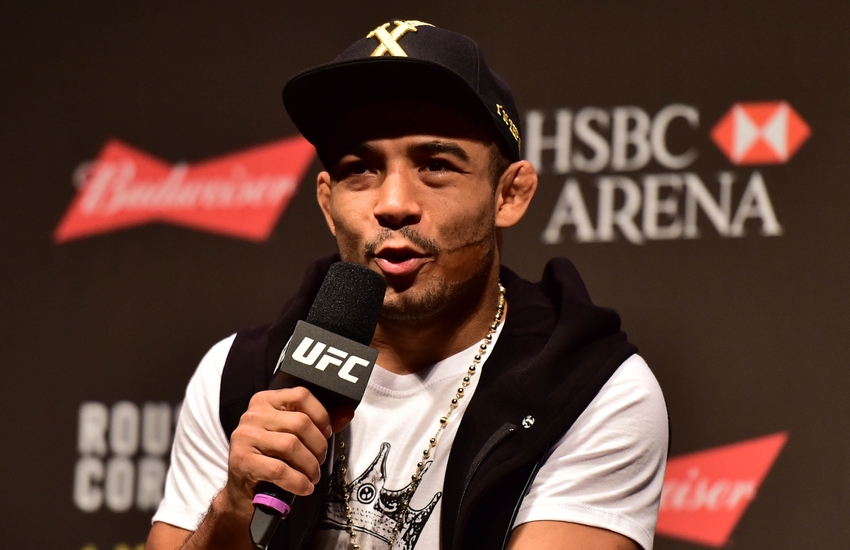 The rivalry between current UFC lightweight champion Conor McGregor and featherweight champion Jose Aldo has been reignited.
In a surprise announcement during Saturday's UFC Fight Night 101 in Melbourne, Australia the promotion announced that Conor McGregor had been stripped of his 145-pound title and that interim champ Jose Aldo was once again the undisputed featherweight King.
The promotion also announced that the new main event of UFC 206 would be an interim featherweight title fight between Max Holloway and Anthony Pettis with the winner being next to fight Mr. Aldo to unify the belts.
As expected this is huge news in Aldo's home country of Brazil and during a recent interview on Planeta SporTV he had a lot to say about the promotion's decision to strip McGregor and his feelings toward the Irishman.
Get the FanSided App
I was always the champion and will always be as long as I'm in the featherweight division. No matter what happens, I will always be the champion.

I had no doubt about it. The moment I lost, I knew the belt would be mine. It was a matter of time. It's not the way I wanted, but I'm happy because I know I am the champion.
The loss that Aldo speaks off is the 13-second KO loss at the hands of Conor McGregor at UFC 194 last December. The fight was nearly a year ago and Aldo has strong feelings about McGregor for not defending his belt, calling him a "pu–y" in an interview with the UFC website in Brazil.
I knew that would happen. To me, I never stopped being champion. I lost that fight because of an accident. I knew that I would win a rematch, that I would be champion again. It's not my fault that he's such a pu–y he was never the champion. I don't see myself losing to anyone in this division or any other [division].

First I want to defend my title again and then go for a fight with him (McGregor) at lightweight. Just like Dana White said, we can choose who we want to fight, so I want to fight him. That's what will happen.
Anthony Pettis and MAx Holloway will battle for interim title on Dec.10 in Canada with the winner getting a crack at Aldo and the undisputed belt.
This article originally appeared on