Stann: Rousey biggest UFC star, but not among pound-for-pound best
Ronda Rousey will enter her fight with Holly Holm at UFC 193 somewhere around a 20-to-1 favorite against the undefeated former boxing champion.
Rousey has been a hurricane during her MMA career, ripping through opponents in seconds instead of minutes and she's gone virtually untouched during the 12 fights in her pro career. She's finished her past three opponents in 64 seconds combined and has gone out of the first round only once in her entire career.
Rousey's gaudy statistics have made her one of the most exciting performers in the entire sport, but does that rank her as one of the best pound-for-pound fighters in MMA?
There's no clear-cut criteria for the mythical "pound-for-pound" list in MMA, but it's still a subject that stirs a ton of discussion. From Jon Jones to Jose Aldo to Demetrious Johnson, the debate rages on constantly about who is the best in the sport. Does Rousey deserve a spot on that list?
There is only one recognized pound-for-pound list in the UFC and it combines both men's and women's divisions. In that particular group, analyst Brian Stann doesn't see Rousey challenging for the top spot, but it's not her fault in any way, shape or form.
"Not in my eyes she's not, it's not fair to put her in there and it's not all her fault," Stann said. "She can't control the level of opposition she has and so in order to be pound-for-pound, all-time great in my book, your skills transcend weight classes and it means you consistently defeat the best the world has to offer.
"If you compare Ronda's opposition to someone like Jon Jones, Jose Aldo, Chris Weidman and the fighters they've defeated, it just doesn't stack up. That's going to be a tough legacy for Ronda to break into just due to the fact that she's so far ahead of her time."
While Rousey may struggle with the list for the best fighters in the world regardless of weight class according to Stann, where she's head and shoulders above everybody else is in popularity and recognition.
Rousey is a massive star, likely the biggest who has ever fought in the UFC, and Stann says she deserves every bit of attention she receives and her star is only going to glow brighter from here.
"She is the biggest star that we've ever had. You can't deny that," Stann said. "I can't turn my TV on the weekends without seeing something about Ronda Rousey and she deserves it.
"She is the entire package when you talk about being a prize fighter because that includes being an entertainer, having a way with the media, having a likeability factor, not compromising on certain things. She's done all of those things and she deserves every bit of it."
HOW DOES HOLM BEAT ROUSEY?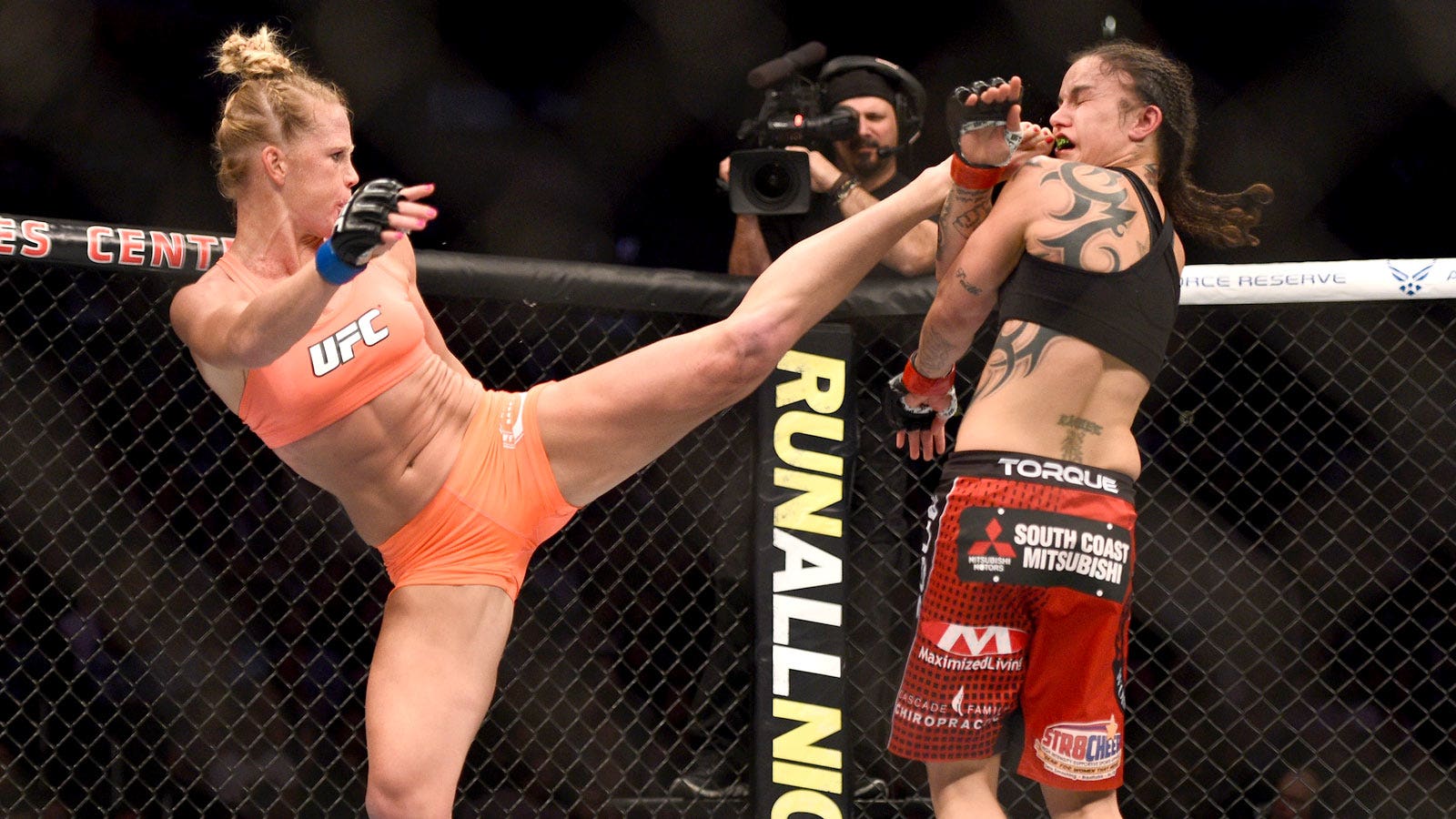 Holm will be the most decorated striker Rousey has faced, but that hasn't helped the former boxer turned mixed martial artist have very many people pick her going into the fight.
Stann knows Holm better than most, having trained with her while he was working at the Jackson-Winkeljohn gym in New Mexico. For a time, the two were even roommates during the weeks the former Marine captain would prepare for upcoming fights.
Stann doesn't buy into the notion that Holm isn't ready for this moment because she's had only two UFC fights, but her best still may not be enough against Rousey.
"There's no doubt (Holly is) legit," Stann told FOX Sports. "How ready she is for this particular moment? She's as ready as she's ever going to be. The reason I say that is I don't care if you train wrestling and judo five years professionally as a mixed martial artist, you can't catch up to someone who's been doing it their entire life. It's just not going to happen.
"I tried it with the sport of wrestling and I fought some really, really good wrestlers and it didn't work."
Styles make fights and Stann says that it's going to be tough for Holm to work well against someone like Rousey, who is unrelenting and unmerciful from the time the fight starts until she's raising her hands in victory a few seconds later.
Holm has ways to win, but it's going to be tough to execute against Rousey.
"Holly is an accumulation fighter," Stann said. "She outworks you for a period of time and it exhausts you because she's extremely mentally tough and that mental toughness transitions into her cardio because she trains as hard if not harder than any fighter I've seen come out of Jackson's. Nobody goes and runs with her and very seldom do they run the hills with her.
"Is she on Ronda Rousey's level? No, I don't believe so, but I think she was very smart to capitalize on this opportunity when she did because if she can go out there and she can get Ronda to do what she did against Bethe Correia, which is engage in a brawl, get her to expend a ton of energy, stuff a few takedowns, get in Ronda's head a little bit, then she can attempt to take this fight over in the later rounds. That's her best task in this fight."
No one has really hurt Rousey in the past, and outside of Liz Carmouche nearly landing a rear naked choke in her UFC debut, the champion has hardly experienced a single minute of any fight when she wasn't winning.
If Holm hopes to do the impossible, she needs to make Rousey question herself between rounds, and that kind of uncertainty could lead to a huge momentum shift in the fight. Stann believes Holm has the ability to use distance, range and movement to keep Rousey away.
It's a tall order, but it can be done.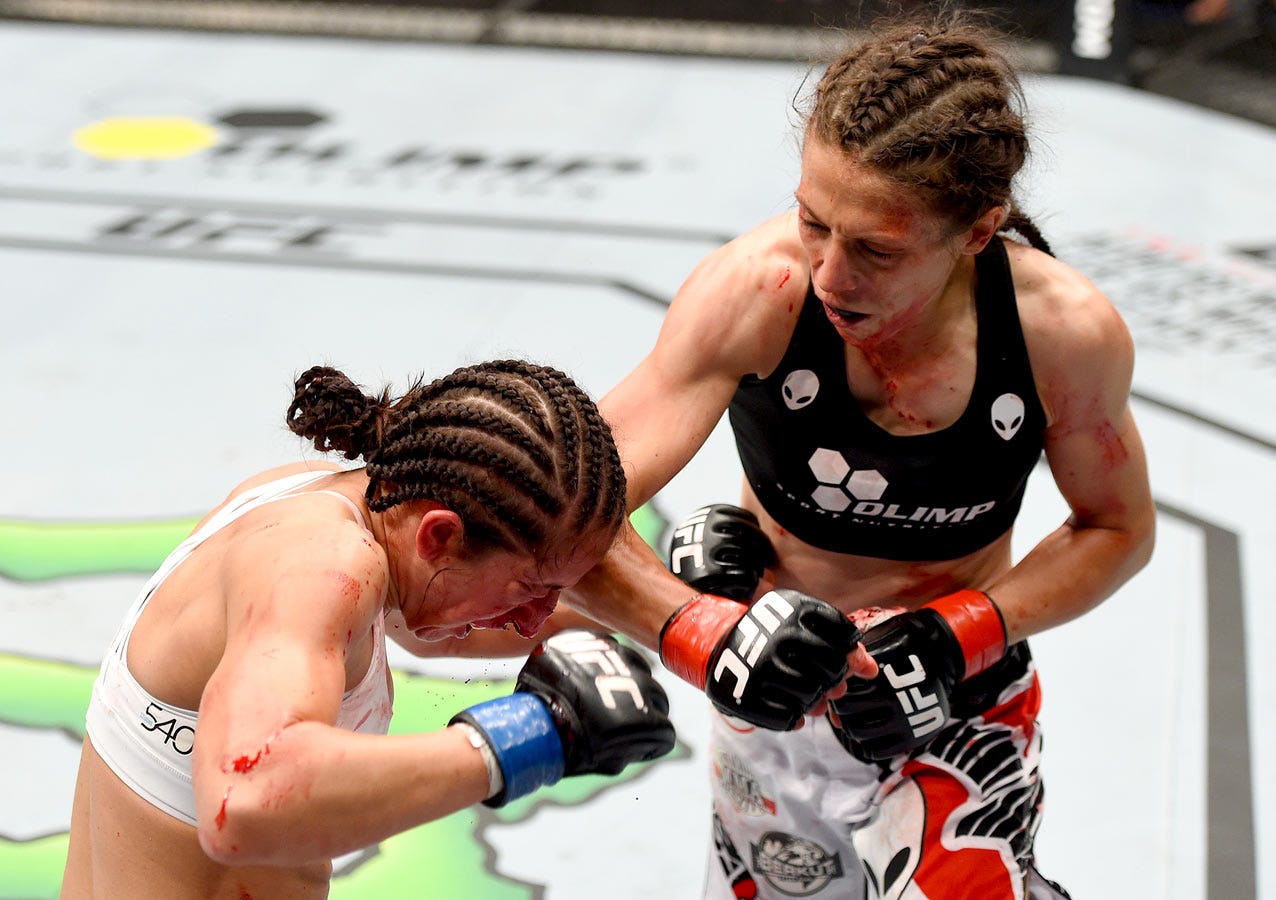 "She's got to frustrate her and send her back to her corner for the first time in her career kind of questioning things," Stann said. "Even if it means making the crowd boo, it doesn't matter. Drag Ronda into deep waters any way you can and get her frustrated. Frustration is the killer of all athletes, and I feel like that's the only way Holly can have success in this fight."
ANOTHER DYNASTY HAS STARTED
While Rousey will go for her seventh straight title defense this weekend, Joanna Jedrzejczyk will look for her second win in a row since becoming strawweight champion earlier this year.
Jedrzejczyk blasted through Carla Esparza to win the belt and then did the same to Jessica Penne in June. Now Jedrzejczyk looks to take out former bantamweight Valerie Letourneau this weekend in Australia.
While the strawweight division is still fairly new, Stann looks at Jedrzejczyk as the same class of fighter as Rousey, with all the talent in the world and the kind of attitude that will see her rule for many years to come.
"I do believe Joanna Jedrzejczyk is going to own that belt for a long time and it's for several reasons," Stann said. "For one, she's a very good, technical mixed martial artist. She executes very well. She can go out there from the opening bell, execute and then make adjustments to keep her opponents guessing.
"Then on the other side, and this is a really big factor — she is just a natural fighter. You've got to have that. You can't just be an athlete, you can't just be a martial artist. B.J. Penn said it best: 'There's athletes and then there's fighters.' When you take that B.J. Penn comparison, she's absolutely a fighter."