Holly Holm has been brought to tears visualizing win over Ronda Rousey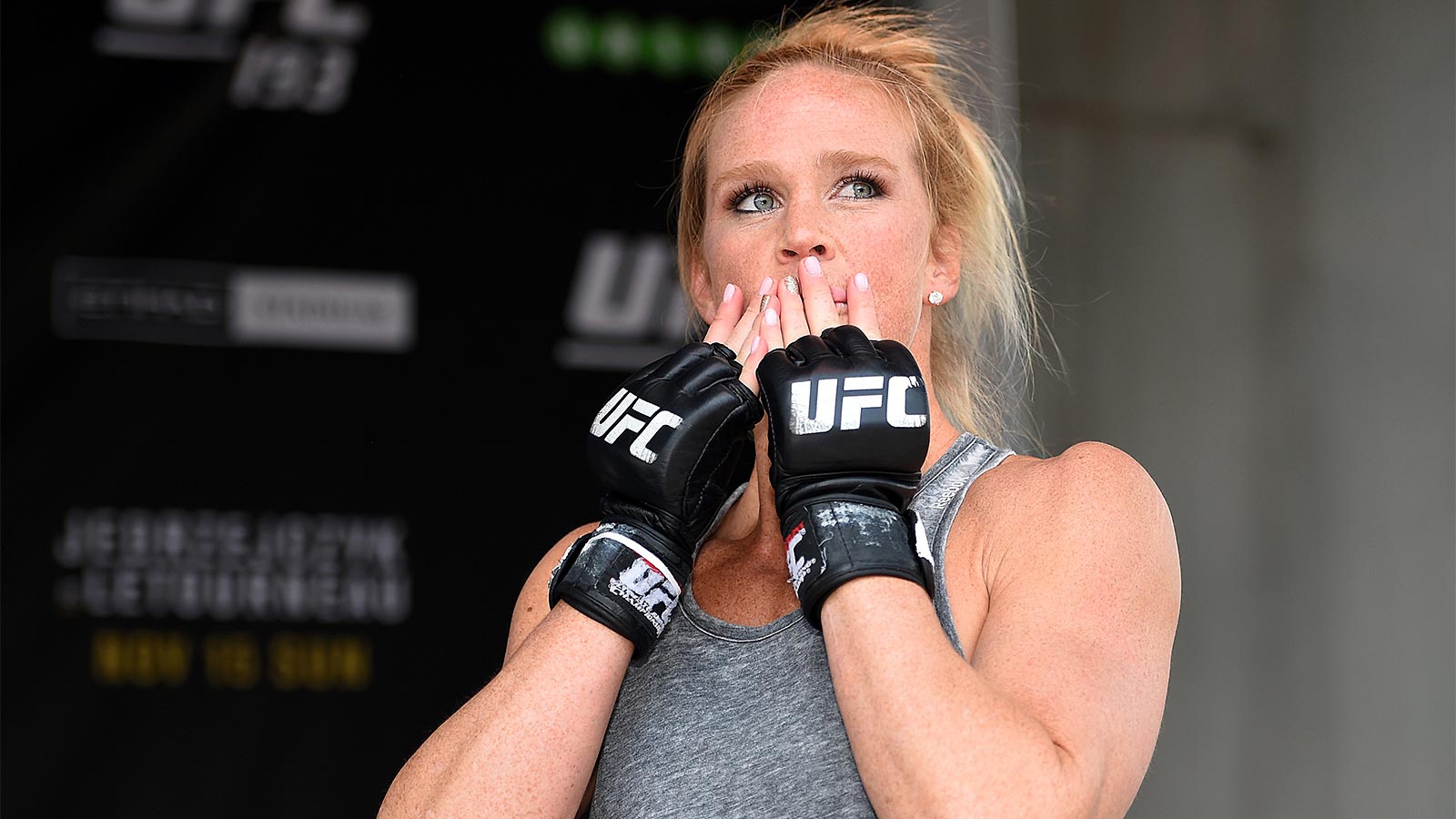 As she prepared for her fight against Ronda Rousey this weekend at UFC 193, Holly Holm has visualized a win in hundreds of different ways with the end result always the same as she holds the bantamweight title in victory.
Visualization has always been a big part of Holm's career as a boxer and mixed martial artist and it's impossible for her to get ready for a fight of this magnitude and not picture the way she's going to win.
Holm knows that with a victory on Saturday night in Australia, her entire life will change but that's just another reason why she's gotten so emotional thinking about handing Rousey the first loss of her professional career.
"You have to have a goal and vision to obtain anything in life. Somebody doesn't go to medical school without picturing themselves in the surgical room. I think you have to visualize it and I've visualized it a lot," Holm told FOX Sports recently
"Sometimes I visualize it while I'm running and it's in such detail that I find myself in tears and I'm just running. That's in my heart, that's in my passion and it's in my vision. You have to have a goal because otherwise where are you going?"
In the lead up to UFC 193 this weekend, Rousey has stated several times that Holm and virtually every other fighter in her division doesn't really want 'the life of a champion'.
I'm not getting in there to be part of it — I'm getting in there with every intention to win
— Holly Holm
Whether that means the increased scrutiny that comes with being on top or the extra obligations that are required for UFC champions, Rousey has said that it's not for everybody but her upcoming opponent Holly Holm isn't sure why that's become such a concern.
Holm has already been a champion for most of her adult life, winning several titles in boxing over the course of her career and she understands the responsibility that comes along with being a champion and she's more than ready for it to happen again after Saturday night.
"I don't really know why she's worried about how I would take pressure being the champion," Holm said. "Maybe her thoughts are just all over the place with that, but I don't really care. None of that matters. I just want to win the fight. That's all there is to it.
"With winning, yes, there comes a lot more situations that we'll approach and different doors that are going to be offered to me and some I'll take and some I'll shut the door on. I may not take every opportunity that comes at me. Being in a movie might be fun."
Holm has been in the spotlight throughout her professional career, but nothing like what would happen if she upsets Rousey at UFC 193.
While Rousey has dwelled on that fact leading into the bout, Holm isn't concerned too much about what happens after so long as she wins.
Without that none of these conversations matter and she goes home with a loss on her record and as just another contender that fell in the wake of Rousey-mania.
"My goal right now is just to win this fight," Holm said. "To do that I need to train hard and that's what I've been doing by training hard. You see a lot of celebrities that are in the limelight. Some of them lose it, some of them don't, some of them you don't see all the time in the tabloids because they do know how to have some kind of a private life and I'm fine with being able to keep a good balance."
Despite those subtle shots from Rousey about not wanting the life of a champion, the trash talk between the two fighters has been at a minimum ever since the fight was made and that's perfectly fine with Holm.
She's never been the kind of person to say bad things about an opponent to stir up interest in her fights and when asked about what Rousey does well in her performances, Holm has nothing but compliments for the UFC champion.
"I think she has a great mindset for fighting. She goes in with every intention to win," Holm said about Rousey. "She goes in hard, she goes in with confidence and that is huge. You can't be a fighter without that. Second thing, she deals very well with scrambles and trying to make sense of a chaotic situation. She creates it to make it chaotic and then waits for that moment for you to make a mistake and capitalizes on it."
As much respect as Holm carries for Rousey, she still knows that at the end of the day she can win and that's exactly what she plans to do when they finally meet in the Octagon on Saturday night.
"In the technical aspect of the sport, I have been in there with a lot of champions before, people that have a lot of drive, people that do believe in themselves, people that can do well when they're under that pressure. I've been able to do well with it so I feel like I have experience with that," Holm said.
"I'm not getting in there to be part of it — I'm getting in there with every intention to win."