UFC Hidalgo Results: Randy Brown Lands Comeback Choke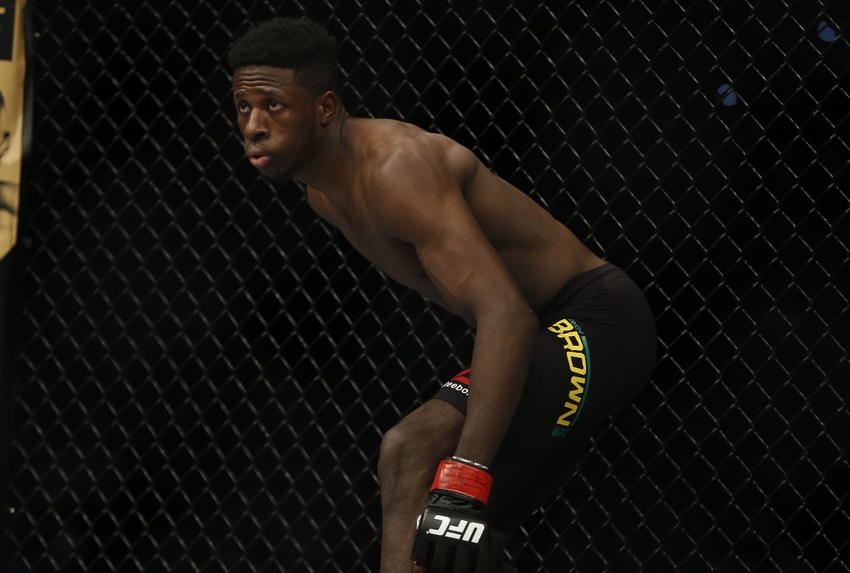 UFC Hidalgo's featured Fight Pass prelim was a great win for Lookin for a Fight alum Randy Brown, who was down on the scorecards before getting a choke.
Erick Montano won a sloppy fight against Enrique Marin to win TUF: Latin America 2 in his UFC debut, but tore his way through the competition with a pair of first round finishes. Montano is the younger brother of Augusto Montano, who fights Belal Muhammad on FOX Sports 1 tonight.
Randy Brown was one of the first fighters discovered on Dana White: Lookin' for a Fight. He lived up to expectations when he put up a solid three-round performance against Matt Dwyer. His second appearance was not as graceful, as Brown was wrestled down by Michael Graves.
To start the fight, Brown charged in and clinched rather quickly. His issues against Graves came against the fence so he might be trying to prove a point. Montano's success is coming via dirty boxing, but the most significant strike was a standing knee to the chin landed by Brown.
Both Brown and Montano attempted and failed takedowns in the round. If the round was five seconds longer, Montano might have been able to land that takedown as he was in the process of lifting up Brown.
Brown came out striking in round two forcing Montano to skirt along the fence. Brown got his takedown finally, but Montano slipped out and scored a takedown of his own. Brown has a very long frame, and used it to throw up several submissions.
Montano landed a powerful diving punch, then Brown is able to get up after Montano gives him space. Montano was able to get another takedown despite a blatant fence grab from Brown. The rest of the round was spent with Montano in top position. Brown was doing everything he could to get up, which mostly included fence grabbing.
Round three started with an immediate shot from Montano. Brown countered with a front choke and got the tap! Nice comeback win for Randy Brown, that would have been a tough upset.
Afterwards he called out Bryan Barberena due to his connection to Lookin' for a Fight (beating Sage Northcutt).
This article originally appeared on