UFC Hidalgo Results: Jose Quinonez Out-Brawls Joey Gomez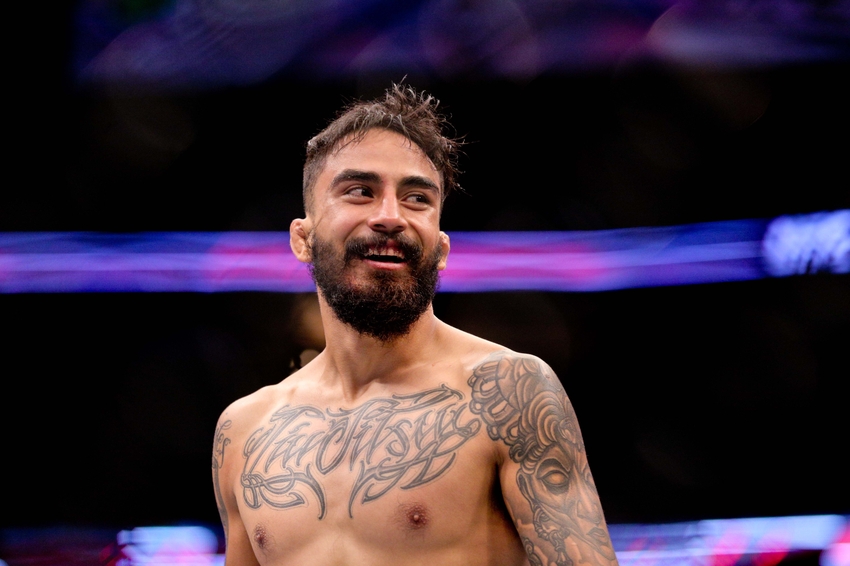 UFC Hidalgo's televised prelims kicked off with a fun fight between Jose Quinonez and Joey Gomez, with Quinonez landing two knockdowns to Gomez's one.
Joey Gomez had an impressive resume before coming to the UFC, with all six of his wins coming by first round knockout. His debut was not successful though, as Rob Font knocked him out cold in 2014. This is his first fight since then.
Jose Quinonez was excellent on TUF: Latin America, with two wins, one being a first round knockout. Quinonez lost to Alejandro Perez in the Finale, but bounced back with a quick submission win in his last fight.
Quinonez kicked things off with an immediate takedown to take Gomez out of his game. Gomez got up, but was taken down again. Gomez defended a third attempt by nearly taking Quinonez's back.
The most significant moment of the round came when Quinonez landed a body kick that froze Gomez for a second. Quinonez capitalized by landing a barrage of punches that floored Gomez. Gomez got his wits together quickly and swept Quinonez off his feet twice.
The second round was wild. It seemed as if Gomez was fading, then he knocked down Quinonez with a flurry. Quinonez wrapped Gomez up in guard and survived. The Mexican got the better of the war of strikes that was had in the remainder of the round.
Quinonez put an exclamation point on round three with a knee that dropped Gomez. Quinonez quickly got top position, mount, then took the back of Gomez. Gomez survived and landed a slick butterfly sweep to stand up. Gomez had very little left, but he needed a knockout.
Gomez was unable to get inside of the range of the much fresher Quinonez, and the Mexican rode his rangy kicks to a decision. The judges gave him two 30-27's and a 29-28.
It was a fun fight, and showed great improvement in the game of Jose Quinonez. His striking was very clean and his ground game is ever-improving.
This article originally appeared on