UFC Hidalgo Results: Belal Muhammad Finishes Montano Late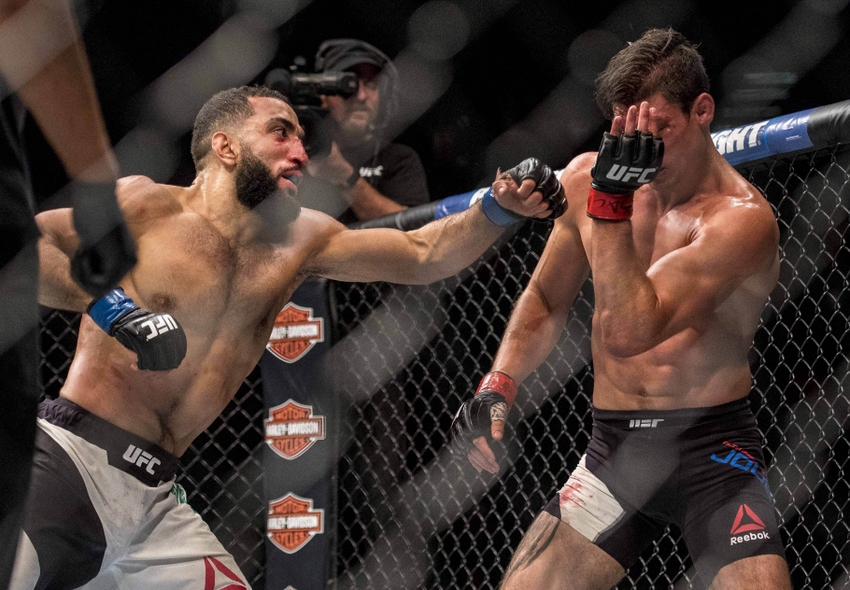 UFC Hidalgo saw yet another third round stoppage when Belal Muhammad mixed in takedowns with great striking against Augusto Montano en route to a TKO.
Belal Muhammad earned a great number of fans after getting the "Fight of the Night" in his wild short notice UFC debut against Alan Jouban in July. It was the former Titan FC champion's first loss in his career, but he comes into this fight as a heavy favorite. You can read more about his preparation here.
Augusto Montano has an impressive record of 15-2, finishing all 15 victories. He earned a TKO in his UFC debut but had a dud of a loss against Cathal Pendred in his last fight.
Muhammad started things with some nice head kicks, then Montano landed a hard kick below the belt of Muhammad. After action resumed, Montano landed a hard leg kick, then an eye poke.
Muhammad landed a pair of hard head kicks when action resumed the second time. Montano is committed to leg kicks while staying out of Muhammad's range. After a failed takedown attempt from Muhammad, he was able to land yet another head kick. Muhammad won the round through the fouls of Montano.
Round two began with more leg kicks from Montano and another head kick from Muhammad. Two punch combination landed for Muhammad, then a beautiful takedown to half guard. Montano tried to escape, but Muhammad took his back in the process. After another half guard to back transition, Montano was able to stand up.
Muhammad landed another head kick and momentum was on his side going into the third round. The final round saw an exhausted Augusto Montano with his hand very low. After some strikes, Muhammad took down Montano from a back clinch.
Montano stood up again, but Muhammad began picking apart his winded opponent. Another excellent takedown landed for Muhammad and he immediately took the back of Montano again. Muhammad pounded away and Herb Dean was forced to stop the contest.
This article originally appeared on