UFC Hidalgo: Gabriel Benitez Knocks Down, Chokes Out Sicilia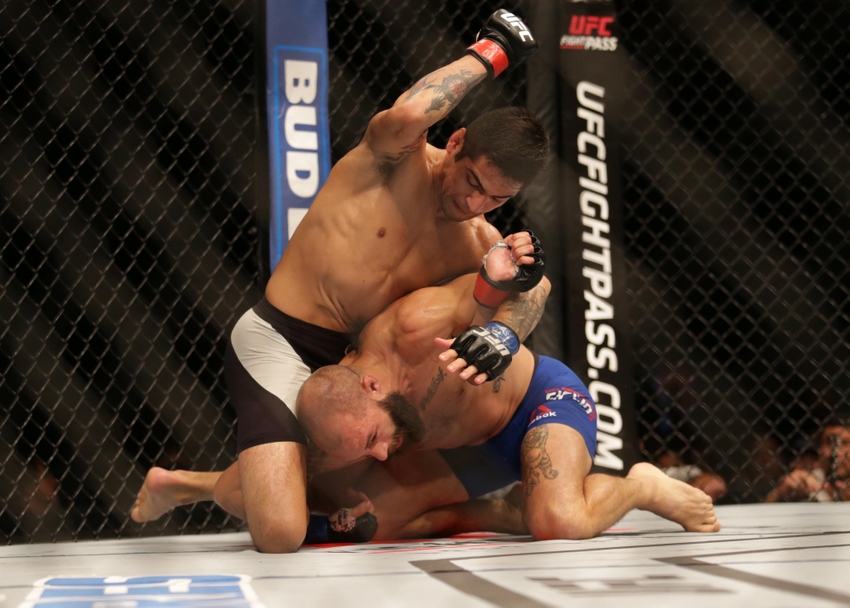 UFC Hidalgo saw yet another stoppage when Gabriel Benitez knocked down, then subsequently choked out the always-aggressive Sam Sicilia.
Sam Sicilia is a heavy handed brawler with some brutal knockouts under his belt. He made his name known on The Ultimate Fighter with an eight second knockout in the opening round. He has not been as successful in the UFC with a 5-5 record, with three brutal knockouts.
Gabriel Benitez is an AKA-trained fighter that was featured on TUF: Latin America going 1-1 on the show. Unlike Sicilia, he's been more successful in the Octagon with a 2-1 record, with a great striking performance over Clay Collard. He'll have the home crowd advantage on the Mexican border.
Early on the strategies of each fighter were clear. Sam Sicilia charged forward with haymakers, while Gabriel Benitez used disciplined footwork and leg kicks to halt the pursuits of Sicilia.
There were several times in the first when Sicilia had his legs kicked out from under him. There were also times when Sicilia landed haymakers along the fence. It was a tough round to score, until Benitez landed a great head kick at the end of the round.
Benitez went back to the head kick early in round two then knocked down Sicilia with a beautiful left straight. Benitez pursued and landed several hard elbows from the back of Sicilia. Somehow, Sicilia survived and stood up.
On the feet, Sicilia had enough of striking with Benitez so he shot in for a takedown. Benitez countered with a guillotine, and Sicilia was unwilling to tap. Herb Dean stopped the fight, and the unconcious body of Sam Sicilia slumped to the canvas.
Benitez was an underdog going into this fight, and was actually the cheapest option on DraftKings. His striking has always been his strength, but he was able to show off a nifty submission game in this one.
This article originally appeared on