UFC Hidalgo: Can Dustin "The Diamond" Poirier Finally Shine?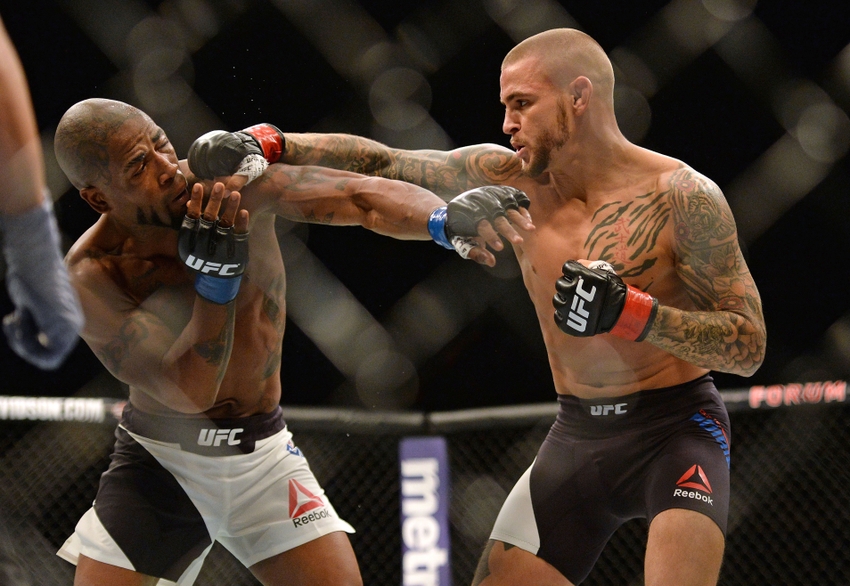 Dustin Poirier is on an impressive win-streak that has many saying he could be in the title picture. But, fans have read this story before. Could this run by "The Diamond" finally lead him to a shot at UFC gold?
For as successful as Dustin Poirier has been in his UFC career, he has had the bad luck of being on the outside looking in when it comes to being a contender for the world title.
Part of that is circumstance, he has long competed at featherweight and now lightweight, two of the most competitive divisions in the UFC. Quite simply, it is tough to become the odd man out when there are so many stars all vying for a title shot.
Another part is that his stumbles have come at crucial times. He encountered "The Korean Zombie" Chan Sung Jung in a title-eliminator and fell in a four-round epic. Two fights later, he lost to a resurgent Cub Swanson when the latter was on his own special run.
There was also, of course, the crushing loss to Conor McGregor that sent him north to the lightweight division.
Yet entering his match against eighth-ranked Michael Johnson at UFC Hidalgo, the resume of "The Diamond" is still as stellar as his nickname would suggest. Victories against current featherweight contender Max Holloway, would-be title challenger Josh Grispi, and TUF winner Diego Brandao dot the list.
All of which makes his current run at lightweight all the more spectacular.  He has three first round  knockout victories since his move to 155, more so than he accumulated in his previous runs at featherweight.
Poirier has stated that his body feels stronger now that he has stopped depleting himself to make the cut to 145.  Most importantly, he appears to have retained enough of the power that made him a threat at featherweight while improving upon his speed and conditioning.
Currently ranked sixth, a victory over Michael Johnson would line him up to face the current murderers row at the top of the lightweight division that includes names like Eddie Alvarez, Khabib Nurmagomedov, and Tony Ferguson to name a few.
Unfortunately, there is huge risk involved in facing Johnson. The latter is one of the stand-out wrestlers in the division who has vastly improved his striking since becoming known to fans on The Ultimate Fighter.
Also, Johnson is currently on a two-fight losing skid, falling to both Beneil Dariush and Nate Diaz. For "The Menace," a win over Poirier goes a long way in getting himself back on track.
Should Poirier lose, he likely finds himself on another long road back to title-contention and in the near future misses out on the chance to have lucrative fights against the top-five.
A rumor that can't be overlooked that featherweight champion McGregor could be facing lightweight champion Alvarez in a super-fight at UFC 205 in New York. If that is the case, the lightweight title picture could face a log-jam going into 2017, with the top-five likely required to fight in the interim and risk their chances for a shot at the belt until things are settled between Alvarez and McGregor.
For Poirier to compete for the title next year, the fight against Johnson is a must-win situation.  At 27 years old, he has plenty of time to be dominant at the top of the lightweight division.
But another fall at this crucial stage could leave the MMA world wondering if "The Diamond" is truly cut out to be at the top.
This article originally appeared on