UFC Hamburg Breakdown: Triumph of the Warmaster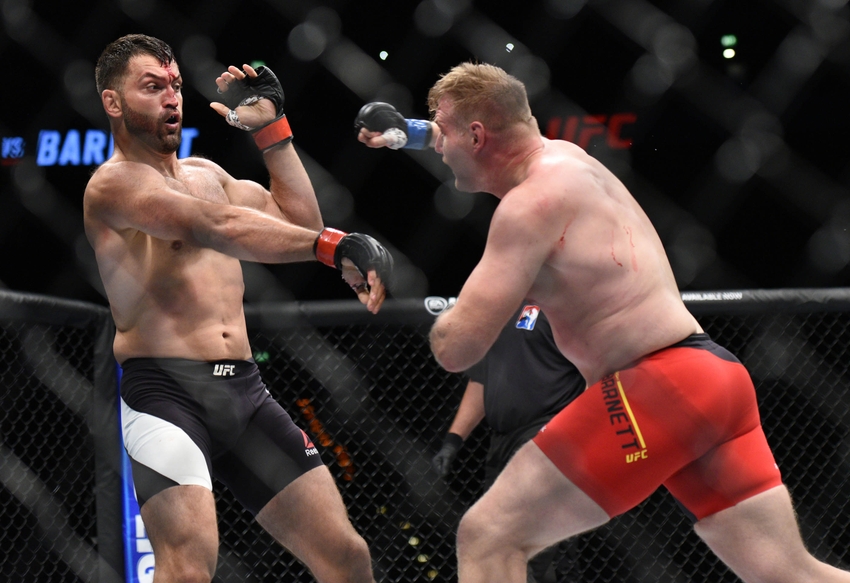 Josh Barnett and Andrei Arlovski provided a great bout to cap off an uninspiring afternoon of UFC action.  We'll also discuss Ryan Bader's continued improvements and the problems with Alexander Gustafsson's footwork.
UFC Fight Night 93 was a bit of a slog, with eight decisions on the card to only three finishes, and lackluster fights aplenty. However, you wouldn't know that if you just caught the main card, as the last three fights of the night delivered action, excitement, and a wealth of lessons to be learned.
Since coming to the UFC, Josh Barnett has alternated wins over mid-tier heavyweights and losses to top competition. His much-needed victory over Andrei Arlovski shoots him into the upper echelon of the heavyweight division, an incredible accomplishment for a man nearly 20 years into his career.
Barnett vs. Arlovski
The main event started off on a thrilling note, with both men trading right hands and dropping each other repeatedly. The fight moved to the clinch quickly and often, as Heavyweight fights tend to do, with one man swinging wide and the other taking the opportunity to duck in on a clinch.
Perhaps surprisingly, Arlovski made no attempt to stay out of the clinch and initiated many on his own. While it was thought coming in that Barnett's advantage was in the clinch and Arlovski's at boxing range, all areas of the fight were competitive.
Arlovski would pin down Barnett's left wrist to expose his face to a right hand or an elbow.
Here's some clever grip fighting from Barnett. Arlovski reaches back to peel Barnett's underhook off by the wrist, clearing his arm and exposing him for a punch on that side. Anticipating the right hand, Barnett reaches through on his overhook side and controls the wrist long enough to stop Arlovski from punching while he passes it back to his other hand.
Taking note of Arlovski's right side-heavy offense, Barnett was waiting on the right hand. He would enter behind a flicking jab, wait for Arlovski's reaction, and bend over at the waist to avoid it. Not the most technically sound head movement and it did take him out of position to fire back with counters, but it also made him difficult for Arlovski to hit clean. Arlovski was able to make him pay with some uppercuts as he ducked into them however, and attempting this style of head movement against someone who kicks freely can have dire consequences, as we'll see when we get to Ryan Bader's fight with Ilir Latifi.
Arlovski started going to the body when he found himself having trouble tagging Barnett up high. Every time Arlovski moved in, Barnett's elbows would drift up in anticipation of a right hook to the head. This allowed Arlovski to sneak the shots in below his elbows.
Near the end of the first round, Arlovski cracked Barnett with a straight on the lead. Barnett shifted into southpaw and covered up. Switching to southpaw puts more distance between his head and Arlovski's right hand, as well as allowing Barnett greater visibility to see the right hand coming. This was a tactic he used to defuse Roy Nelson's powerful right hand and he went back to it intermittently against Arlovski.
It wouldn't be an Andrei Arlovski fight without some less-than-discreet fouling, and this fight was no different. Arlovski sneaked an eye poked by the ref during a clinch exchange and Barnett turned away, giving Arlovski a free shot. Fortunately for Barnett, Arlovski slipped and he was able to get his wits about him enough to slip the next salvo and grab the hold of his man.
Arlovski's willingness to grapple proved to be his undoing. He hit an outside trip in the first round and was able to land some punches and kicks to Barnett's leg. No doubt emboldened by this success, he went back to it in the second round, but this time Barnett was able to redirect his momentum and end up on top. Arlovski spent the rest of the round mounted while Barnett rained down punches and looked for arm triangles and americanas.
In the third round, Barnett locked up a lazy grip around Arlovski's head in the over/under clinch position. Barnett wasn't pressuring down on Arlovski's underhook, which allowed him to elevate it and sneak out to Barnett's back. Barnett clearly didn't mind, as he immediately locked up a kimura and used it to take Arlovski to the ground. Shortly after, Barnett was able to mount Arlovski and force him to expose his back, upon which he locked up a short palm-to-palm rear naked choke for the finish.
Gustafsson vs. Blachowicz
Alexander Gustafsson turned in a workmanlike performance over Jan Błachowicz, but he also displayed all the flaws that have plagued him in recent losses.
Błachowicz demonstrated the value of combinations in a division where they are shockingly absent. Gustafsson was usually able to avoid the first strike thrown at him but he seemed bewildered when, instead of giving up and resetting, Błachowicz would continue pressing forward and chaining his strikes off one-another.
Gustafsson lacks a multi-layered defensive system, primarily relying on his footwork to carry him out of the path of his opponent's strikes. Jon Jones has had great success relying almost solely on footwork while lacking secondary defensive skills, but he follows the typical Jackson/Winkeljohn archetype of a rangy kicker who avoids boxing range altogether. Gustafsson is primarily a boxer, which necessitates spending a good deal of his time in range for his opponent to hit him, during which he is unable to use his footwork to take himself out of range.
Aside from the lack of secondary defensive skills, Gustafsson's primary line of defense, his footwork, is fundamentally flawed. He does great work circling, pivoting, and sidestepping when moving forward, but his footwork falls apart as soon as he's put on the backfoot. He'll often retreat with his front foot first, squaring himself up and occasionally crossing his feet. This completely disarms the threat of his counters and has the effect of compromising his balance and ability to take a shot. His loss to Daniel Cormier was characterized by his inability to keep himself in position when moving backwards.
There is perhaps no better sequence that illustrates the problems with Gustafsson's footwork better than this. Błachowicz charges forward and catches Gustafsson with an elbow as he squares himself up attempting to sidestep. A moment later, Gus charges in a similar fashion only for Błachowicz to safely pivot out of the way. If a top-five fighter is having their footwork shown up by Jan Błachowicz, there is a problem.
Although Gustafsson struggled with Błachowicz on the feet, his wrestling looked fantastic as he was able to find the takedown at will. Błachowicz spent the entire time on the mat attempting to break Gustafsson's posture and tie up his wrists from closed guard, which is a great way to spend upwards of half the fight underneath your opponent. This is what ended up happening, as Błachowicz made no attempt to stand up and was content to work from him back. He'd throw up an armbar attempt every now and then, but Gustafsson had no problem crowding his hips to stuff them.
Bader vs. Latifi
Ryan Bader displayed his improved striking in an impressive victory of Illir Latifi. Latifi's entire game is built around the level change. He changes levels to throw his overhand, to shoot in on the hips, and to defend strikes. Bader's strategy was designed to deny the overhand and counter the Latifi level change.
Bader came out immediately throwing head kicks to stand Latifi up and discourage him from changing levels. He would insist on taking the stance opposite of Latifi's. When the Latifi was in a southpaw stance, Bader was orthodox and vice-versa, although he would occasionally mirror Latifi's stance in order to work his jab. As mentioned before in reference to Barnett and Arlovski, taking the opposite stance creates a greater distance between your head and the opponent's rear hand, but it also opens up the rear body kick.
Bader would feint his way in and throw the body kick, which Latifi repeatedly ducked himself onto in search of the level change for a counter overhand or a takedown.
Bader also made use of looping right hooks that he would throw low in anticipation of Latifi changing levels.
The finish came as Bader flashed a jab and ran in behind a kick, and Latifi ducked himself right into Bader's knee.
Want your voice heard? Join the Cage Pages team!
There was a brief scare near the end of the first round for Bader as Latifi dropped him with a charge of overhands, but for the most part it was smooth sailing. Bader's footwork on the outside looked solid and his jab looked sharp, although he hasn't quite kicked the habit of charging in face-first that got him knocked out by Lyoto Machida.
Although the card as a whole was underwhelming, there were some standout performances amid the drudgery of the prelims.  Peter Sobotta and UFC newcomer, Jack Hermansson, both impressed with dominant victories. Sobotta overwhelmed Nicholas Dalby both on the feet and on the mat for a unanimous 30-26 decision, and Hermansson displayed a slick infighting game as he roughed up Scott Askham.
This article originally appeared on