UFC Fight Night 99: Mousasi vs. Hall 2 preview and predictions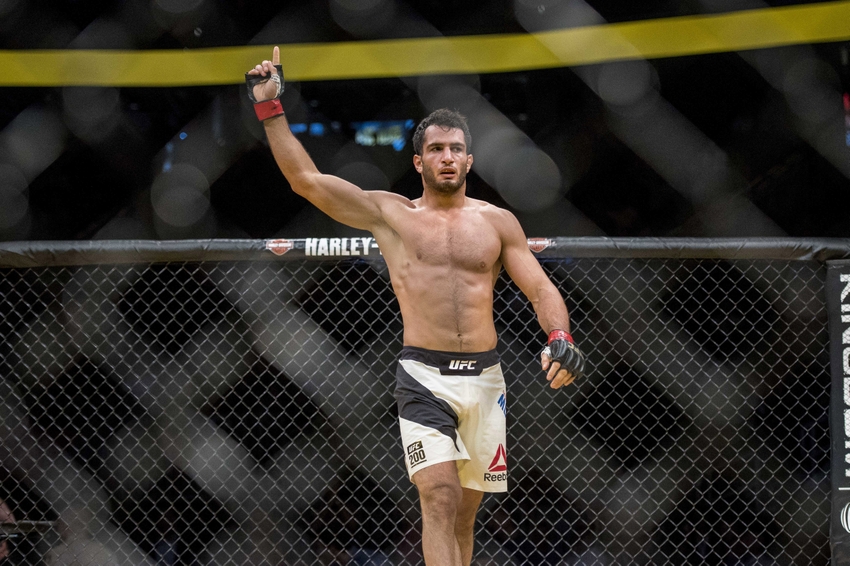 Looking ahead to UFC Fight Night 99 when Gegard Mousasi takes on Uriah Hall.
Saturday night, the UFC comes to Fight Pass live with an exclusive event on the media platform with UFC Fight Night 99. Live from Belfast, Northern Ireland, the event is loaded with European talent and some solid matchups that should entertain.
In the main event, a rematch headlines the card in the middleweight division, when 185-pound contender Gegard Mousasi looks to avenge a loss to Uriah Hall. Hall hit a highlight reel knockout on Mousasi after trailing the first round horribly. This should be another thriller.
In the co-feature, Ross Pearson of England looks to score yet another UFC victory when he takes on Scottish fighter Stevie Ray. Ray fills in on late notice against a top-25 lightweight, making this a tough feat, but he has shown to be a solid hand during his time in the UFC.
Also on the card are names such as Teruto Ishihara, Ian McCall and Kyoji Horiguchi, among others. It should be an entertaining night of fights. With that, let's take a look at the card and make some predictions for UFC Fight Night 99.
Main Card
Gegard Mousasi vs. Uriah Hall
The main event is a late notice bout that's a rematch from their earlier encounter, as middleweight contender Gegard Mousasi looks for revenge when he takes on the flashy Uriah Hall. In their first encounter, Mousasi was dominating Hall until Hall landed a home run shot in the form of a spinning back kick. Outside of that kick, Hall struggled to solve Mousasi. I have a feeling Mousasi will avoid that home run shot here and do what he did for 95% of the fight before he got caught. Mousasi wins, putting himself into title contention in the process.
Ross Pearson vs. Stevie Ray
On late notice, Scotland's Stevie Ray looks to score a huge upset in the lightweight division when he takes on Britain's Ross Pearson. Pearson was to take on James Krause in this fight, meaning he was prepping for a technical striker. He instead fights Ray, who is not as much of a striker as Krause, but a better grappler. I am not sure Ray will be able to take down Pearson, though, which makes this a tough matchup for the Scottish fighter. Pearson tags Ray consistently, winning this bout in convincing fashion.
Timothy Johnson vs. Alexander Volkov
Next up are the heavyweights, as underrated grinder Timothy Johnson looks to play spoiler again when he welcomes highly toured Russian Alexander Volkov, the former Bellator Heavyweight Champion. Johnson is a power wrestler with good aggression and control. He played spoiler in his most recent outing, besting highly touted Marcin Tybura via unanimous decision. Volkov comes in with similar hype. He is a very large, long fighter with good striking. He has proven he can struggle when fighting wrestlers, as seen in his split verdict loss to Tony Johnson Jr. Tim Johnson could very easily grind him to a win, but I think Volkov keeps a safe distance and peppers his way to victory.
Artem Lobov vs. Teruto Ishihara
Kicking off the main card are two exciting bangers, as Russian-Irish fighter Artem Lobov looks to excite a nearby home audience when he takes on Japanese prospect Teruto Ishihara. Lobov is an unorthodox power puncher that is a brawler more than a skilled fighter. He has huge power in his hands, so he is dangerous with every missile of a hand he launches when striking. Ishihara is a wild man on the feet as well, though he has shown to be more technical. Like Lobov, he's also physically tough, so this should be a barn burner. When it's all said and done, Ishihara will win this fight and continue his winning ways in the UFC.
Preliminary Card
Ian McCall vs. Neil Seery
The flyweights will headline the prelims, as Ian McCall hopes to finally make his debut after two late opponent drop outs in his last two attempted bouts. In his way this time is Irishman Neil Seery. McCall has not fought in a long time due to injury, out-of-the-cage activities and the fact two opponents have dropped out of fights too close to fight time. Both men like to strike, and it can be argued that McCall has the much better ground game, which could be a blueprint for McCall's victory. Despite the layoff, I think McCall is the overall better fighter, scoring a convincing decision win.
Magnus Cedenblad vs. Jack Marshman
The first Welsh fighter to sign with the UFC is Jack Marshman, who makes his UFC debut in the middleweight division in the next fight when he takes on Swede Magnus Cedenblad. Cedenblad and Marshman are both pretty well-rounded guys. Cedenblad is a stronger grappler than he is a striker, so expect him to try to get Marshman to the ground. Marshman will want to strike here, something he has no problem executing. This should be a good, competitive fight, but Cedenblad will do enough to score the victory here.
Ali Bagautinov vs. Kyoji Horiguchi
Flyweight contenders are set to fight in an important 125-pound bout, as Japan's Kyoji Horiguchi looks to march for another title fight against Russian fighter Ali Bagautinov. On the feet, both fighters are known to throw heat. On the mat, there is a bit of a stylistic difference. Bagautinov is more of a wrestler while Horiguchi is more of a submission grappler. This is a very close fight and it could go either way, but I will take Horiguchi in a tight contest.
Kevin Lee vs. Magomed Mustafaev
The lightweights are up next, as up-and-comers Kevin Lee of the USA and Magomed Mustafaev of Russia square off. Both Lee and Mustafaev are known for their grinding styles. Lee is the more athletic and quick of the two, and at the age of just 24, already owns 6 UFC victories over the likes of Efrain Escudero, Michel Prazeres and Jake Matthews. Mustafaev has not fought in almost a year, but is 2-0 in the UFC. Both of his wins come via stoppage, besting Piotr Hallmann and Joe Proctor. Mustafaev is a solid fighter, but I don't think he's as naturally gifted and strong skill wise as Lee. Lee takes the victory here.
Anna Elmose vs. Amanda Cooper
After a failed UFC debut at 135 pounds, Anna Elmose of Denmark has decided to drop two weight classes to 115 pounds, when she takes on TUF runner-up Amanda Cooper. Cooper is a former flyweight, so she will not give up much size on Elmose. She is a boxer that has tightened up her ground game, so she will be comfortable wherever the fight goes. Elmose is more of a striker, which should play into Cooper's game. She's a muay Thai stylist, though, which differs from Cooper's boxing. In what should delight the crowd, Elmose will take the victory in an early Fight of the Night contender.
Justin Ledet vs. Mark Godbeer
The heavyweights are set to meet in the next bout, as England's Mark Godbeer looks to make a successful UFC debut opposite Justin Ledet, who returns for his sophomore effort with the company. Godbeer is the BAMMA Heavyweight Champion who has made a career out of knocking guys out. He has big time power and finishes when he lands, which makes him successful. Ledet, who was victorious over Chase Sherman in his UFC debut, it a little more rounded, as he does like to get guys down to submit them in addition to striking. If he can get Godbeer down, he'll be in good shape, but I think Godbeer lands a big shot to make a victorious debut.
Zak Cummings vs. Alexander Yakovlev
The welterweights are set to give it a go in the next bout, as Russian Alexander Yakovlev looks to take on the underrated Zak Cummings. Yakovlev is a well-rounded fighter. He has good striking, as well as the takedowns to get top position on the mat. He's been up and down with the UFC, but surely has the talent to compete with the top of the division. Cummings is a wrestler that has greatly increased his striking while training with James Krause. This comes down to who outlasts the other, and I think Yakovlev wins this in a toss-up.
Marion Reneau vs. Milana Dudieva
The ladies are up next in the bantamweight division, as Milana Dudieva returns from a wedding-pregnancy layoff to take on Marion Reneau. Dudieva has been out of action since May of 2015, so she may have some ring rust. Dudieva is best when she's on the mat, as her submission game is her best asset. Reneau is a well-rounded fighter that also enjoys the ground game. That said, she finds herself on a two-fight skid against the likes of Holly Holm and Ashlee Evans-Smith. On the feet, this is similar, though Reneau likely has the slight edge. That's why I think Reneau takes this fight in what should be a good one.
Brett Johns vs. Kwan Ho Kwak
Kicking off the card are debuting bantamweights, as Korean fighter Kwan Ho Kwak looks to spoil the debut of highly touted prospect and Welsh fighter Brett Johns. Johns is a grinder that is best when he's aggressive, pushing opponents against the cage and dragging them to the mat. He is the Titan FC Bantamweight Champion, an accomplishment he achieved by choking out Walel Watson and defending it against Anthony Gutierrez. Kwak is a PXC and Top FC veteran that has progressively take on tougher and tougher competition. His biggest win came in May, when he bested UFC vet Alp Ozkilic by decision to win the Top FC Bantamweight Championship. This is a good prospect bout, but Johns wins easily based on his skill set.
This article originally appeared on