UFC Fight Night 99: Gegard Mousasi defeats Uriah Hall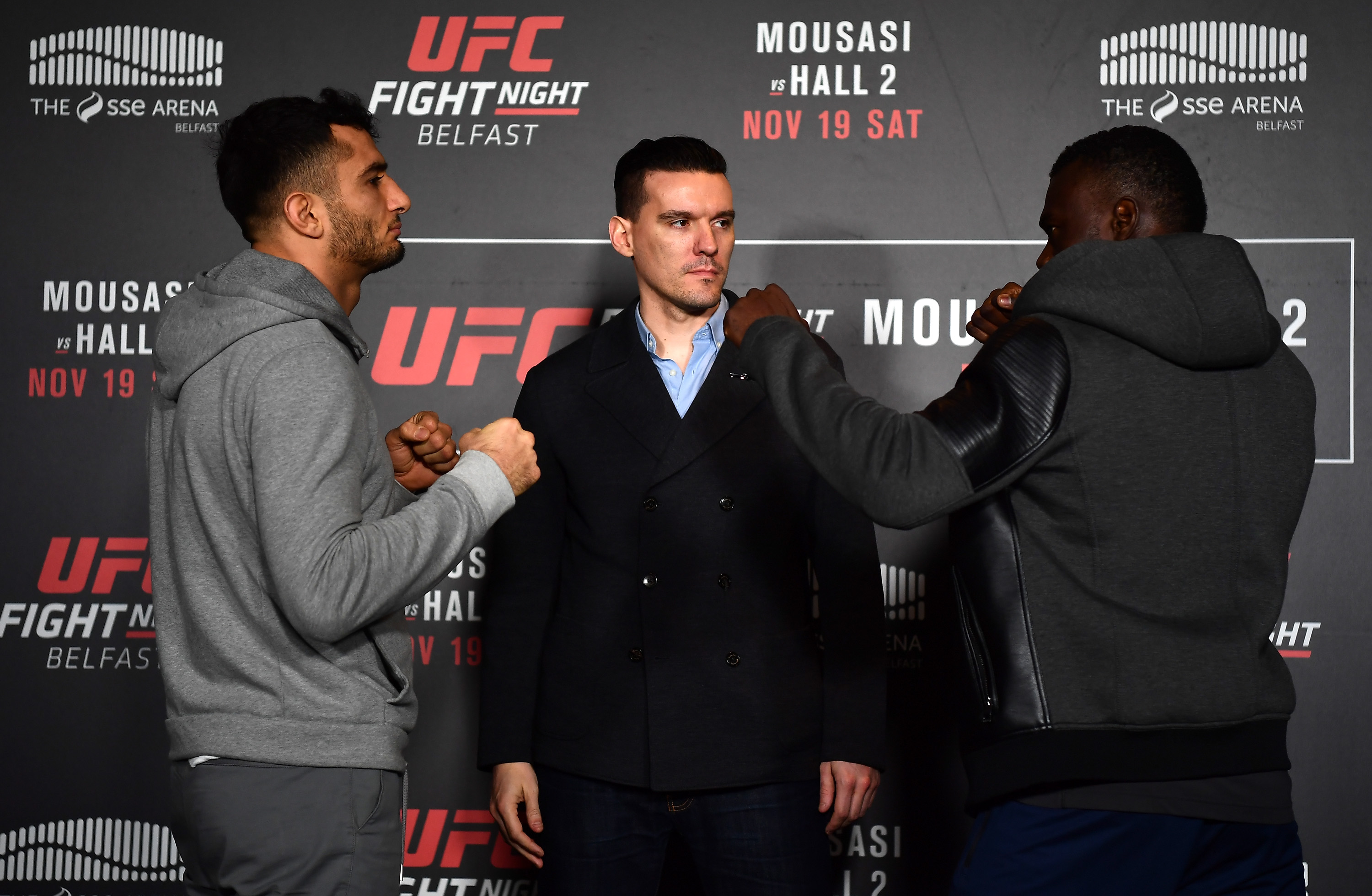 Gegard Mousasi avenges his UFC Fight Night 75 loss in a rematch with Uriah Hall at UFC Fight NIght 99
When Uriah Hall and Gegard Mousasi first met September 27, 2015, Hall scored an impressive upset knockout victory over Mousasi.
In their first fight, Mousasi controlled the first round, taking down Hall with a high single leg take-down. Mousasi attempted multiple submissions but each time Hall escaped. The second round began with Hall landing a clean punch to Mousasi's head before connecting with a spinning back kick and flying knee. Hall followed with strikes before the referee stoppage.
Since then, Hall (12-7) has not won a fight. While Mousasi (40-6-2) has won three straight fights. The Jamaican born Hall believes the UFC's number five ranked middleweight Mousasi has not paid him any respect.
Uriah Hall: "It sucks that he looks at me as nothing, and I beat him" on Gegard Mousasi

— John Pollock (@iamjohnpollock) November 19, 2016
Prior to the fight, Mousasi was looking past Hall and eyeing a fight with former UFC middleweight champion Luke Rockhold.
Entering their first fight in Saitama, Japan, Hall was a +375 underdog. The UFC's tenth ranked middleweight Hall entered the octagon in Belfast, Northern Ireland, a +480 underdog, while Mousasi entered a (-570) favorite.
Round by Round recap:
Round one: Unlike in the first fight, Mousasi took a slower approach in the opening of the first round. Hall teased the spin kick early, but misses his first attempt. Both fighters exchange leg kicks and jabs, but neither delivers much damage.
Mousasi lands the first power shot of the fight, landing a right jab to the head of Hall. Hall's head snaps back, but he attempts and lands his first spin kick of the night. Unlike in the first fight, this one barely connects with the chin of Mousasi. A third spin kick is attempted, but blocked by Mousasi.
Mousasi attempts his first take-down of the fight. Hall initially blocks the attempt up against the cage. But Mousasi eventually gets him down and on his chest. Once down, Mousasi was relentless with his right hand. Mousasi lands punch after punch to the head of Hall.
The referee comes in and stops the fight at 4:37 of the first round, with Hall unable to defend himself. After the fight, Mousasi says he wants to fight for the title or at least fight in a title eliminator fight against another of the top ranked middleweights.
Official result: Gegard Mousasi def. Uriah Hall – Technical Knockout – Round 1 (4:37)
UFC Fight Night 99 main card results:
Middleweight: Gegard Mousasi def. Uriah Hall – Technical Knockout Round 1 (4:37)
Lightweight: Stevie Ray def. Ross Pearson – Split decision (30-27, 27-30, 30-27)
Heavyweight: Alexander Volkov def. Timothy Johnson – Split decision (29-28, 27-30, 29-28)
Featherweight: Artem Lobov def. Teruto Ishihara Unanimous decision (30-27, 30-27, 29-28)
UFC Fight Night 99 preliminary card results:
Middleweight: Jack Marshman def. Magnus Cedenblad – Technical Knockout – Round 2 (3:32)
What a combo from @JackMarshman!! Beginning of the end!! #UFCBelfast pic.twitter.com/SYzNf9yjMa

— UFC (@ufc) November 19, 2016
Flyweight: Kyoji Horiguchi def. Ali Bagautinov – Unanimous decision (30-27, 30-27, 30-27)
Lightweight: Kevin Lee def. Magomed Mustafaev – Technical Submission (rear-naked choke) – Round 2 (4:31)
Kevin Lee: This is a division full of bitches… I put McGregor ass on his back right now. #UFCBelfast

— Mike Dyce (@mikedyce) November 19, 2016
Women's strawweight: Amanda Cooper def. Anna Elmose – Unanimous decision (30-27, 29-28, 29-28)
Heavyweight: Justin Ledet def. Mark Godbeer – Submission (rear-naked choke) – Round 1 (2:16)
Catchweight (172.8 lbs): Zak Cummings def. Alexander Yakovlev – Submission (armbar) – Round 2 (4:02)
Smooth armbar submission by @ZakCummings at #UFCBelfast! https://t.co/hMDR5vUhzZ

— UFC Europe (@UFCEurope) November 19, 2016
Women's Bantamweight: #15 Marion Reneau def. Milana Dudieva – Technical Knockout – Round 3 (3:03)
Bantamweight: Brett Johns def. Kwan Ho Kwan – Unanimous decision (30-27, 30-27, 30-27)
Welterweight: Abdul Razak Alhassan def. Charlie Ward – Knockout – Round 1 (0:53)
This article originally appeared on