UFC Fight Night 102: Lewis vs. Abdurakhimov predictions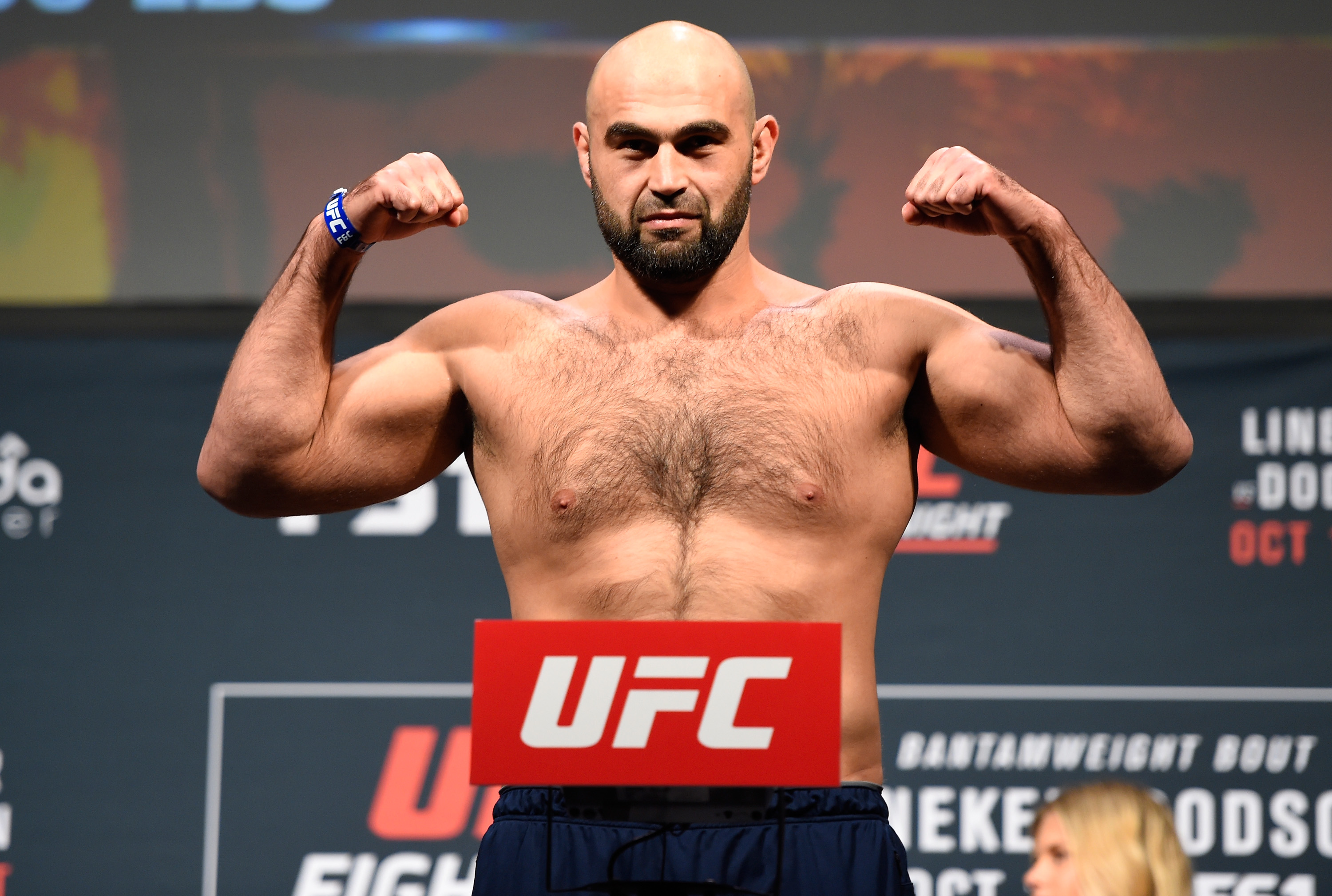 UFC Fight Night 102: Lewis vs. Abdurakhimov takes place Friday night. Here we make predictions for the entire card.
Friday night, the UFC hosts the first of a double-header this weekend, when it goes to Albany, NY for UFC Fight Night 102. The card is headlined by a heavyweight showdown between a couple of fighters storming up the ladder.
Derrick Lewis takes the headlining spot opposite Shamil Abdurakhimov in a pivotal heavyweight affair. Lewis has been one of the most violent heavyweights in the company and is marching quickly toward the title picture.
In the co-feature, we have another heavyweight bout, as knockout artist Francis Ngannou looks to continue his undefeated streak in the UFC against Anthony Hamilton. Ngannou is one of the best up-and-comers the UFC has, and it'll be hoping he turns into a marketable fighter.
Corey Anderson, Andrew Sanchez and Justine Kish, among others, will also feature. Overall, the card is low on name value, but high on potential for fireworks. With that, let's make some predictions for the card.
Main Card
Derrick Lewis vs. Shamil Abdurakhimov
The heavyweights occupy the main event in Albany, as American destroyer Derrick Lewis looks to continue his run up the ladder against Russian Shamil Abdurakhimov. Lewis is primarily a boxer, but he can also achieve his coveted knockouts when he's on top during a grappling exchange. His immense power has led to knockouts in a majority of his fights, so Abdurakhimov would be wise to avoid an extended battle on the feet and instead look to score takedowns and overwhelm Lewis, who's not the strongest off his back, on the ground. He'll have to enter the danger zone to do that, though, and Lewis will knock him out in front of a raucous Albany crowd.
Francis Ngannou vs. Anthony Hamilton
The co-main event will also feature heavyweights, as France's Francis Ngannou looks to continue his impressive UFC run against Greg Jackson student Anthony Hamilton. Both Ngannou and Hamilton are sluggers who will likely engage in a glorified kickboxing match with 4-ounce gloves. Hamilton showed his immense stopping power in his last outing, when he blitzkrieged Damian Grabowski immediately out of the gate to score the knockout stoppage. He'll have to bring his chin to this bout, though, as Ngannou likely has the power advantage. This will be a fun one while it lasts, as both men will exchange heavy leather. In the end, Ngannou will continue his trend of highlight reel knockouts, leaving Hamilton in a heap with a blistering KO.
Gian Villante vs. Saparbek Safarov
Next up are the light heavyweights, as UFC newcomer Saparbek Safarov makes a very short notice debut when he meets up with New York native Gian Villante. Villante, a strike-first fighter, will look to make this a kickboxing match. He has good power to back up his technique. He's also extremely athletic, which may serve him well in this bout. Safarov is a finisher that has won every fight in his eight-bout career by either knockout or submission. This is a coin flip, and the fact Safarov accepted the fight on short notice could affect the outcome, but I still see him pulling out the win, possibly by submission.
Corey Anderson vs. Sean O'Connell
TUF 19 winner Corey Anderson looks to take out the always-entertaining Sean O'Connell in a bout between a striker and a grappler. Anderson is the grappler whose athleticism, explosiveness and wrestling technique oftentimes carry him through fights. He's cleaned up his boxing, too, which has helped him in striking affairs and has also helped set up more takedowns. O'Connell is an axe-to-the-grind brawler, an approach that has brought him both success and heartbreak. He'll try to engage in another war with Anderson here, but it won't serve him well. Anderson wins however he pleases.
Justine Kish vs. Ashley Yoder
In another late-notice bout, this time at strawweight, TUF veterans Justine Kish and Ashley Yoder square off. Kish is a striker with good athleticism and explosiveness. Her strikes land with great power for a woman her size, and the technique and angles she lands at further the accumulation of damage. She'll want to keep this fight upright, as Yoder is a submission grappler who will look to ground this fight early. Yoder's submission prowess is well noted and she's coming off a tapout in Invicta against former atomweight title challenger Amber Brown. While that win was impressive, Brown is a lot smaller than Kish, who will pepper Yoder throughout and score a finish mid-to-late in the fight.
Randy Brown vs. Brian Camozzi
Randy Brown meets up with Brian Camozzi, who fills in on late notice for Charlie Ward, in a welterweight bout. Camozzi comes from the same FactoryX Muay Thai gym as his brother Chris, which has produced some solid all-around fighters. He has good knockout power and a strong submission game to back that up. All of his wins are finishes, showing a killer instinct that will make him a dangerous UFC roster member. He takes on a striker in Brown who's quick, explosive and devastating when he lands strikes. This should be an entertaining fight that gets the crowd hot. Brown will walk away the victor, though Camozzi will get mad respect for his effort.
Preliminary Card
Joe Gigliotti vs. Gerald Meerschaert
This middleweight bout sees two fighters stepping in on short-notice. Jose Gigliotti stepped in for Josh Samman, while Gerald Meerschaert replaced Oluwale Bamgbose. Meerschaert is the RFA middleweight champion and has a respectable record of 24-8. He trains with Roufusport, which has guided him well, especially during the current run he's on. His ground game has been his strongest asset, which has led to some great submission and ground-and-pound stoppages. As for Gigliotti, the 23-year-old fighter came up short in his UFC debut, falling to veteran Trevor Smith over three rounds. He's known to have a solid submission game as well, though I don't think he has as many tools as Meerschaert. That's why the UFC newcomer and RFA champ scores a win here in his first UFC outing.
Andrew Sanchez vs. Trevor Smith
In a middleweight bout, TUF 23 winner Andrew Sanchez looks to continue his ascent up the ladder against longtime vet Trevor Smith. Smith has been around the block a time or two, and although his striking isn't the best for a guy with as many fights as he has, his wrestling and jiu-jitsu are hard to compete with. He goes up against Sanchez, who's likely the better wrestler and striker, and can compete in the submission game as well. Sanchez is one of the better TUF winners in recent history, so it appears this is a litmus test for him. Best Smith and get a high-level opponent next; fall to Smith and go back to the drawing board. I think he thrives here, getting past Smith with his striking to move on to bigger and better things.
Tiago dos Santos vs. Shane Burgos
On late notice, featherweight Shane Burgos will make his UFC debut against middling Brazilian Tiago dos Santos. "Trator," as he's known, has not fought for the UFC since September of 2015, a legnthy layoff. That said, despite a TKO loss to Mike de la Torre, he has scored decision wins over the likes of Akbarh Arreola and Clay Collard. He has a lot more experience than Burgos, who has just seven pro fights (all victories). Burgos is a tall featherweight at 6 feet, so he may have a good size advantage here. He's a veteran of the CFFC organization, where he was scoring finishes left and right. He may be affected by the fact he's taking the fight on short notice, but I'll take Burgos in the upset in impressive fashion.
Marc Diakiese vs. Frankie Perez
After a jaw-rattling performance in his native England, Marc Diakiese returns for his sophomore effort in the UFC when he takes on un-retired fighter Frankie Perez. Perez is a grinder that loves working the ground game, which makes sense seeing as he runs with names like Ricardo Almeida and Nick Catone. He'll look to force Diakiese down early, as that's his best chance at succeeding here. As for Diakiese, his power punching ability is what brought him to the big show and he'll likely continue to use that weapon here. He'll want to sprawl on the Perez takedowns and land big shots on the exit. He does that here, doing a lot of damage on Perez before scoring a victory in his second UFC affair.
Ryan Janes vs. Keith Berish
Keith Berish returns to the Octagon for the first time in a very long time against debuting Canadian Ryan Janes in a middleweight contest. This is the first fight for Berish since July of 2014, when he was submitted quickly by Robert Drysdale in a fight that was overturned to a no contest. Since then, no one's seen him anywhere near a UFC cage. He takes on Janes, who has had a (much shorter) layoff himself. Most of Janes' career wins come via choke submission. The most impressive came in his last outing, when he choked out Canadian prospect Brendan Kornberger in a fourth-round finish. This fight has a lot of question marks, but I think the combination of a long layoff for Berish and the skill of Janes will bring victory to the Canadian fighter.
Juliana Lima vs. JJ Aldrich
On late notice, JJ Aldrich is set to make her UFC debut when she takes on Brazilian veteran Juliana Lima. Lima is a power grinder — physically strong and explosive in the clinch and on the mat. She will look to take Aldrich down, as JJ has shown she's a competent striker. Aldrich will want to keep this fight on the feet to give herself the best chance to win. However, I don't see her handling Lima's pressure in this one. The Brazilian will get another win under the UFC banner.
This article originally appeared on