UFC Fight Night 100: Bader vs. Nogueira 2 preview and predictions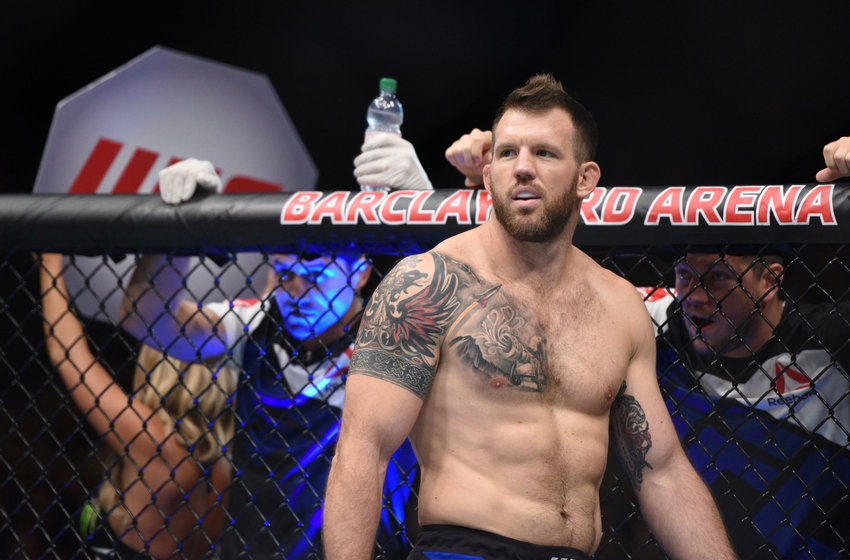 Looking ahead to UFC Fight Night 100, when Ryan Bader faces Antonio Rogerio Nogueira in Brazil.
Saturday night, the UFC comes to Fox Sports 1 with with UFC Fight Night 100. Live from Brazil,  the event is loaded with domestic talent, as well as fighters from around the world. There are some solid matchups that should entertain.
In the main event, a rematch headlines the card in the light heavyweight division, when 205-pound contender Ryan Bader looks to score another win against Antonio Rogerio Nogueira. Bader won the first fight, as Nogueira is in the twilight of his career and Bader is rapidly rising up the ladder.
In the co-feature, Thomas Almeida looks to jump back into the spotlight after a tough loss when he takes on Albert Morales. Almeida is one of the best bantamweights in the world, but hit a snag against Cody Garbrandt. He's still a young, marketable fighter that could be a title challenger in the near future.
Also on the card are names such as Claudia Gadelha, Thales Leites and Kamaru Usman, among others. It should be an entertaining night of fights. With that, let's take a look at the card and make some predictions for UFC Fight Night 100.
Main Card
Ryan Bader vs. Antonio Rogerio Nogueira
Main eventing the card are the light heavyweights in a rematch, as Ryan Bader looks to make it 2-0 against Brazilian legend Antonio Rogerio Nogueira. Nogueira is the striker in this bout, while Bader is the wrestler. That said, Bader is not afraid to strike, especially because of his immense one-punch knockout power. If Bader gets Nogueira down, he can control him thoroughly. That said, this will be a striking battle in my opinion. In that facet, Bader wins this fight however he pleases, probably by knockout.
Thomas Almeida vs. Albert Morales
Co-headlining the card will be a bantamweight contest, as Brazilian wrecking machine Thomas Almeida takes on Albert Morales. Morales is a solid prospect that failed to win his recent UFC debut, which makes it surprising that he's in the co-main event. Almeida has been one of the best Brazilian fighters and the UFC has marketed him accordingly. On the feet, Almeida will blister anybody who stands with him. That happens here, as Almeida lands a big shot and finishes Morales.
Claudia Gadelha vs. Cortney Casey
The strawweights occupy the next main card spot, as former title challenger Claudia Gadelha looks to recover and get back toward the title picture when she takes on the scrappy Cortney Casey. Gadelha is a brute, using her physical strength to ragdoll opponents. She does her best work on the ground, so expect her to ground Casey in this one. Casey is a submission fighter in her own right, though competing in a grappling match with Gadelha doesn't leave her with a great matchup. This should be an easy win for Gadelha, who wins in whatever way she pleases.
Krzysztof Jotko vs. Thales Leites
Poland invades Brazil for the next bout in the middleweight division, as Krzysztof Jotko enters the territory of Thales Leites in a pivotal bout. Jotko is a good, durable, well-rounded fighter that earned a big upset in his last bout when he finished Tamdan McCroy. He steps up in competition here against Leites, who is a grinder that has a strong resume of wins. This is a tough fight for both men, so this will be a strategic chess match. When it's all said and done, Leites wins a competitive, close bout.
Warlley Alves vs. Kamaru Usman
Welterweights and TUF winners will fight in the next bout, TUF Brazil winner Warlley Alves takes on Blackzilians rep and TUF 21 winner Kamaru Usman. Alves is a good, well-rounded fighter that has strong submissions and good striking. He will be fighting a wrestler in this bout, so he should try to keep this fight standing. Usman is a highly athletic and explosive fighter who is best when he's wrestling. Alves has a good guillotine choke, but I think Usman has good enough to defend that choke. Usman takes what should be a competitive fight.
Sergio Moraes vs. Zak Ottow
On late notice, Zak Ottow looks to build on his UFC debut win when he steps in to take on Sergio Moraes. Ottow scored a big, short-notice upset in his debut when he defeated veteran Josh Burkman. He is a grappling based fighter, which makes this a tough matchup for him. Moraes is a highly accomplished grappler with top-notch submission ability. On the feet, it should be closer, but Moraes will try to ground Ottow. Moraes takes the win here, whether it's ground domination or submission.
Preliminary Card
Cezar Ferreira vs. Jack Hermansson
Capping off the prelims are the middleweights, as Brazilian Cezar Ferreira looks to build on recent success when he takes on Swedish banger Jack Hermansson. Hermansson is a good striker who won a big bout over Scott Askham in his debut. He will want to keep this fight standing, as that will be his best chance to thrive. Ferreira is a powerful striker in his own right, but would be smart to test Hermansson's ground game. If he can get him down, I can see him dominating. That said, I like Hermansson as a prospect and Ferreira has been a tad inconsistent. Hermansson scores a victory here.
Gadzhimurad Antigulov vs. Marcos Rogerio
The light heavyweights are set to square off in the next bout, as debuting Russian Gazhimurad Antigulov meets up with Brazilian Marcos Rogerio. Rogerio is a big striker that has good power and an underrated mat game. He will try to keep this fight upright, as he can test the Russian on the feet. Antigulov is a proficient finisher that can tap you out or knock your block off. His best bet might be to push Rogerio against the cage, tire him out and try to score a submission on the ground. This is a close bout, but I just think Rogerio is more proven at tihs point, so he takes the contentious victory.
Manvel Gamburyan vs. Johnny Eduardo
The bantamweights will fight in the next one, as Brazilian slugger Johnny Eduardo takes on longtime vet Marvel Gamburyan. Eduardo trains with Nova Uniao, and while most Nova Uniao fighters are accomplished mat wizards, Eduardo is a power boxer. If he lands, he can do major damage. Gamburyan is a pitbull, using aggressive striking and power to either accumulate damage or force a grappling bout. In what should be an entertaining one, Gamburyan edges Eduardo in a close bout.
Christian Colombo vs. Luiz Henrique
Heavyweights collide in the next bout, as Danish banger Christian Colombo takes on Brazilian grinder Luiz Henrique. Colombo is a big, strong striker who somewhat under-achieved in his UFC debut. He will want to keep off his back here and swing for the fences, looking to knock Henrique's block off. Henrique has a wrestling background, which is rare for a Brazilian fighter. He will close the distance and try to ground Colombo. That happens, as Henrique weathers the early storm, grounds Colombo and scores the win in front of his countryman.
Pedro Munhoz vs. Justin Scoggins
In the next bout, former flyweight Justin Scoggins moves up to bantamweight when he takes on Brazilian Pedro Munhoz. Scoggins is a flashy striker that has a good wrestling background to fall back on. In this case, he will want to keep this upright, as he holds a distinct striking advantage. As for Munhoz, he is a grappler with a black belt in Brazilian jiu-jitsu. He has the submission edge on the ground, so he will have to find a way to get Scoggins on his back. That doesn't happen here, as Scoggins sprawls and brawls his way to victory.
Francimar Barroso vs. Darren Stewart
Light heavyweights will kick off the card, as Brazilian Francimar Barroso welcomes England's Darren Stewart to the UFC. Stewart is a big, powerful striker that has been knocking out people left and right. His competition hasn't been the highest, so this is a big step up for him. Barroso is a grinder that will try to make this fight ugly. He will try to take down Stewart, which is definitely a possibility. I will take Stewart, though, who lands a home run shot.
This article originally appeared on