Eddie Alvarez reveals Rafael dos Anjos' biggest weakness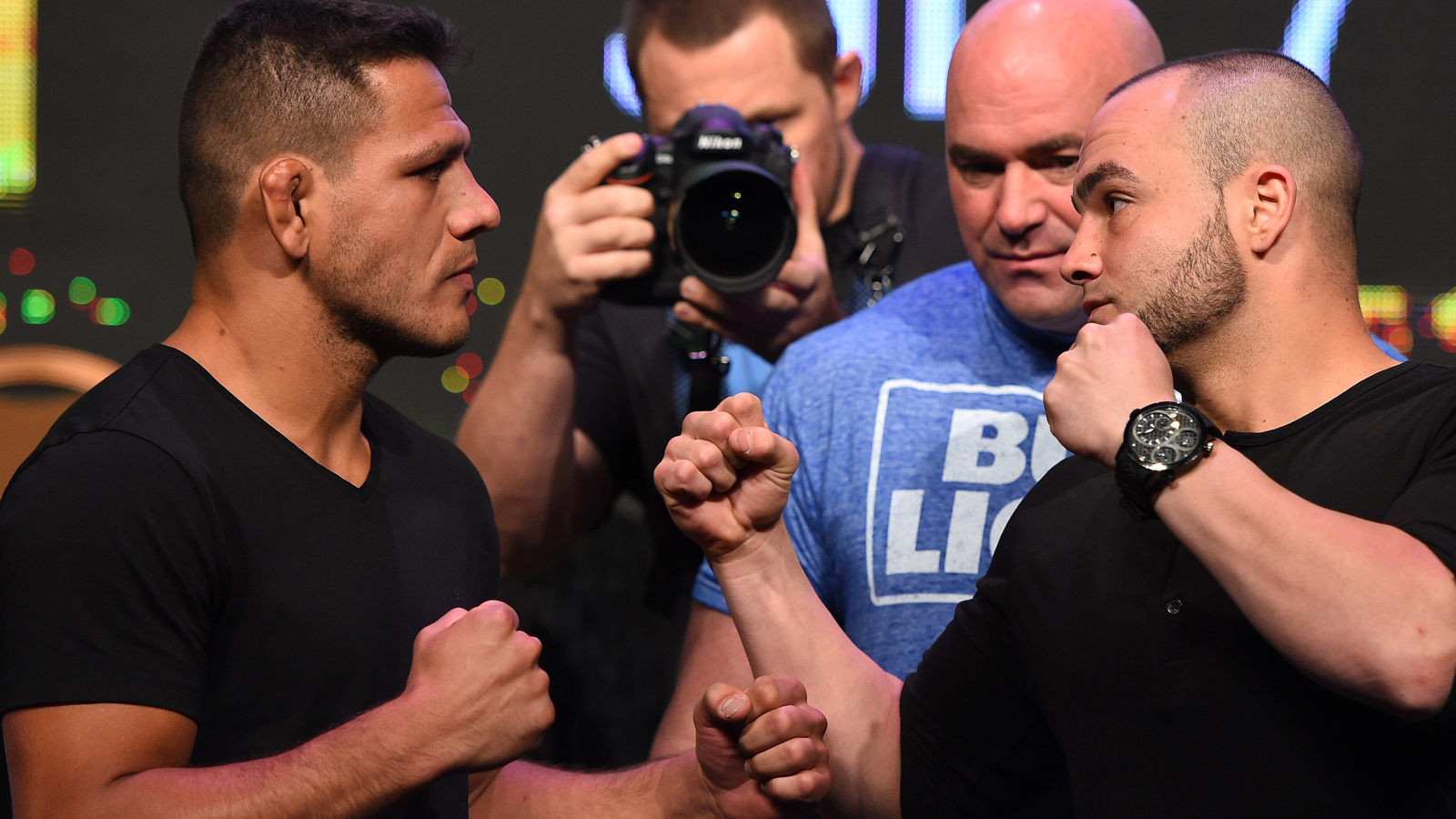 Eddie Alvarez isn't oblivious to the kind of challenge that's sitting in front of him as he faces Rafael dos Anjos at UFC Fight Night in Las Vegas next Thursday night.
Dos Anjos is the reigning lightweight champion and is riding a five-fight win streak. The surge includes victories over a laundry list of top fighters, including Nate Diaz, Anthony Pettis and Donald "Cowboy" Cerrone.
The Brazilian champion has won 10 out of his past 11 fights with a slew of highlight reel knockouts. He's clearly defined himself as the best in the world at 155 pounds.
It's a daunting task to tackle such a dominant champion, but Alvarez has been here before. He's looked at all of dos Anjos' most vicious finishes and his best performances, but Alvarez still sees one glaring weakness in his game.
And Alvarez plans to expose that when they met July 7 with the lightweight title on the line.
His biggest danger is also his biggest weakness. It's his aggressiveness. I'm not sure he'll be able to control it properly or keep even keel with it. He's able to put guys away quickly with it, but if this thing turns into a fight, I think he'll be in deep water. He'll be in big trouble.
— Eddie Alvarez
"I think that's where I excel," Alvarez told FOX Sports. "I think that's where I've made my career. When I pull people into fights, I beat them up. I'm not a guy you're just going to finish quickly. I'm not the other guys he's fought. It just doesn't happen."
Alvarez has a notoriously brutal style and leaves the ring or cage without a black eye, a few bumps and bruises as well as a little bit of blood running down his face.
While a lot of fighters would say that's a dangerous game to play, Alvarez says his ability to absorb punishment and dish it back is what makes him one of the best fighters on the planet, and dos Anjos will find that out the hard way when they meet.
"I've been knocked out 10 seconds into a fight," Alvarez said. "I've had my nose broken, my face broken, everything, very quickly into a fight, and there's just something in me that won't allow me to quit. Whoever you are or whatever you're good at, I'm not a guy you're going to finish quickly and I'm going to put you in a fight.
"He needs to know how to deal with that. His camp should have been based mostly around that — to deal with being in some terrible situations because I feel that's where he's going to be at."
SNEAK PEEK: @UFC #BattleLines: @RdosAnjosMMA vs @EalvarezFight – Full episode premieres MONDAY!https://t.co/KHN9fbgSjA

— UFC Fight Pass (@UFCFightPass) June 25, 2016
Beyond the physicality of those grueling exchanges, Alvarez also knows that he can survive a big punch or a close submission attempt because he won't allow himself to be broken mentally.
Alvarez has seen other fighters fade and crumble under the intensity of dos Anjos' pressure, but that's one he welcomes from the champion. He promises he'll send him packing with a bruised ego and minus one title belt around his waist.
"The ability to be able to go there mentally and to be able to strive in those terrible situations. You can't work on that. It's not like a kick or a punch or a takedown. You can't go in the gym and say 'hey let's work on being in a terrible situation and overcoming it'. It's the person that you are and a belief that you have. If you don't, these high level fights, you'll either shine the best or you'll find your way out of it," Alvarez said.
"One thing I've seen in Rafael, he's incredibly dominant and when he is, he excels really well. But when I've seen him get into fights, where he's dealt with some trouble and gets into adversity, I doubt how he handles that. I feel like that's where I'll excel and he'll be letting off the gas in those situations."
Alvarez is very confident about his ability to take out dos Anjos despite odds-makers placing him as a 4-to-1 underdog heading into the title fight.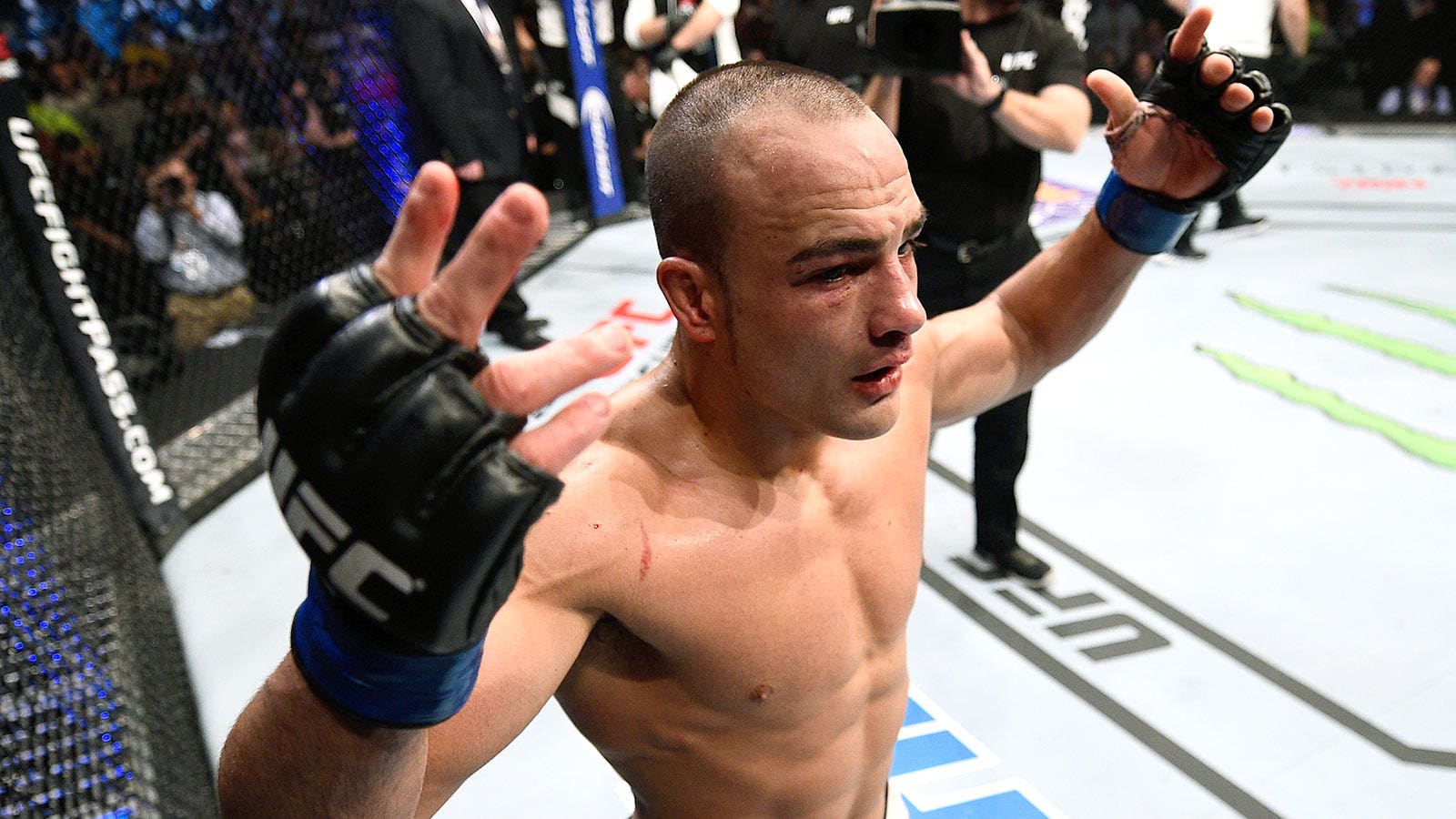 None of that matters to Alvarez ahead of his first shot at UFC gold because he was a long shot to make it out of his Philadelphia suburb and become a professional fighter in the first place.
The odds have always been against Alvarez — and he wouldn't have it any other way.
"I love it. I was +330 going into the (Anthony) Pettis fight. I think I was the underdog against Gilbert (Melendez). I went into the DREAM tournament, some kind of crazy underdog. I was born an underdog," Alvarez said. "I wasn't ever supposed to be anything. I wasn't supposed to amount to (expletive). I don't really live in the world of statistics or the world of the media.
"You guys analyze things and you need numbers to be able to make your correct decisions who you want to pick. I don't live in that world. I know what I'm capable of. I know what I can do. I don't need to show anybody anything. I've just got to show up and fight and that's what I do best."