Dana White: Conor McGregor was 'obsessed' with Nate Diaz rematch
In the aftermath of UFC 196, Conor McGregor first mentioned that his next fight would likely take place in the featherweight division. But it turns out his focus immediately shifted toward a rematch with Nate Diaz instead.
McGregor fell to Diaz by a second-round rear naked choke in early March. It was his first defeat in the UFC after storming through the 145-pound weight class en route to becoming champion.
The fight with Diaz took place at welterweight after McGregor's original opponent Rafael dos Anjos pulled out of the card due to injury.
Now UFC president Dana White reveals that he met with McGregor just after the fight and the only thing on the Irishman's mind was a second crack at Diaz.
"After the fight, Lorenzo (Fertitta) and I went up to Conor's house that he was renting here in Las Vegas and started talking about what are you thinking, what's next and he was obsessed — obsessed with fighting Nate Diaz again," White revealed when speaking with "SportsCenter" on Wednesday.
He was obsessed — obsessed with fighting Nate Diaz again.
— Dana White on Conor McGregor
White says that he attempted to persuade McGregor to abandon that plan and move back to the featherweight division where he could defend his title for the first time, but he was having none of that idea.
In fact, McGregor not only wanted the rematch with Diaz but he insisted on the fight taking place at 170 pounds just like the first bout at UFC 196.
"Obviously, Lorenzo and I tried to argue with him and say 'let's go back down to 145 an defend your title' or if you really want the Diaz fight that bad, do it at 155. He wants the fight at 170," White said.
"Even his coach, coach (John) Kavanagh tried to get him off this rematch and off the 170 pound fight, but it's what he wanted."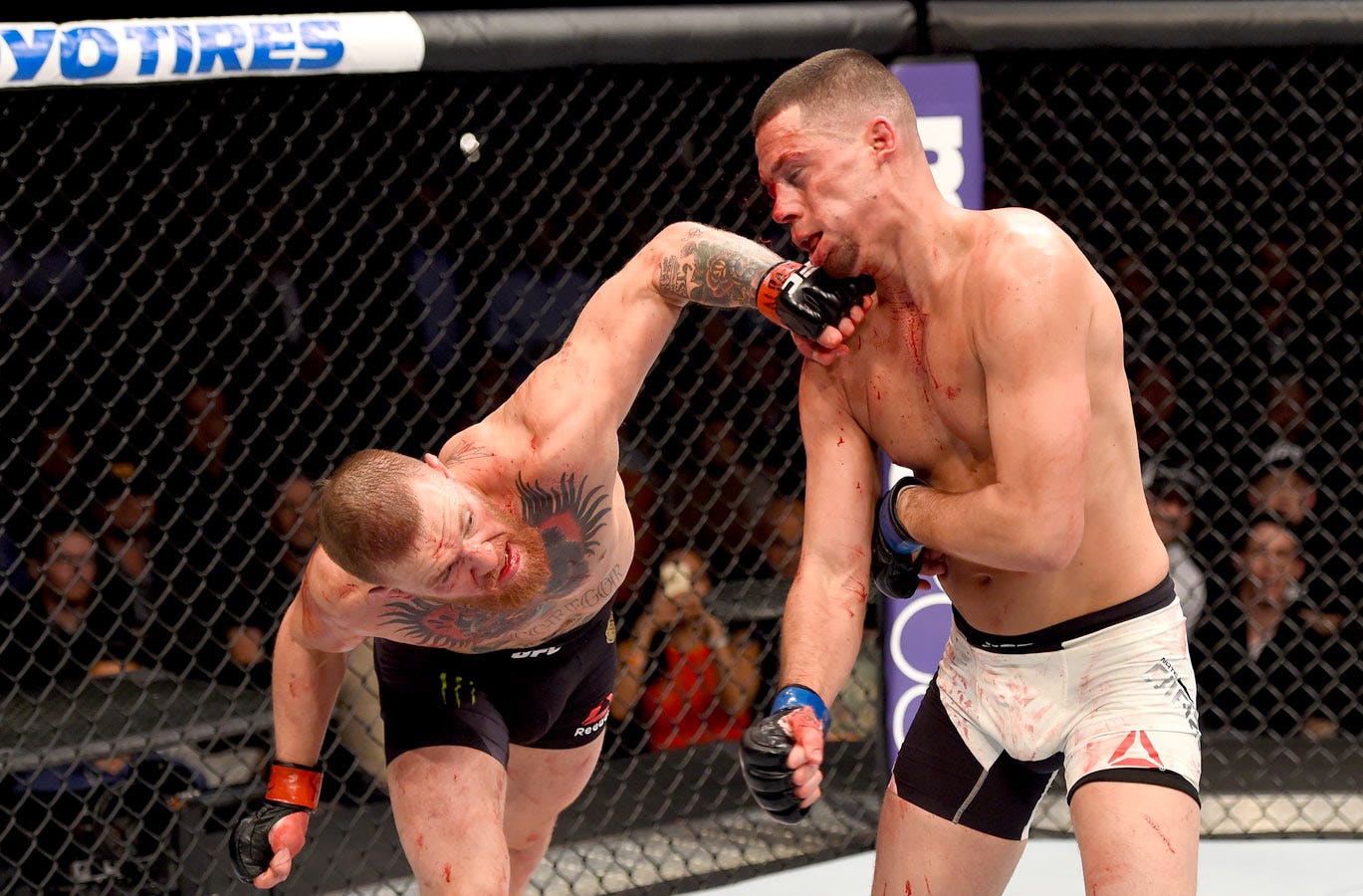 The UFC ultimately bowed to McGregor's wishes, and now he'll face Diaz at welterweight in the main event at UFC 200.
For his part, Diaz never seemed to hesitate accepting the fight with McGregor a second time around after beating him in March.
"He wants to do it again, let's do it again," White said, relaying what Diaz told him when offered the fight with McGregor. "Nate was obviously up for the fight."
McGregor will face Diaz at UFC 200 but after that fight White stated that win, lose or draw, he will return to the featherweight division to fight either Jose Aldo or Frankie Edgar, who are battling for an interim title on the same card on July 9 in Las Vegas.
The latest on UFC Featherweight Champion Conor McGregor