Conor McGregor: 'I'm here to win every belt and then I'm gone'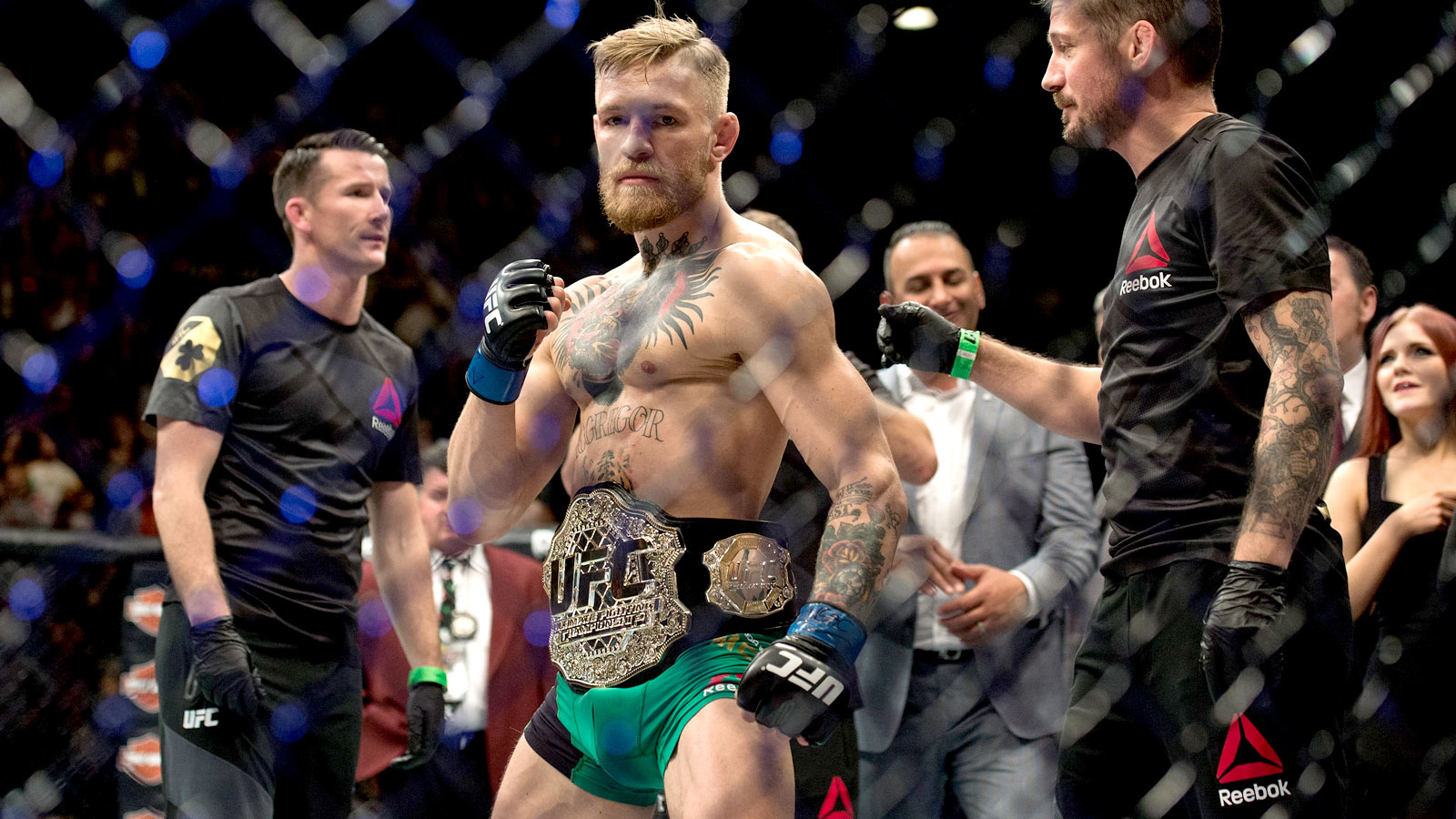 Conor McGregor wants to become the first UFC fighter in history to claim two titles in two different weight classes simultaneously next month. But it now appears he's more serious than ever about going for a third belt later this year, as well.
For months, the reigning featherweight champion has teased that if he defeats Rafael dos Anjos for the lightweight title March 5 at UFC 196, his eyes will shift to the welterweight title next.
Accordingly, rumors have been swirling for weeks that if McGregor wins at UFC 196, a title fight against welterweight champion Robbie Lawler could await him at UFC 200 on July 9. As crazy as it sounds that any fighter could potentially hold three belts in three different divisions simultaneously, McGregor sounds primed to make that run in 2016.
"Why not go up? They get slower and they get less free up there I feel, they're stiffer, even more stuck than the lightweight division," McGregor said in an interview with Severe MMA on Wednesday. "I'll keep going, keep eating, keep training, and keep f–king going until all the belts are wrapped up. I can go all the f–king way.
"I'm afraid of no one. I'll go up and fight any weight. Anyone can come down and step in that cage with me or any cage and see how they fare but nobody fares well that's for sure."
McGregor says part of his motivation is personal but there's also something about giving the sport something it's never seen before that drives him.
Only two fighters in UFC and MMA history — B.J. Penn and Randy Couture — have held titles in multiple weight classes. To make matters worse, McGregor has heard talk of super fights between two champions happen repeatedly over the years, but they rarely come to fruition.
So if no one else is willing to make that move, McGregor appears ready to tackle the challenge. What's more, if he does pull off the never-before-seen, he says he ready to pull off one more stunner: Call it a career and ride off into the sunset as the most successful UFC fighter of all time.
The latest on UFC Featherweight Champion Conor McGregor
"How many times have you seen a champion instantly go up? How many years have you heard about super fights and nothing? How many times have you heard about a little sore toe, an opponent bounce? There's p–sies everywhere in this game. I'm here to fight, I'm here to win every belt and then I'm gone," McGregor said.
"I'll see the game later. I'll walk away from this game, set it ablaze and walk away."
There are some fighters who have been angered by McGregor's instant title shot at lightweight just one bout after winning the featherweight title this past December.
There are those who believe that McGregor is getting preferential treatment because he's the biggest superstar in the company, rather than actually earning a title shot in a different division by merit.
And you know what — McGregor says they are absolutely correct.
"I am picking what I want and I am doing what I want," McGregor said. "When you can rack up $400 million dollars in revenue for the company, in back-to-back events, you can do whatever the f–k you want.
"I'm living the 'whatever the f–k I want' life. That's the life I live. Whatever I want, whenever I want, and I have earned that through hard work and through sacrifice and that's it, through victory."