UFC Belfast/UFC Sao Paulo: Top Five Fights of the Doubleheader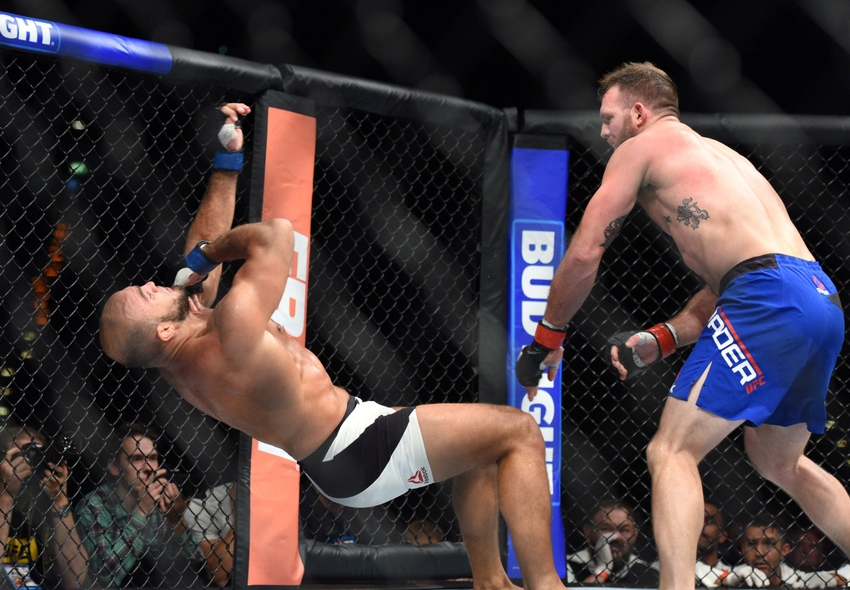 UFC 205 still has the MMA and sports world buzzing, so these five fights have quite the expectations to live up to on this weekend's doubleheader.
With the MMA world still coming down from the high that was UFC 205 last Saturday, the UFC is trying something new by scheduling two fight cards to take place on the same day. Between those two cards we have 26 fights that will be taking place in the span of about 10-11 hours.
Will they include three title fights and the crowing of the first ever two weight champion? Probably not. But it does offer quite a few intriguing matchups that can steal the show this coming Saturday. 
UFC Belfast kicks off the huge slate of fights at 12:30 p.m. with a 13-fight card that includes seven fighters making their Octagon debut. There were originally 14 bouts scheduled, but Ian McCall pulled out of his fight with Neil Seery yesterday due to an illness.
UFC Sao Paulo takes over the airwaves at 6:00 p.m with a 13-fight card that features a Brazilian fighter in each contest. After losing the original main event of Alexander Gustafsson vs. Antonio Rogerio Nogueira, the card remained relatively unscathed. All 26 fighters made weight as well, which seems like a rare feat nowadays.
UFC Belfast also lost its original main event of Gunnar Nelson vs. Dong Hyun Kim, but that scrap was quickly replaced by the highly-anticipated rematch between Gegard Mousasi and Uriah Hall.
With that in mind, here are the top-five fights to watch tomorrow:
#5: Warlley Alves vs. Kamaru Usman at UFC Sao Paulo
In the talent-rich welterweight division, prospect fights don't get the attention that they deserve like they would in an lesser weight class. This matchup between two of the most promising welterweight prospects is yet another example of that, a sleeper fight in its purest form.
Warlley Alves was riding a lot of momentum just a few months ago. The Brazilian held 10-0 record with seven finishes, and was already projected by some to be the "next big thing" at 170-pounds. Now, however, he is back to square one following a loss to Bryan Barberena at UFC 198 in his home country.
One of the reasons this fight is so interesting is because we have yet to see Warlley Alves recover from adversity, bouncing back from a loss shows what kind of fighter you truly are. Alves still has a lot to prove, and with an impressive win over a fellow tough prospect in Kamaru Usman he can put the welterweight division on notice once again.
Kamaru Usman has flown under the radar for some time now after appearing on The Ultimate Fighter 21. With fellow cast-member and teammate Vicente Luque making a splash with brutal finishes, Usman has been forgotten about in some ways.
"The Nigerian Nightmare" has won seven in a row now, nine if you count the two victories on the Ultimate Fighter, and has dominated in those wins. Hayder Hassan, Leon Edwards, and Alexander Yakovlev all learned that the hard way. Kamaru Usman just needs something to get him his over the mainstream hump, and an impressive performance over a talented Warlley Alves would do just the trick. Usman certainly has a bright future in the UFC.
#4: Claudia Gadelha vs. Cortney Casey at UFC Sao Paulo
This is a strawweight matchup with a certified guarantee to produce some excitement. Claudia Gadelha has been a top strawweight for some time now, and would likely be the champion if not for one Joanna Jędrzejczyk.
Nobody outside of the longtime champion has been able to best the Brazilian in her career so far. Keeping that streak going against Casey is vital to sustaining any hope at yet another chance at Joanna alive. With two losses to the champ, she needs an impressive finish to be considered for another title shot anytime soon. Keeping her head and focusing on this fight is the most important key. A loss to an unranked foe tomorrow can set her back years.
Courtney Casey has found her footing in the Octagon in her last two fights, scoring two impressive first round finishes against Cristina Stanciu and Randa Markos. A victory against the top-ranked strawweight in the world won't just put her into the top 15, it will launch her into title contention.
Casey has the potential to pull off a massive upset. Many see this fight as tune-up for Gadelha and expect her to dispatch Casey early. However, Casey has proven that not only can she beat ranked opponents, but finish them with her win over Randa Markos. If Gadelha sees this fight as a walk in the park, then don't be surprised to see Casey pull off a stunner.
#3: Thomas Almeida vs. Albert Morales at UFC Sao Paulo
Remember Thomas Almeida? The undefeated 21-0 destroyer who people were predicting would be champion before the end of the year? What a difference one loss makes. Thomas Almeida is coming off the first loss of his professional career, a brutal knockout courtesy of current title challenger Cody Garbrandt. Almeida was previously unbeaten, only going the distance twice in his career.
His UFC career has been full of highlight-reel finishes, including his wins over Brad Pickett and Anthony Birchak. One plaguing issue in Almeida's game is his slow start tendency, which was his downfall against Garbrandt. Another highlight-reel finish for Thomas Almeida is exactly what he needs to rebound himself back into title talk.
Get the FanSided App
Albert Morales is relatively unknown by many fans. Morales is an undefeated prospect now competing in his second UFC fight, his first being a short notice draw to Alejandro Pérez. His second fight almost feels unfair, as this is a clear tune-up fight for Almeida.
Morales has everything to gain from this fight and little to lose. Even a closely contested fight will raise his stock. If Morales starts fast and doesn't let the big stage get to him, then this might not be as easy as it looks on paper for Almeida, who has shown little regard for defense in his career.
#2: Ryan Bader vs. Antonio Rogerio Nogueira 2 at UFC Sao Paulo
Though it's not what the UFC originally had in mind for the UFC Sao Paulo main event, Ryan Bader and Antonio Nogueira will meet again this Saturday. The first matchup between these two ended back at UFC 119 with Bader outpointing Nogueira to a unanimous decision.
The original main event had Alexander Gustafsson facing Nogueira but an injury to Gustafsson just days after the announcement changed those plans.
Ryan Bader was one win away from a title shot back in January. The only problem was the person he had to beat for that shot was Anthony Johnson, and those dreams were crushed underneath Rumble's fists a minute and a half into the first round. Before that swift setback, Bader was riding a five-fight winning streak with wins over Rashad Evans, Phil Davis, Ovince St. Preux, Rafael Cavalcante, and Anthony Perosh.
Since dropping the fight to Rumble, Bader returned and knocked out Ilir Latifi with a KO of the Year candidate of a knee, putting himself into position again tomorrow night to put himself back into the title discussion with a definitive victory over Antonio Rogerio Nogueira.
Antonio Rogerio Nogueira has been around for a very long time. The former Pride FC superstar and a nine-fight UFC veteran has reached the twilight of his career at the age of 40. Many predict that this fight could be his last before joining his brother in retirement.
Nogueira has still managed to keep himself active recently, going 3-2 in his last 5, the most recent being a first round TKO over Patrick Cummins. Though his loss to Bader back at UFC 119 didn't hurt his career, Nogueira would certainly enjoy beating a top-five opponent to launch himself up the rankings before possibly calling it a career.
With Nogueira's last victory coming over an opponent with a similar style to Bader, counting Nogueira out even against somebody as dangerous as Bader is still not wise, and then maybe we will see Gustafsson/Nogueira matchup that we have been promised multiple times over the years.
#1: Gegard Mousasi vs. Uriah Hall 2 at UFC Belfast
This fight is a rematch of one those most stunning and brutal upsets of 2015. After stepping in on short notice and being dominated in first round by Mousasi, Uriah Hall let everybody know that he was not to be taken lightly anymore when he finished Gegard Mousasi with a jumping spin kick, a flying knee, and follow up strikes, marking the first time Mousasi had ever been finished with strikes in his career of over 40 fights.
Hall is the textbook definition of inconsistency, almost to the point that it is frustrating to watch him not use his skills to the extent that we all know he can do. Since pulling off that upset over Mousasi, Hall has gone 0-2 by dropping a decision to Robert Whittaker and being finished by Derek Brunson.
Fans have said that Hall has "nothing to lose" in this fight. However, if Hall can't stun the MMA world again he will go 0-3 since beating Mousasi, and lose his only claim to the top-15. A win in any way possible is crucial for Hall and it is certainly possible, after all it has happened before. Can lightning strike the same place twice?
On the other side of the coin, Gegard Mousasi cannot under any circumstance lose this fight. Since being beaten by Hall, Mousasi has gone 3-0 with wins over Thales Leites, Thiago Santos, and Vitor Belfort.
Mousasi has campaigned desperately for a shot at Michael Bisping but one shortcoming has held him back from getting his shot at gold, and that is his loss to Uriah Hall. A second loss to Hall will send the 31-year-old reeling in his quest for a title shot and push him all the way to the back of the middleweight rankings.
A victory over Hall won't be do Mousasi justice. In order to silence his critics, Mousasi has to dominate Hall emphatically and take over a scrambling middleweight division. Will Mousasi be able to avoid the unpredictability of Hall and right the wrong of last September that has plagued him ever since? Or does Uriah Hall set the middleweight division ablaze for a second time?
Some other fights worth noting are as follows:
Ross Pearson vs. Stevie Ray in Belfast
Artem Lobov vs. Teruto Ishihara in Belfast
Thales Leites vs. Krzyzstof Jotko in Sao Paulo
This article originally appeared on