UFC Belfast: Amanda Cooper Looking To Make A Statement In Ireland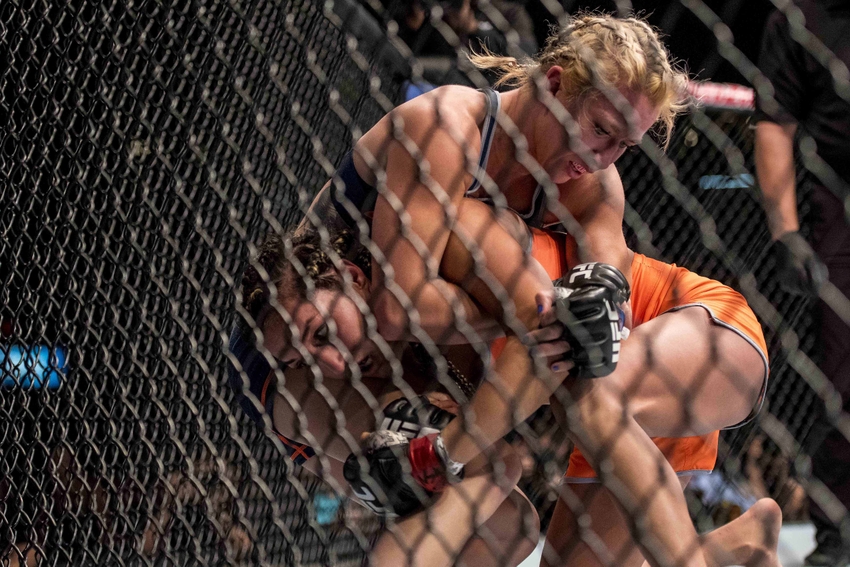 Amanda Cooper talks all things UFC Belfast, including her opponent, what this fight means to her and how she thinks she will walk away with a dominant win in Ireland.
A successful stint on 'The Ultimate Fighter' was enough for the UFC to invite Amanda Cooper back for another fight inside the Octagon.
Impressing during season 23 of the hit reality show, Cooper fast became a favourite to win the entire the show but unfortunately for the outstanding boxer she fell in the Finale to Tatiana Suarez.
Unsure of what the future held 25-year old Cooper remained positive that the promotion would give her another shot and that is exactly what happened as she is set to take on Anna Elmose at UFC Fight Night 99 in Belfast, Northern Ireland.
Cagepages recently caught up with the exciting young fighter where she discussed her opponent, training with a new team and just what she expects from Elmose come fight night.
Want your voice heard? Join the Cage Pages team!
Since the Ultimate Fighter my life has changed a lot. I recently left the academy i was at and I am training in Washington right now with Julianna Pena, Elizabeth Phillips and a bunch of other great fighters signed to the UFC. They have a great team and coach here and they will be with for this fight, I trust the coaches and I trust the team I have around me so I can 100% focus on me and my fight.

Training with Julianna [Pena] is great. She is the elite of the elite, she's intense, she's great. She lives, breathes and eats fighting. It's great. She is a great training partner to have, every time I go up against her it feels like I have been in a fight. I love it.
Pretty much as soon as Suarez's hand was being raised at the Finale back in July all Cooper could think about was getting right back in there to show the fans and herself just what she could do. So when that phone call came there was no hesitation to sign on the dotted line.
Get the FanSided App
It took me maybe 45-seconds to take this fight. I know Ana had a tough fight her last time out, the girl she fought was much bigger than her so her loss is hard to look at you know but I did look at the rest of her. She hasn't really fought that much, I fought a ton as an amateur and as a pro. Ana is tough, she always comes forward but I think the wind dies out in her a little bit.

She's not great at anything. She's not super dangerous anywhere, she's not a dangerous striker, she's not a dangerous grappler, she's not a dangerous wrestler, she's just good at everything. I don't look at her and think 'oh i can't striker with her' or anything like that. She always comes out to fight and I like that.
With a new boost of confidence thanks to her time with the new coaches, training partners and workout regiments Cooper believes that she can win the contest no matter where it ends up.
This is a good fight for me. She's pretty much the same height as me. I'm more technical than her and that will win me the fight. If I go to the ground I know could a submission for sure but the standup is where it will happen. I know she will come hard in the first round and I am going to do a very good job at avoiding that rush then I'm gonna pick her apart. When ever I wanna hit her I'm gonna hit her. She just tries to bully people and that wont work on me.
Having fought and lost in the Finale Amanda is very aware that she cannot afford another UFC loss and will take advantage of her situation.
I see Ana coming out really hard and I'm going to use my movement and my defence to tire her out. I see the fight going into the second round where she will be extremely tired and I get better each round. I see myself picking her apart, head kicks, body kicks, landing every punch. My striking will end the fight. I'm always looking for a finish.
Amanda Cooper will look to a run toward UFC title contention on Saturday Nov.19 in Belfast, Northern Ireland at UFC Fight Night 99 which is headlined by the rematch between Gegard Mousasi and Uriah Hall.
This article originally appeared on