UFC Albany: Getting to Know Newcomer Gerald Meerschaert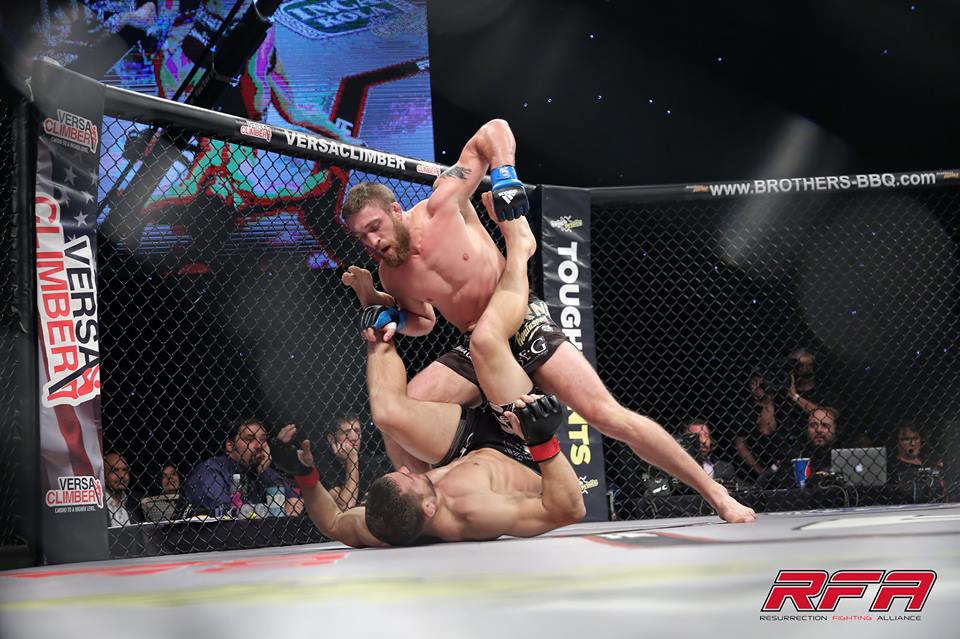 Gerald Meerschaert becomes the latest Roufusport product to appear in the UFC, and the former RFA Middleweight Champion makes his debut Friday night at UFC Fight Night 102 in Albany, New York.
Wisconsin native Gerald "The Machine" Meerschaert received the call to join the ranks of the UFC roster shortly after defeating Chase Waldon for the RFA Middleweight Championship back in October. A true veteran of the sport, Meerschaert is set to finally enter the Octagon after 32 career fights and has a knack for finishing his opponents.
With 22 of his 24 wins coming by way of stoppage (16 of those via submission), Meerschaert will put his finishing ability to the test against Joe Gigliotti, who had a less-than-memorable showing in his UFC debut versus Trevor Smith in August in what was Gigliotti's first loss of his professional career.
Meerschaert kindly agreed to an interview with me leading up to his big debut in the Empire State. In our Q&A, he talks about his history with Sam Alvey, what training at Roufusport is like, and how he envisions his future in the top MMA promotion in the world.
Want your voice heard? Join the Cage Pages team!
Jake Krier: Could you describe for me how the call went down when you found out that you finally reached the pinnacle of the sport in making the UFC roster?
Gerald Meerschaert: Well, I had received a message from my manager, Jeremy [Bjornberg], and he just said, "Make sure you have your phone on you." I was going over to help Ben Askren and train with him, and it so happened that I was going to be above ground that day, so everything aligned nice. Roufusport is in a basement, so I don't get too good of reception down there; Ben's gym is above ground, so we'd be all good. Jeremy called me and told me we got the call, and I was beyond excited.
JK: You're taking this fight on somewhat short notice; how do you feel about that? Are you in favor of the short camps, or was this just the opportunity you couldn't turn down no matter the preparation time?
GM: No matter what, especially in my position, this was something you can't turn down. I don't have the nice undefeated record, and I'm not a blue-chip prospect anymore, so I have to take my chance and run with it. On the same hand, I don't really need too much time to get ready. Three-and-a-half weeks is a short camp for some people, but I never really stopped training after my last fight. I went maybe a week of lighter training, but I was helping [Mike] "Biggie" [Rhodes] get ready for his Victory Fighting Championships fight. I've built a lot of my career and notable wins off short notice fights, so I'm no stranger to it.
Get the FanSided App
JK: Your last fight came in late October as you defeated a tough young prospect in Chase Waldon to become the final RFA Middleweight Champ before their merger with Legacy. What did winning that fight mean to you and to be known as their final champion?
GM: It was exactly the fight I needed. It was another good test. Chase is a good guy; he's 10-1. Word around the campfire was that they were thinking about calling him up too, so in my opinion, the fight couldn't have gone any better for me. I showed that I have got every area of the game covered. I looked good on the feet, I outwrestled him and looked great on the ground, so everything fell in the right place for that fight.
JK: Now that you've made it to the UFC, will you be bargaining for a rubber match with Sam Alvey?
GM: I'm focusing on this fight with Joe right now. I mean, I'm definitely not opposed to it, though, and I think it would be really fun to do it again. Sam and I are 1-1 against each other, and a lot of people have been asking me that lately. But, he has a lot more fights in the UFC, and I feel like, at least from a promotional aspect, to make it worth everyone's time, it would only make sense to have that fight in Chicago or somewhere close to Wisconsin. It probably would make more sense after I have a few more fights in the UFC to build my highlight reel a little bit.
JK: What's it like training with studs such as Tyron Woodley and Ben Askren?
GM: It's great. Those guys are definitely world-class. It just helps me get better and helps show me where I'm at with my own skills, so I love it.
JK: Perhaps on the flip side of that, what has it been like training with CM Punk?
GM: It's been great. I like the guy. He puts his work in and shows up very humble, ready to learn from everybody. He's a good guy. I know a lot of people, especially after the fight, gave him crap about it, but he fought a tough young kid who had a lot more experience than him. He took it about as well as I've seen anyone take a loss, so I've got no problem with it.  
JK: What is it about Duke Roufus that you think makes him and his fighters so successful?
GM: Honestly, I think it's the way he teaches striking and his attention to detail. He sees the mistakes other fighters make, even if they are basic things that everyone kind of does half-wrong. I think a lot of guys just go out there and fight, or they learn a real basic way of striking. There are so many details to it that people miss out on. I think with any great striker in the sport, that's the thing they preach the most. It's not like any crazy, new technique. It's more of my footwork is good, my movement is good, my timing is good.
JK: Nearly all of your wins have come by stoppage with the majority being submissions. Knowing your history of ending fights inside the distance, how does that play into your gameplan as you prepare for each fight?
GM: I always go out and fight to finish fights. I don't really change anything about the way I train. I train to finish from bell to bell. I'm not going to go out there and blow my load if I don't get the finish right away, but I think it's something that just comes naturally. With my style of fighting, I'm not trying to drag out a fight as long as possible. I know a lot of other guys will say that, but then won't really back up their words.
JK: Where did the nickname "The Machine" come from?
GM: That was from one of the first gyms that I was training at, and I was always in the gym and never really stopped training or took breaks. They'd say, "Man, you're like a machine," and it stuck.
JK: What impressed you with Joe Gigliotti's UFC debut, and what do you take away from Trevor Smith's strategy that you can apply when you face Gigliotti on December 9?
GM: I'm not saying this as a dig at all, but nothing really impressed me with his debut. He got the crap kicked out of him everywhere. I don't think, if he's being honest with himself, that he'd say any different. He got beat on the feet, he got dropped, he got out-wrestled, and he's supposed to be a wrestler. To be honest, I was hoping to see at least one area that he did well in so that I could be like, "Well at least he has that goin' for him."
I know he's a little bit shorter, so I'm going to give him the benefit of the doubt that he's probably stronger. Trevor Smith is obviously a tough competitor and made it look pretty easy. I don't think it'll go exactly the same way, as I believe I'll get the finish in the first or early in the second. Trevor and I have a similar body type, and Joe seemed to have a real problem with that reach, and even in the wrestling, he doesn't seem to know how to use his body to wrestle as effectively as he can. A lot of people go out looking for their first UFC win; I'm going out there looking for my first UFC knockout of the night bonus.
JK: Does it excite you that you'll be fighting in New York on just the second card since the sport was made legal again in the state?
GM: Actually, it does. To be honest, they are a little more stringent on their medical clearances than most places I've been to, but that's understandable with it being brand-new there. I have a little brother who actually lives out in New York City, so he's going to make the drive up there for my first fight. So, I'm really pumped, man.
JK: Following this fight, what goals do you have for 2017?
GM: In 2017, I want to have fought four or five times minimum, and I want to have four or five knockouts minimum. That's what I'm going for.
This article originally appeared on