A day in the life of Jessica Eye as she prepares for Miesha Tate
As No. 5 ranked women's bantamweight Jessica Eye prepares for her showdown with Miesha Tate at next weekend's FOX UFC Fight Night card from Chicago, FOX Sports spent a day with the Ohio native to see what a day in the life of a top contender is like.
Eye is coming off a dramatic win in her last fight where she nearly ripped Leslie Smith's ear off with a barrage of punches before getting the TKO finish.
Now she faces Tate with the winner in line for the next shot at women's bantamweight champion Ronda Rousey.
In the weeks leading up to her fight, Eye says she's healthier than she's ever been before. Her body is reacting well to the rigorous training she's been going through to get ready for Tate, who she faces in the co-main event of the card airing live on FOX next Saturday night at 8pm ET.
9:30 AM — Visit with her chiropractor at Brecksville Chiropractic and Rehabilitation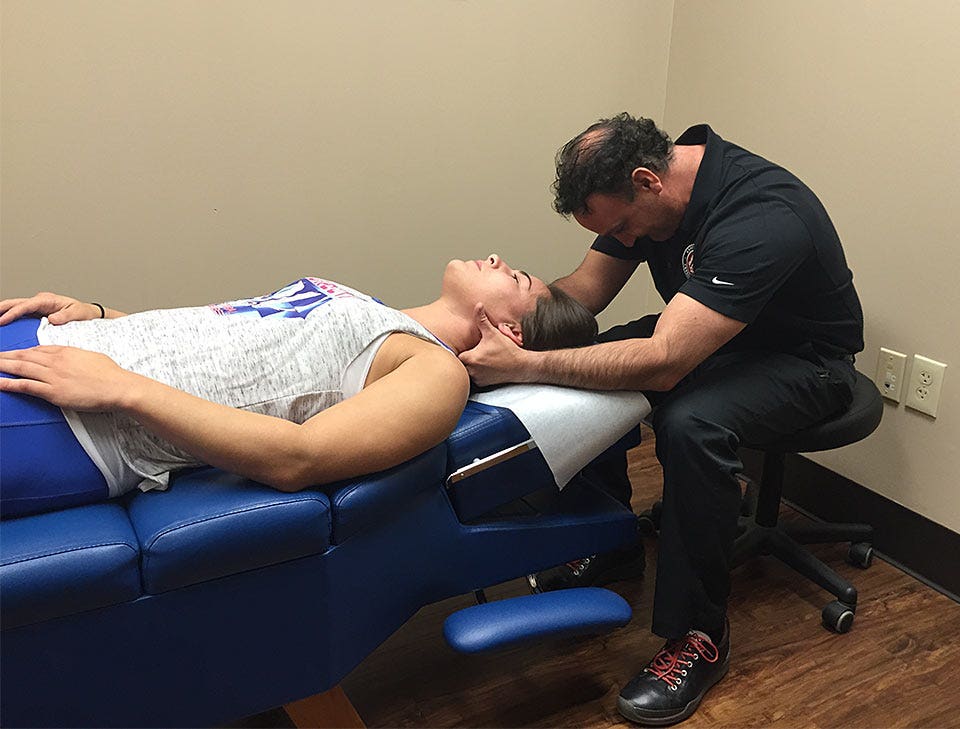 Following an intense grappling session the night before, Eye decides to start her day with a visit to her chiropractor to get her body adjusted ahead of the final two weeks of training before meeting Tate in the Octagon.
The moment Eye walks into the clinic, everybody from receptionists to doctors greet her with a smile and all talk about how much they've missed her lately.
You see, Brecksville is the location where all of the fighters from Eye's home gym, Strong Style MMA, visit whenever they need help with their body, but the top-ranked women's contender has been absent for weeks as she gets ready for her fight with Tate.
Why?
Because Eye has been feeling so good and so healthy that she just hasn't needed the therapy, but her coach Marcus Marinelli insisted that she go see the chiropractor just to make sure she's in perfect physical condition before her fight on July 25.
Once Eye finishes her session, she can barely make it through the rehabilitation area without at least a few people asking her about her upcoming fight and how she's feeling ahead of the bout with the former Strikeforce women's champion. There's a real buzz in Cleveland about Eye's chance to earn a shot at Rousey's belt, and everybody in town is rooting for one of their own to fight for the title.
10:30 AM — Massage and cryotherapy at Synergy Sports Therapy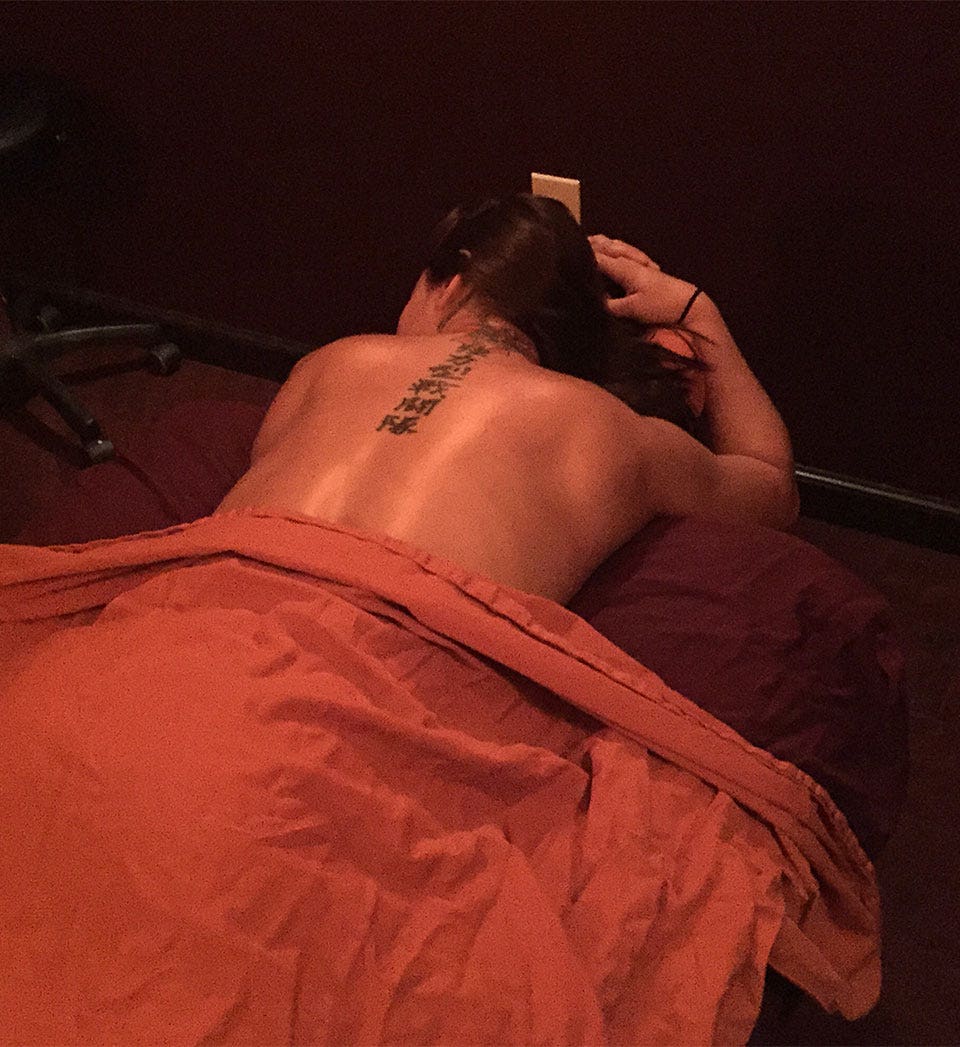 Following her trip to the chiropractor, Eye still has some more work to do on her body before getting ready for her training and sparring session set for later in the day.
So, next up on her agenda is a trip to Synergy Sports Therapy, where she visits therapist Mary Riley, who is well known throughout Cleveland for her sports massage after working with several professional football teams and players, including the majority of the Cleveland Browns.
The office is decorated with jerseys and photos from players all thanking Riley for her work with them throughout the season on their banged up bodies from practice and games.
Eye is no different because she trains just like she fights — full throttle, with the pedal to the metal.
While most people think of massage as a relaxing way to loosen up the muscles and work out tension, sports massage can almost feel like an athlete is taking even more damage as the therapist twist, turns, pulls and prods at them for a half hour or an hour, and when it's over the body usually feels even more sore than when they first laid down on the table.
The real benefits of massage therapy come in the hours and days after the muscles start to feel the effects of the work that's being done, but Eye wants to get a jump start on her recovery, so she goes to phase two of her work with the clinic in Cleveland.
Eye prepares for a three-minute session in the studio's cryotherapy chamber, which works as an ultra-intense healing session for the damage she's doing to her body each and every day she gets ready for her fight.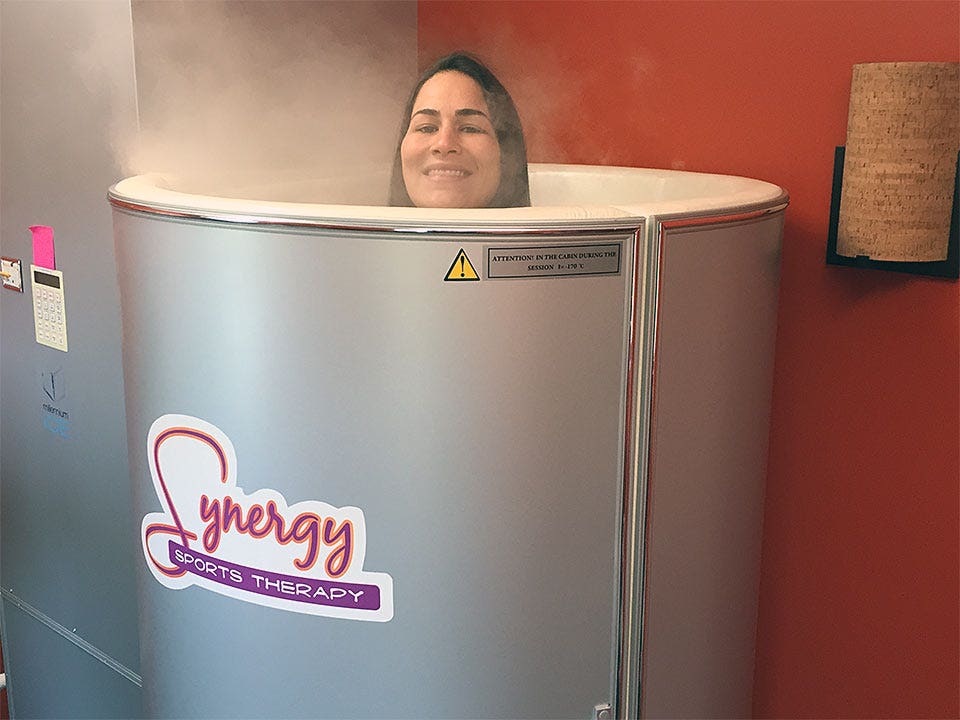 Ice baths are a well-known recovery technique for athletes after a hard day of training, but cryotherapy has become the latest rage with many top-level competitors because it works even better to help with sore muscles and joints as the blood flows to the different parts of the body in quick order to help a person get back to 100-percent.
Several notable players from around Cleveland have started to use cryotherapy to help them during the season, including Cavaliers point guard Kyrie Irving, who began visiting the same studio as Eye earlier this year while he was in the middle of a season that ended with a trip to the NBA Finals.
The experience is extremely intense as temperatures dip down well below -200 degrees while in the chamber, but the after effects are nearly euphoric as the body returns to normal in a matter of seconds and the benefits are felt immediately.
While at the studio, Eye also shows off her work with anti-gravity yoga, which is something else she practices on a regular basis as she prepares for a fight. The yoga helps her with balance and flexibility, which are both keys for her fighting style where she depends on lightning quick reactions both offensively and defensively.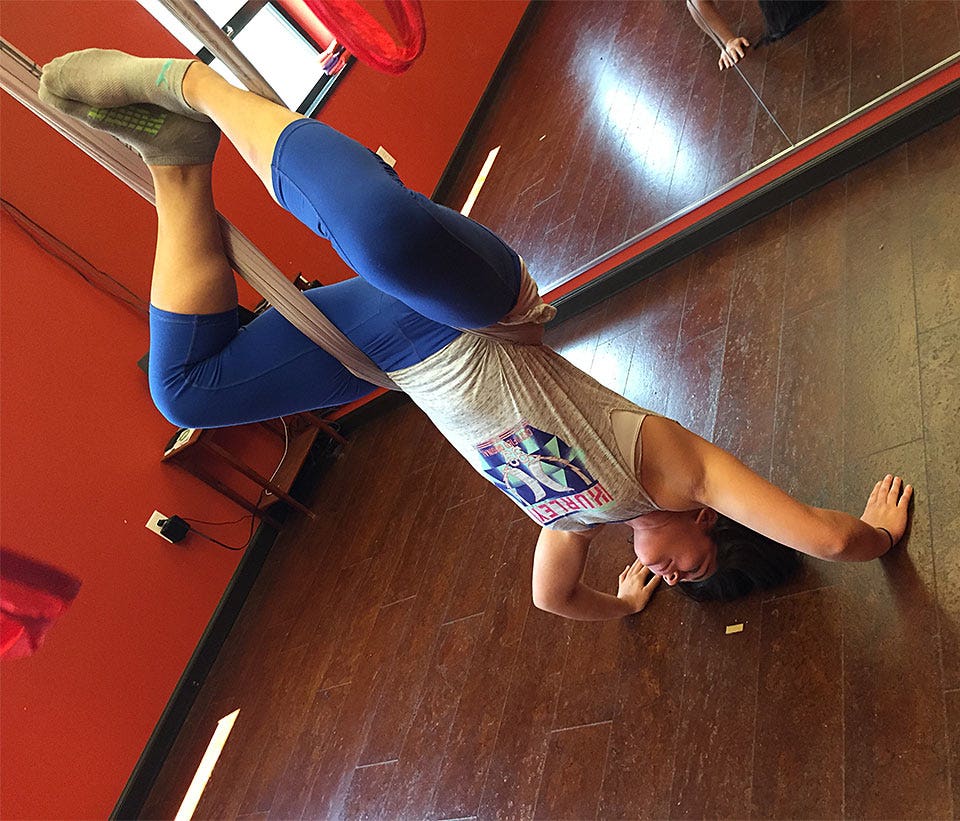 1pm ET –€" Lunch at Aladdin's Eatery
Following a morning getting her body adjusted and healed before a sparring session that evening, Eye gets some lunch at one of her favorite spots in her Cleveland neighborhood.
A salad and tea are on the menu for today, but Eye's topic of conversation rarely shifts away from the fight she has on July 25 against Tate.
During the course of the meal, Eye gets excited to talk about her walk-out song that she'll be using for the Tate fight and presumably almost every other fight she'll have during her career from now until forever.
For the past few years, Eye has been a big fan of Cleveland rapper Machine Gun Kelly, who represents the city as loud and proud as she does during all of her fights. Through a friend and DJ, Eye actually got to meet the hip-hop star before one of his shows, but her ultimate goal was to coax him into creating some kind of song that she could walk out to for her fights.
Machine Gun Kelly famously penned the track 'Till I Die' as a love letter to his hometown of Cleveland and a few months back Eye's friend asked him if he would consider re-recording a verse of the song specifically for the UFC women's bantamweight. A few weeks passed and when Eye got the email with the full track courtesy of Machine Gun Kelly, complete with her name in the lyrics, she nearly exploded in excitement.
"It was such an honor that he remade 'Till I Die' for me," Eye said. "He doesn't do that for anybody. For someone at that level to say 'I got your back' and he believes in me and that's so powerful. It's such an empowering feeling. It lets me know that Cleveland really does have my back."
Eye will be walking out to the custom-made track for her fight with Tate as she competes just a few hours away from her hometown of Cleveland with hopes of fighting for the UFC title there one day. Following in the footsteps of Conor McGregor and Chad Mendes both having artists perform tracks for them live at UFC 189 last weekend, Eye's ultimate dream would be to have Kelly rap his song for her ahead of a title fight.
You never know what might happen.
3pm ET — Home for a Nap and Prep for Training
Eye's daily schedule usually book ended by training sessions — at least one in the morning and one in the evening — but because she had physical therapy on this particular day she only has one sparring session planned with multiple rounds in store for her in just a couple of hours.
Usually at this time of the day, Eye likes to take a nap to rest and recover from a hard day already spent at the gym before going back and doing it all over again that night.
Because FOX Sports was visiting for the day, Eye instead participates in a Periscope session where she answers fan questions ahead of her big fight on July 25.
During the course of the conversation, Eye talks about the house she's currently living in and the friends that all stay close by to support her whenever she needs. Eye often talks about her best friend, who not only travels to all of her fights but is also the person responsible for braiding her hair before walking out to the Octagon.
Whether Eye is talking about her friends, her house or anything else, it's impossible for her mind not to drift back to the fight with Tate and how she plans to win next Saturday night.
"I'm very positive and I'm very upbeat and I know what I'm going to do, but I'm not focused on what Miesha's good at. I'm focused on what I'm going to do. That's what it boils down to. I can't control what she does in training or what she's done in other fights. I just know she's never fought anybody like me," Eye said.
"I'm focusing on what I want to do, the damage I want to do. God forbid she tries to strike with me, she's not going to win that fight. She tries to take me down, she's not going to win that fight. I have prepared for everything possible."
6pm ET — Sparring session at Strong Style MMA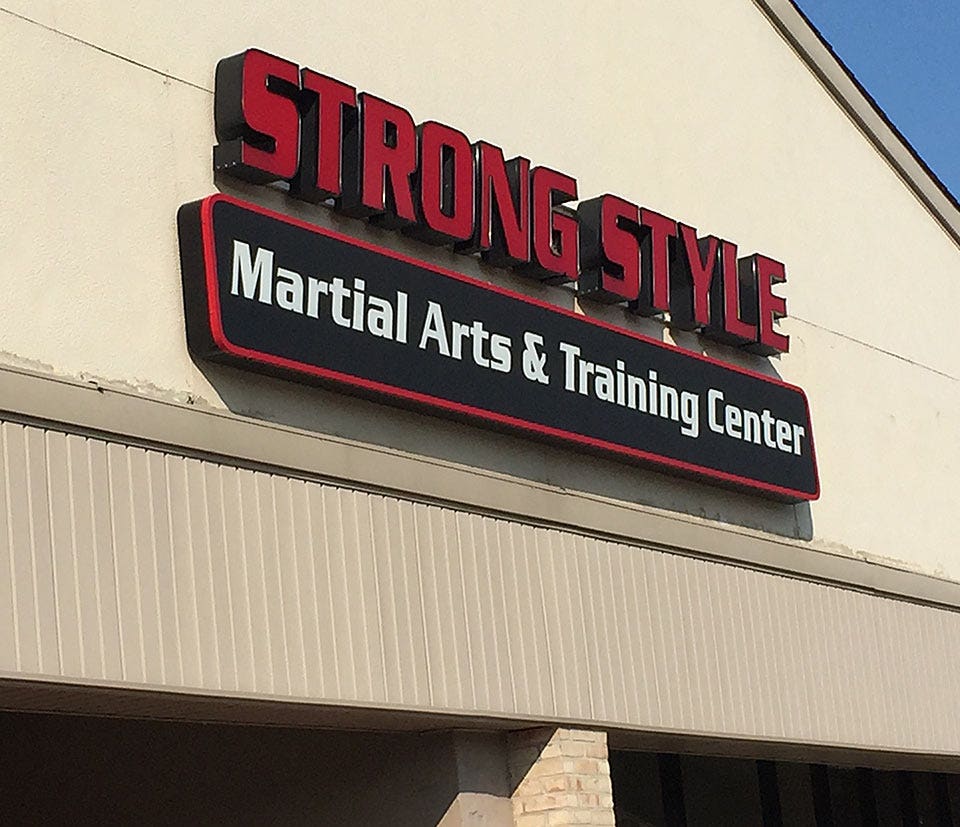 Eye packs up her bags and grabs a protein shake before heading over to her home gym, Strong Style MMA, in Cleveland where she will do boxing sparring for several rounds with numerous partners.
Inside the gym, Eye runs into her teammate Stipe Miocic, who is also a mainstay of the facility, and the two interact like an older brother and a younger sister who just love to give each other grief at every turn. The reality is Miocic and Eye are like family because they've climbed the ranks of the UFC together while representing their gym and Cleveland like no fighters in MMA have ever done before.
Before she steps into the cage where she will spar with her teammate R.J. Buck, who is a featherweight, and another women's fighter who competes at 145 pounds, Eye first has to have her hands wrapped to make sure she's taking every precaution necessary to avoid injury ahead of her fight.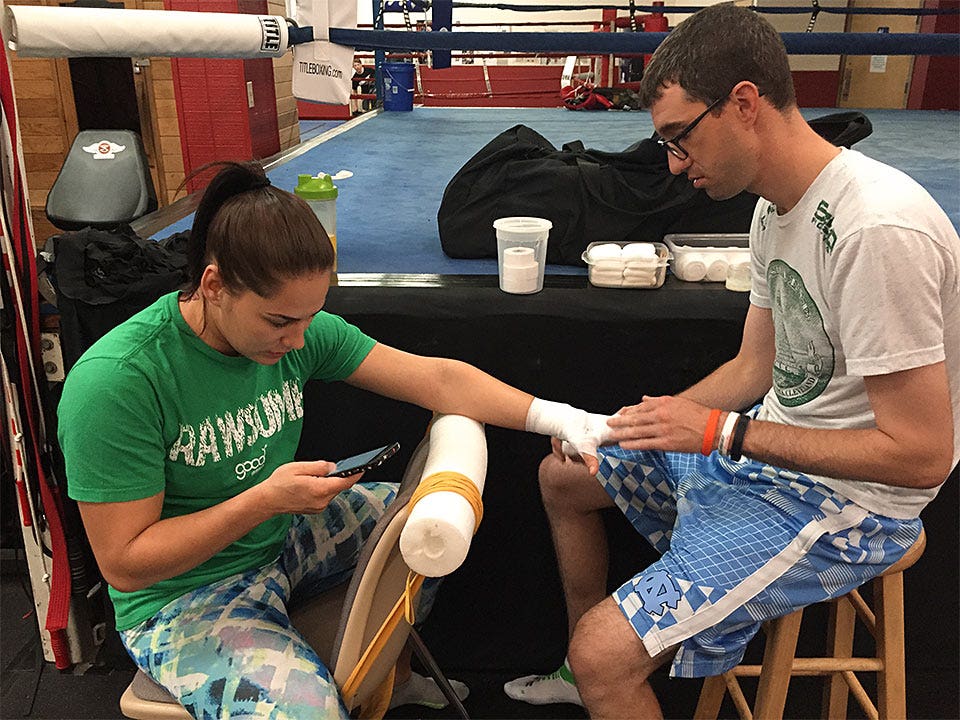 During the time while she's getting her hands wrapped, a teammate asks Eye if she saw a particular picture that Tate posted that same day on her Instagram account. Eye couldn't help but laugh when seeing the provocative photo and her only real reaction was saying that unlike Tate, she won't be stopping to pose for anyone until she has a UFC title around her waist.
Once Eye steps into the cage, it's all business as she goes five, five-minute rounds with alternating teammates to give her different looks during her sparring sessions. In between rounds, Eye gets advice from her boxing coach, who looks to seal up any holes he might see in her game while giving her compliments on the fast hands she's developed while becoming one of the best strikers in the women's division.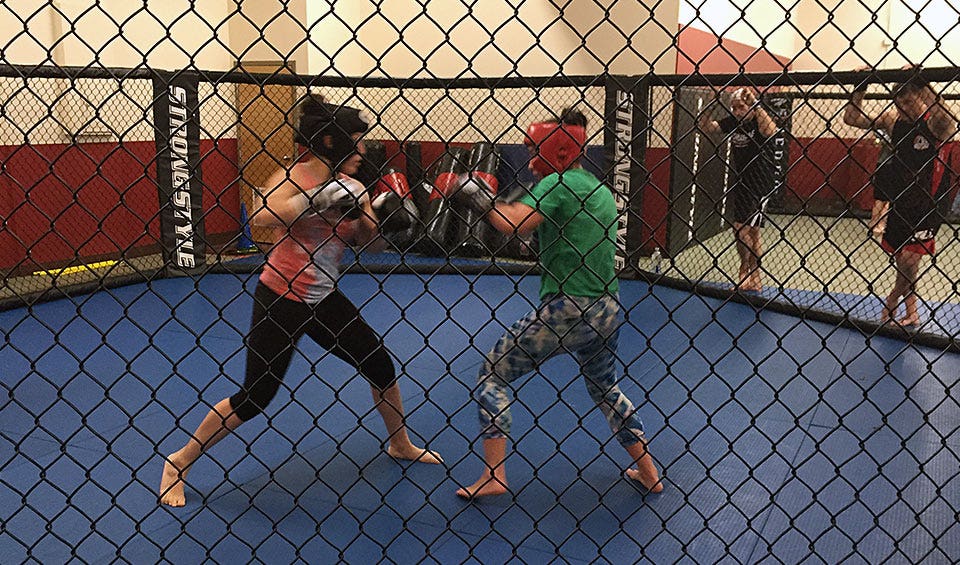 No one is as harsh a critic as Eye herself, however, after she slips a punch and her sparring partner tags her with a hard shot. The fighters are wearing full head gear and mouth pieces, but Eye audibly lets out a roar when she realizes the mistake she made. Actually the punch she ate wasn't all that damaging or critical in nature, but Eye is a perfectionist and she doesn't want to make a mistake whether it's small or large because that's the only way she knows how to practice.
The rounds go by one after the other, with Miocic keeping a close eye on his teammate while she spars hard for 25 minutes. When the session is over, Eye steps out of the cage and unwraps her hands while her coaches and training partners rally around her.
While she's technically done for the day, Eye is invited to participate in one more conditioning session before going home and it doesn't take her long to accept because living in the gym is what she does best next to winning fights in the Octagon.
Eye is putting everything she has into this training camp because she knows a win will catapult her into a title fight with Rousey and just one step away from finally bringing a world championship home to Cleveland. The gravity of the situation isn't lost on Eye, who knows exactly what she needs to do to bring home the win on July 25.
"This is the time for me to get my chance," Eye said. "I think winning against Miesha is going to be bigger for my career than even the fight versus Ronda because it solidifies that I am who I say I am. That I'm a true top-level contender and I've had no free rides and no easy fights. I fought my way here."