UFC 208: Max Holloway vs. José Aldo Targeted for Brooklyn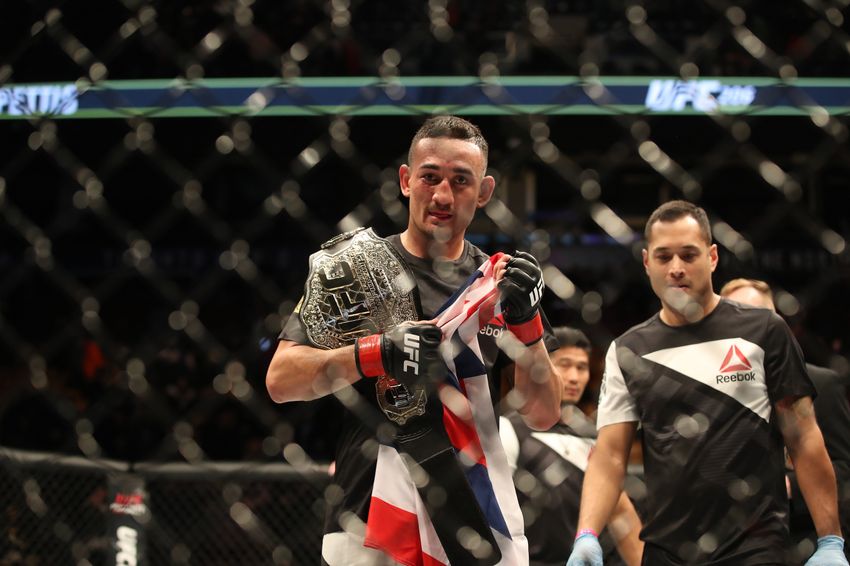 Following UFC 206's main event, we no longer have to wait for the young phenom Max Holloway to receive his title shot.
After downing Anthony Pettis at the end of the third round, Max Holloway was finally able to put gold around his waist. However, the best news came to him when Dana White approached him and said "You vs. Aldo, Brooklyn, New York, main event." White did not have a microphone on, but cameras caught the exchange during the UFC 206 pay-per-view.
While many have been wondering the promotion plans on doing with the Brooklyn event after delaying the pay-per-view by a month, we have just received our answer. However, it has proven to be very risky to headline a pay-per-view with José Aldo.
Throughout his nine-fight Octagon career, the Brazilian has pulled out of four scheduled main events (UFC 149, 153, 176, 189J and one co-main event. Hopefully, the legendary featherweight will be able to make it to February unscathed.
José Aldo is coming off arguably the finest performance of his career against Frankie Edgar, in which he picked apart the former lightweight champion to win the Interim Featherweight Title in Conor McGregor's absence back in July. Later, Aldo was promoted to featherweight champion after McGregor relinquished the title (to allow 206 to have a belt in the main event).
Max Holloway is on one of the most impressive streaks ever, with 10 consecutive victories since falling to Conor McGregor and Dennis Bermudez in 2013. Wins over Cub Swanson, Ricardo Lamas, and now Anthony Pettis have firmly planted the 25-year-old at the top of the weight class.
UFC 208 is set to take place at the Barclays Center in Brooklyn, New York, on February 11, 2017. The rumored bouts are as follows:
(C) José Aldo vs. #1 Max Holloway
#2 Glover Teixeira vs. Jared Cannonier
Luis Henrique vs. Marcin Tybura
Ryan LaFlare vs. Roan Carneiro
This article originally appeared on