UFC 206 Results: Max Holloway Wins Gold, Shot at Aldo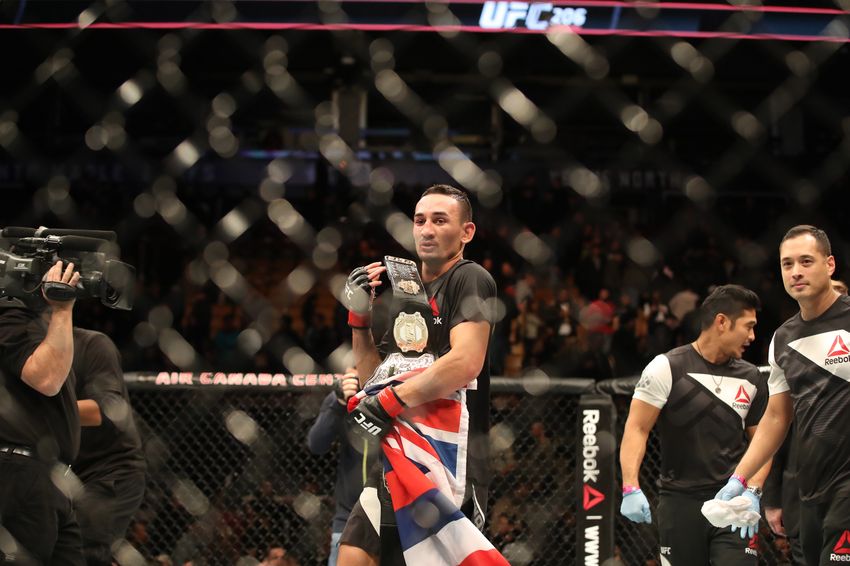 Hawaii has a new UFC champion and his name is Max Holloway.
Two of the most exciting featherweight fighters on the planet featured in the main event of UFC 206 as Max Holloway faced Anthony Pettis.
The winner was supposed to be named the interim 145-pound champion but Pettis failed to make weight, therefore, disqualifying himself from becoming the champion with a win. With that being said, there was everything to fight for as Hawaii's "Blessed" one who had won 9 straight prior to the meeting was gunning for gold.
On this night it was the young gun Holloway who came out on top. Early in the fight, both men looked to be aggressive but after round one it was the "Blessed" show. Pettis wanted to establish his kicking game early, throwing a switch kick to the body right out of the gate. Holloway, on the other hand, took time to develop his rangy punches.
Aside from a few Holloway combinations and counters near the end of the round, Pettis was able to land the better strikes and went into round two ahead on the scorecards.
Holloway came out very aggressive in round two, planting into leg kicks, and scoring an early knockdown with a long right straight. The flash of Pettis was still alive, as he tried a cartwheel kick while pressing forward. However, a cut near the right eye of Pettis tempered his aggression.
Near the ends of both rounds one and two, Anthony Pettis resorted to wrestling in an attempt to make a late statement but failed to drag the Hawaiian to the canvas.
Following the second round, Pettis told his corner that his right hand was broken. As a result, Pettis came out throwing a multitude of kicks. Pettis connected with a head kick that Holloway responded to by closing the distance and landing a knee below the belt. Pettis refused to use much recovery time and action resumed.
Want your voice heard? Join the Cage Pages team!
The first takedown of the fight came around three minutes into the third round, when Max Holloway swept the leg of Pettis, but immediately stood up after following him to the canvas.
With the broken right hand, Pettis was strictly limited to a jab and kicks but was still finding success before a second takedown from Holloway. Holloway had side control but was forced to stand up after Pettis threw his legs up for an armbar. The decision to stand paid off for the Hawaiian, as he stunned Pettis with a body kick, then finished him off with a flurry of punches.
Immediately following the win, Dana White told Max Holloway that he'll be facing UFC Featherweight Champion Jose Aldo at UFC 208 in February in Brooklyn. Holloway concluded his interview by claiming he wants the Performance bonus since Pettis had never been finished before.
This article originally appeared on