UFC 206 results: Max Holloway earns interim title with finish of Anthony Pettis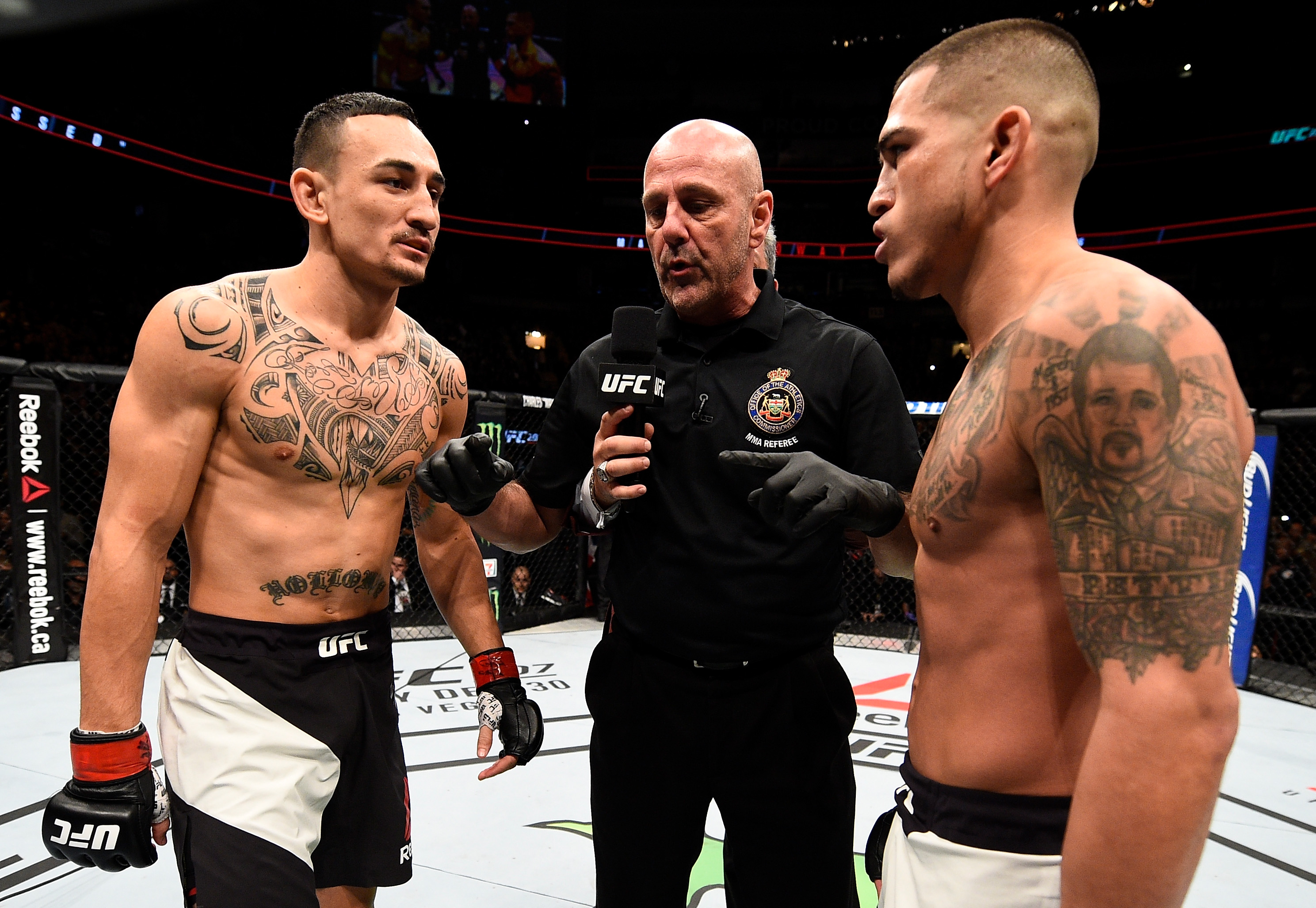 Here is how the UFC interim featherweight title fight between Max Holloway vs. Anthony Pettis played out at UFC 206 in Toronto
On Saturday, December 10, Max Holloway looked to earn the UFC's interim featherweight title against former lightweight champion Anthony Pettis in the main event of UFC 206.
Holloway entered the bout riding an incredible nine-fight win streak, the longest a UFC fighter has gone without fighting for a UFC title. In his most recent effort, 'Blessed' earned an impressive decision win over former title Ricardo Lamas at UFC 199 in June.
Pettis , also a former WEC champion, earned a third round submission win in his featherweight debut over submission specialist Charles Oliveira. However, prior to his fight against Holloway, he missed weight, meaning he is no longer eligible for the UFC's interim title.
Round 1: No touch of the glove from Pettis as these two featherweight standouts met in the center of the Octagon. Sticking to the outside, Pettis opened up with a jump switch kick. Stalking his opponent from the center of the cage, Holloway threw out a handful of jabs before circling back to the outside. After another feeling out process, Pettis attempted another three kick combo but could only connect with air. Lunging in, Holloway connected with a straight right to the body. Maintaining the pressure, Holloway continued to jab Pettis from the outside. Pettis momentarily sending Holloway backwards with a spinning back kick  to the body but couldn't follow-up with anymore offense. With 90 seconds left in the round, Pettis threw a crisp combo from the inside before following up with a high left kick. Holloway responded with an overhand left. After catching Pettis with a left hook, Holloway closed out the opening round with a flurry. FanSided scores it 10-9 Holloway
Round 2: With blood dripping from his right eye, Pettis took the center of the Octagon before being sent back, courtesy of a lunging combo from Holloway. After evading damage, Pettis was dropped with a punch to the chest but Holloway stepped back and allowed him back up. Sensing he's down on the judges scorecard, Pettis picked up with pace with a series of high kicks before clinching up. After breaking free, Pettis attempted a cart-wheel kick but Holloway snatched his leg out of the air and tossed him down. Stepping back, Holloway followed up with a left hook to the body. With his eye getting more and more swollen, Pettis plodded forward as Holloway battered him from the outside. As the clock hit the 60 second mark, Pettis pressed the action against the fence.  Defending the takedown, Holloway landed a knee to the body before the horn signaled the end of the round. FanSided scores it 10-9 Holloway
Round 3: Between rounds, Pettis informed his coach he had indeed broken his right hand. Sensing his opponent was limited, Holloway pressed the attack, sending Pettis's head snapping back with a right hook. Pettis responded with a right round house to the face. After an accidental low blow from Holloway, the referee called a pause to the action. As soon as the fight picked back up, Holloway attacked with another flurry before pushing Pettis into the fence. bBeaking free, Pettis narrowly missed with a right high kick. After securing a surprising outside leg trip, Holloway stepped back, allowing Pettis back to his feet.
With two minutes left, Pettis finally began to start throwing his right hand, following his combos up with a right body kick. With his ja working well, Pettis continued to land it between the eyes Holloway. Escaping more danger, Holloway secured another trip but immediately motioned Pettis to step back up. After stunning Pettis with a body kick against the cage, the young Hawaiin unloaded with a barrage of punches, sending his opponent crumpling to the canvas and forcing the referee to stop the fight.
OFFICIAL RESULTS: Max Holloway def. Anthony Pettis by TKO (strikes). Round 3, 4:50
UFC 206
|
FEATHERWEIGHT
|
Match Result
This article originally appeared on