UFC 206 Results: Kelvin Gastelum Picks Kennedy Apart For Late Finish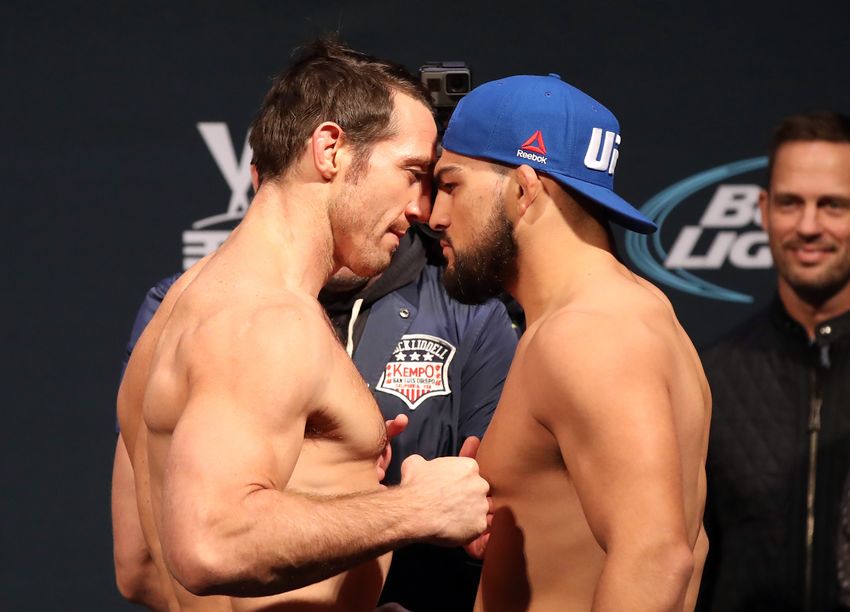 Kelvin Gastelum put a strong striking performance together against Tim Kennedy and outlasts him to a late 3rd round TKO finish.
Kelvin Gastelum is fighting at middleweight for the 3rd time in his UFC career. This comes on the heels of an embarrassing missing of weight at UFC 205 against Donald Cerrone. Gastelum never showed up to the weigh-ins and the fight was cancelled, forcing both him and Donald to be rescheduled to this card against different opponents.
Gastelum defeated Johny Hendricks in his last outing at UFC 200, out striking and working the former welterweight champion. Gastelum will look to put those weight troubles behind him and remind every one of how dangerous he is by spoiling the return of Tim Kennedy.
Tim Kennedy is making his long-awaited return to the octagon after an over 2 year hiatus. Kennedy was defeated controversially by Yoel Romero in his last outing in September 2014, but was on a 4 fight win streak prior to that, including a victory over current champion Michael Bisping. There have been many questions asked about if this long layoff will affect Kennedy, and those questions will finally be answered tonight against Kelvin Gastelum.
Want your voice heard? Join the Cage Pages team!
The first round began with Kennedy staying at a distance with kicks. After a short while, Kennedy began overpowering Gastelum, throwing him around and taking the back. Gastelum just looked desperate to less than 2 minutes into fight. Kennedy then started awkwardly throwing knees to the ass of Gastelum for a solid minute and a half. Once Kelvin broke free he instantly hit Kennedy with a strong punch and started to swing momentum in his favor. The round ended with Kennedy getting cracked big time and wobbling to his corner.
Gastelum came out firing in the second round but Kennedy instantly pushed him right back to the cage. Kelvin was able to spin and put Kennedy on his back and in trouble on the ground. Kennedy's frustration became evident on the ground. On the separation from the clinch, Gastelum proceeded to light up Kennedy on the feet and Kennedy looked very tired while Kelvin on the other hand looked very fresh.
A brief takedown from Kennedy led to a reversal from Gastelum and dominant position for him. Round two went completely in Gastelum's favor and looked much fresher heading into the crucial third round.
Third round had Gastelum teeing off on Kennedy from the get go, Kennedy wobbled all over the ring and the referee jumped into to stop the action. This was a much needed win for Kelvin.
This article originally appeared on