UFC 206: Holloway and Pettis Looking for Definite Title Shot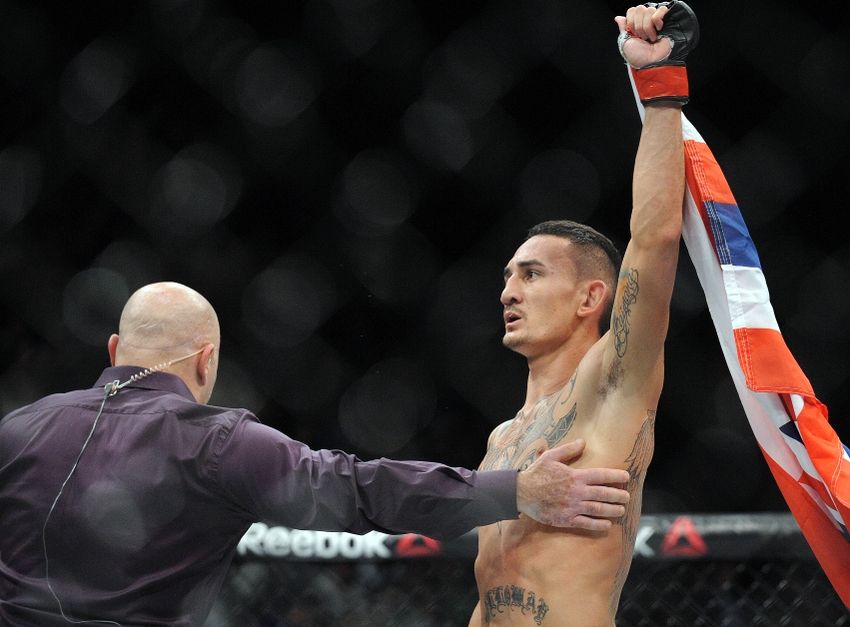 An interim featherweight title fight between Max Holloway and Anthony Pettis will now serve as the new main event for UFC 206 next week in Toronto.
The UFC was forced to scramble to find a new main event when Daniel Cormier was forced out of his rematch with Anthony Johnson after suffering an injury.
Holloway (16-3) is riding a nine fight win streak and has been scorching the opposition since his last loss to the former featherweight champion, Conor McGregor, which includes victories over perennial contenders Cub Swanson, Jeremy Stephens, and Ricardo Lamas.
"It's just another fight man. I thought we would get bumped up to the main event anyways, do two extra rounds, now one of us gets to walk away with a shiny belt.  You got to be ready for opportunities like this all the time, especially lately with the way UFC stuff has been happening, all kinds of crazy stuff happening," said Holloway on a media conference call.
The winner of the Holloway vs. Pettis bout will go on to face Jose Aldo in a title unification fight at a future date.
"It means we're getting a definite shot at the official title of 145-pounds and title shots don't come often in this sport. This is a fight for both of us to guarantee ourselves a shot at the 145lb title division," said Pettis.
Conor McGregor was forced to vacate his featherweight title after becoming the first UFC fighter to hold two championships at the same time. McGregor has yet to comment on why he is no longer the featherweight champion, but former champion Jose Aldo, who beat Frankie Edgar at UFC 200 to claim an interim title, has now been restored as the regular champion.
So McGregor knocks out Aldo to become champion, Aldo proceeds to beat Frankie Edgar in his next bout to claim an interim championship and then is reallocated as the regular champion after McGregor never defends it. Are you keeping up?
Want your voice heard? Join the Cage Pages team!
To make things even more complicated, Pettis (19-5) is getting a "title shot" after exactly one fight as a featherweight.
Pettis is a former UFC and WEC lightweight champion who moved down a weight class after suffering three consecutive losses. The first was for the lightweight title against former champion Rafael dos Anjos, followed by subsequent losses to Eddie Alvarez and Edson Barboza.
"I'm in this sport to be a champion, I challenged myself at 145-pounds. I have some work down here, but I have some fights I need to avenge at 155," said Pettis on the possibility of eventually moving back up to lightweight.
Alvarez would go on to beat dos Anjos for the lightweight title, before falling to McGregor at UFC 205 in Madison Square Garden earlier this month.
Both fighters have had previously scheduled fights against Aldo fall through because of different circumstances and look forward to finally facing the former long-reigning champion.
"We'll see what happens. He got diagnosed with that p***yitis that he's been having lately. I got a tough task in front of me and I have my hands full with Anthony Pettis on December 10 and that's all I'm focused on.  Then we can worry when Jose Aldo wants this shot," said Holloway.
Pettis seems to give the former champion a little more respect than Holloway.
"For me, Jose Aldo is still Jose Aldo, man. Everybody loses. Even the greatest lose sometimes. Even after 13 seconds, what he did with Conor McGregor, he still has the history that he had. He was a dominant champ for a long time. It's not like all of a sudden he sucks because he got knocked out by Conor McGregor."
UFC 206 will take place on December 10 at the Air Canada Centre in Toronto, Ontario, Canada. Also on the card, Cowboy Cerrone fights Matt Brown, Tim Kennedy returns against Kelvin Gastelum, and Doo Ho Choi takes on Cub Swanson.
This article originally appeared on