UFC 206: Anthony Pettis Misses Weight by Three Pounds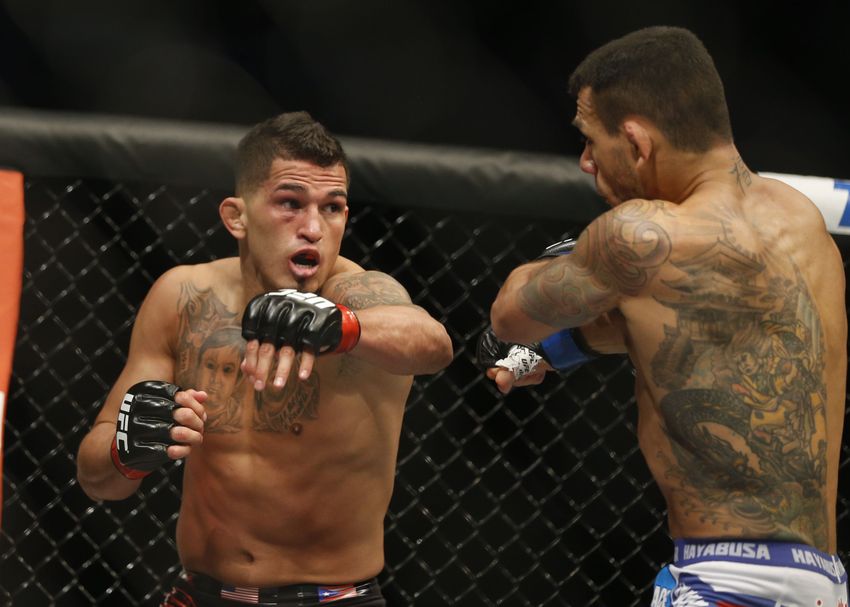 Just when we thought UFC 206 was done taking hits we got another one at the very last second.
UFC featherweight contender Anthony Pettis missed weight on Friday in Toronto coming in at 148-pounds, three pounds over the 145-pound limit.
Dana White told ESPN.com that Pettis will no longer be eligible for the interim belt should he win on Saturday. White also said Pettis will be fined 20-percent of his purse.
White told TSN SportsCentre that Pettis' age and size were the main factors for missing weight.
"I'm not happy about it, but listen, it happens. Believe me when I tell you, Anthony Pettis wanted to make weight. He's been working for months for this day. He came in, when he landed here in Toronto, he was 10 pounds (over), so he should've made weight. What that tells you is that he's too old and he's too big to make that weight, in my opinion. So we'll see where we go from here."
His opponent, Max Holloway, came in at 145-pounds which means he will be the interim champion if he is victorious against Pettis.
Pettis is the first fighter to miss weight for a UFC title bout since UFC 67 when Travis Lutter missed weight by 1.5-pounds. His fight against then-middleweight champion Anderson Silva was changed to a non-title fight and shortened to three rounds.
Pettis stormed off the scale after his weight was announced and will not have another chance to make the weight.
Training camp for Pettis has been anything but normal. On October 27, three vehicles parked outside of Pettis' home in Milwaukee, Wisconsin, were set ablaze, destroying all three cars. Less than two months later he was targeted again. This time two men were only able to take personal property from a white Range Rover that was parked in the driveway before getting away. One arrest was made in connection with the attacks.
Holloway, meanwhile, took to twitter to talk about Pettis missing weight.
1/2 like i said before we professionals and our first job is to make weight. This isn't about just me and my team it's about the fans

— Max Holloway (@BlessedMMA) December 9, 2016
2/2 it's about the 6 it's about the employs of the @ufc its Everyone. Entire sport takes a hit because of this.

— Max Holloway (@BlessedMMA) December 9, 2016
3lbs is a lot to miss but the guy was trying and I respect that. At the end of the day it is what it is.

— Max Holloway (@BlessedMMA) December 9, 2016
It sucks it happened this way but I am glad that we still get to fight for everyone tomorrow night

— Max Holloway (@BlessedMMA) December 9, 2016
Pettis vs. Holloway was set to be the co-main event for UFC 206 but was bumped up to the main event once UFC Light Heavyweight Champion Daniel Cormier withdrew from his fight against Anthony Johnson due to injury.
The UFC then stripped Conor McGregor of the featherweight title, made Jose Aldo the outright champion, and the fight between Pettis and Holloway became an interim title bout.
Rustam Khabilov and Valerie Letourneau also missed weight on Friday morning.
More from Cage Pages
This article originally appeared on