UFC 206: A Barbaric Battle Sees Swanson Overcome Choi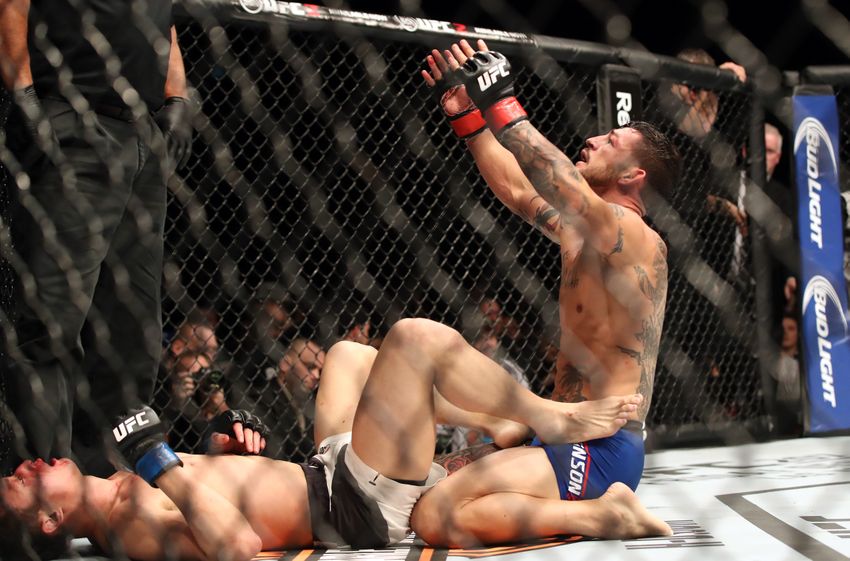 The unofficial main event of UFC 206 certainly lived up to the hype as Cub Swanson and Doo Ho Choi went to hell and back in what was undoubtedly a FOTY candidate.
Walking out to the Superman theme song, Doo Ho Choi looked like a mesmerized child in a candy shop last night at UFC 206, a polar opposite to the extremely focused and intense Cub Swanson. If anyone had questions about the durability of the 'Korean Superboy' they have certainly been answered.
We knew about the styles of both men coming into this highly anticipated featherweight match-up. Choi had put away all three previous UFC opponents in the first round, by similar fashion. Using a high volume of feints and jabs to eventually unleash the deadly precise right straight, Choi had made his fights look like a walk in the park.
As Joe Rogan said best about Cub Swanson last night, "if you saw him fighting in a silhouette, you'd say ah, that's Cub Swanson." The featherweight veteran truly has an unusual set of striking skills, which is why everyone was so intrigued to see how he'd fair against the traditional striking of Choi.
Right away, Choi utilized a high output of his trademark feints, keeping Cub on his toes apprehensive for his left jab right straight. Meanwhile, the creative striker Swanson showed off some good right hands and flashy kicks of his own. All in all, the first round was the quiet before the storm.
After some advice from his long-time coach Greg Jackson, "this kid can't fight backing up" Swanson begun to transform into 'Killer' Cub.
Now pushing the pace, Swanson unloaded a barrage of punches on Choi, this is when we first saw the outstanding chin of the Korean. Biting down on his mouthpiece, his traditional boxing went out the window and he fired back with punches of his own.
In the latter of the second round, the fight was starting to fall into the reckless Swanson's favor. From a cartwheel kick to a spinning back fist, it was the overhand right that continued to land cleanly on Choi's jaw, but still, the Korean refused to go down and was just as game as Swanson was.
Want your voice heard? Join the Cage Pages team!
With both men's gas tank starting to deplete, there was no way the last round could have lived up to the previous one. But it did. Some beautiful one-twos from Choi suddenly spun the round in his favor, and it was now Swanson on the back-pedal, with Choi firing out overhand rights and upper cuts of his own!
Fuck FIGHT OF THE NIGHT this is FIGHT OF THE YEAR

— Dana White (@danawhite) December 11, 2016
Finishing the final round strong, 'Killer' Cub continued to mix up his punches with his right hand. Overhand, uppercut, superman punch. Choi stumbled to the ground and managed to survive the last ten seconds. Fighting gratification at its purest. It was Swanson who would prevail the victor.
Of course, it's important to embrace the fine display of fighting Choi and Swanson just put on, but it's hard not to look at what's next for both men. Many who wrote Swanson off after his loss to Holloway, have well and truly been silenced. Three wins straight, nothing else apart from a re-match with Frankie Edgar or Ricardo Lamas really makes sense at this point.
As much as Choi was disappointed with his loss, his credentials certainly go up with not only the fans but also UFC president Dana White. Any top ten featherweight makes sense for Choi now he has proved he can stand with one of the best in Swanson. One thing is for sure, after a war like that the 'Korean Superboy' can only come back stronger.
This article originally appeared on