UFC 205: What time does Conor McGregor fight?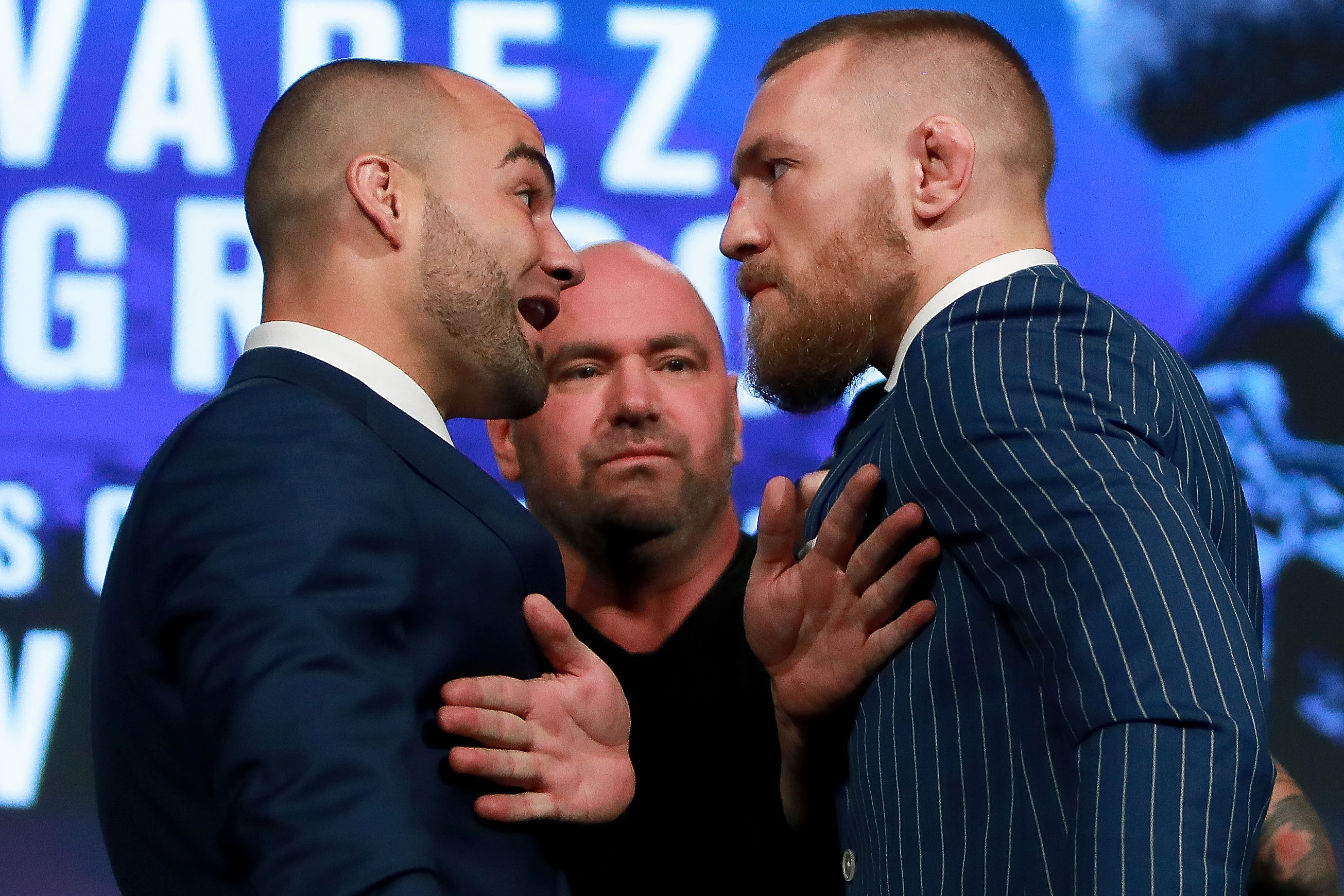 UFC 205 is the biggest fight card in MMA history, but everyone wants to know what time Conor McGregor will fight Eddie Alvarez in the main event.
It took 20 years for the UFC to legalize professional MMA in New York, but now that they have, they want to put on a show. UFC 205 is absolutely stacked with tremendous fights from top to bottom, and if it lives up to the hype, it should be the greatest event of all-time.
Even though every fight on the main card is headline caliber, the main event between Conor McGregor and Eddie Alvarez is a historic one. It's the first fight between two champions since Georges St-Pierre fought BJ Penn at UFC 94. And if McGregor wins, he'll become the first person ever to hold two UFC belts simultaneously. Even though Dana White told him he would have to vacate one belt, hardly anyone believes that will happen.
UFC 205 is also the first card to have three title fights on it since UFC 33. While the pay-per-view cut off during the main event that time, they're prepared for this to be a long night. The UFC will typically have their pay-per-views go until 1 am Eastern, but they've bought enough time for this one to go until 2:30 am, at the latest.
As crazy as that sounds, it's not out of the realm of possibility. The last card that was this hyped was UFC 200, and the main event for it didn't start until roughly 1 am. That's because, from the start of the prelims onward, only two bouts didn't go to a decision, with the main event being one of them, and there was a slew of advertisements in between each fight.
And as great as every fight on this card is, when you have this many 50-50 matchups, it usually results in lots of decisions. That's not always a bad thing — decisions can be sometimes be tremendous action fights. But it's easy to think that lots of people will be fighting not to lose rather than to win.
UFC 205 is set to be a longer night than 200. Losing Donald Cerrone vs. Kelvin Gastelum means there's only five fights on the main card instead of six, but there's still three title fights. And the two title fights before the main event could go the full 25 minutes.
That being said, the safest bet for McGregor vs. Alvarez to start would be 1 am EST, and no earlier than 12:30. For anyone in Ireland that didn't make the trip to New York, that would mean anywhere from 5:30-6 am. It's no wonder why they're the most dedicated fans in the world.
But anyone who watches UFC regularly is used to staying up late hours. If the card is great, it's a truly rewarding experience, which is why everyone is hoping that UFC 205 will deliver.
More from FanSided
This article originally appeared on