UFC 205 Weidman vs. Romero In Focus: Stakes Have Risen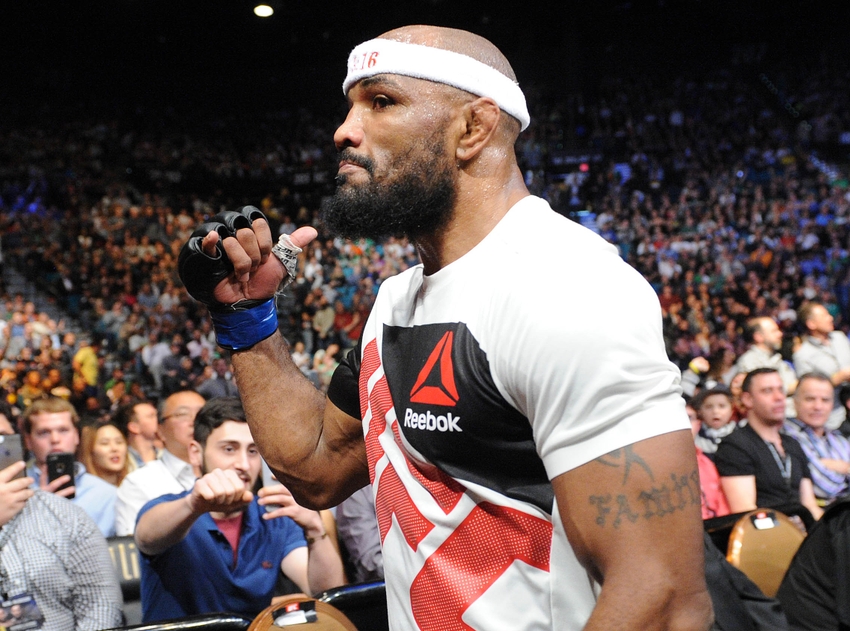 Before the title fights of UFC 205 kick into fruition, two middleweights in the upper echelon of the middleweight division return after lengthy lay-offs.
After suffering the first loss of his career to Luke Rockhold at UFC 194, the road has been a bit bumpy for Chris Weidman. Suffering from a hernia on his spinal disc forced him out a rematch at UFC 199 with Rockhold. While Weidman underwent neck surgery, much to his dismay, Michael Bisping was crowned the new UFC middleweight champion.
Like Weidman, Yoel Romero has not fought since UFC 194, but for a completely different reason. Although he beat Jacare Souza that night, Romero was popped by USADA for a potential doping violation.
Romero was unaware of the substance he tested positive for, and after much confusion, it was revealed the supplement was tainted. Nevertheless, Romero returns from almost a year layoff against yet another elite middleweight.
The Pressure of Weidman
A two-time junior college All-American, and a BJJ black belt under Matt Serra and Renzo Gracie, it is very obvious Weidman's roots come from his ground game. However, the former champ's stand-up is a very overlooked aspect of his game, more specifically, his pressure.
Weidman loves to keep his opponents on the back foot, against the fence. It is the main determiner to why he excels on the feet just as much as he does on the ground. Through lots of feints and level changes, as soon as Weidman gets the reaction from his opponent, he instantly covers the distance created by their back step.
Once he has gets his opponent against the fence, Weidman's main goal is to keep them there. Mimicking his opponent's movement to cut off the cage, he will use kicks or hooks depending on what way his opponent tries to circle out, so he can stay square on with them and continue to land strikes.
Although this forward pressure has worked well for Weidman before, it could potentially be a very risky style to play against Romero. In the Cuban's last fight against Jacare Souza, we saw that even if Romero is backpedalling, he can still easily land a big shot to put his opponent down.
The Explosiveness of Romero
'A volume puncher' is not a term that fits with Yoel Romero. Due to his large and muscled physique, he cannot afford to throw a high output of strikes as he will tire.  So instead he will stay relaxed, and light on his feet to conserve energy, until he darts in to close the distance and explodes with a big shot. Due to his southpaw stance, Romero favours the big left hand as he darts forward, or he may use it as a disguise to set up the right uppercut/overhand.
The fundamentals of Romero's game come from his wrestling. A silver medalist in freestyle wrestling at the 2000 Olympic Games, you could make the argument Romero is the not just the best wrestler in his weight class, but the whole UFC.
Want your voice heard? Join the Cage Pages team!
In the clinch, Romero is a bully. He manhandles his opponents with ease as they struggle to cope with his sheer size and power. This leads to some of Romero's most notable takedowns, the inside and outside trips. Even if Weidman uses his footwork to keep Romero on the outside, the explosiveness of the Cuban will allow him to cover this distance and get into the clinch where he can land these trips.
Romero's double leg is undoubtedly his most impressive takedown. When he drives into it with his whole body weight, and latches around his opponent's thighs, the chances are he's going for a ride. Due to this, it will be interesting to see if Weidman presses forward as much as he usually does, because it would be an invitation to a trademark Romero double leg.
Now that the Jacare vs Rockhold fight is off due to Rockhold being injured, the stakes are ever so much more raised in this fight. Although Jacare is demanding a title shot, a convincing win for either Weidman or Romero would certainly set up a better claim for a fight against current champion Michael Bisping.
This article originally appeared on