UFC 205 results and highlights: Tate vs Pennington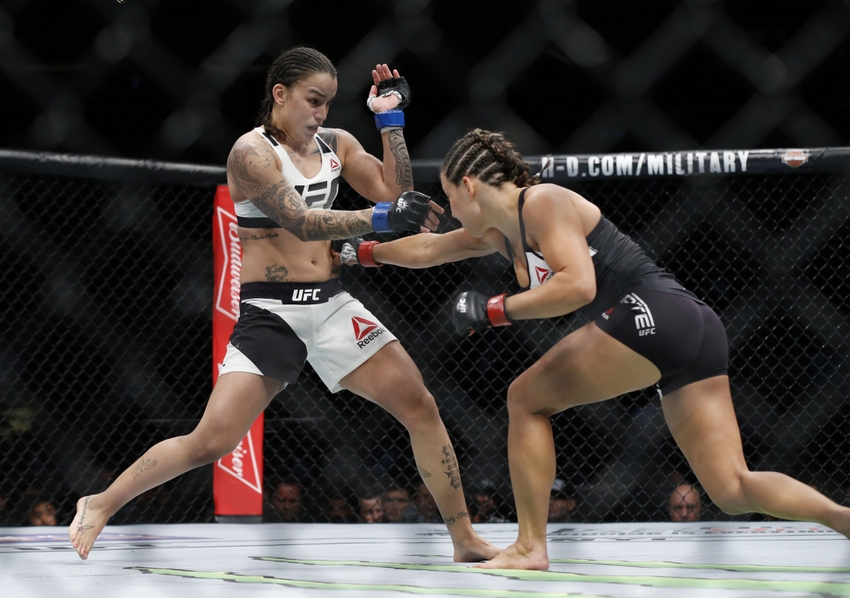 Miesha Tate looks to add to her decorated career, while Pennington looks to extend a three-fight win streak.
Former champion and perennial contender Miesha Tate looks to make a statement for another title fight in the bantamweight division. Raquel Pennington is looking to state her case for vertical movement in the division after a three-fight winning streak. Who will come out on top? Let's get to the fight!
Round 1: Pennington takes the center of the octagon early and begins working the jab, busting up Tate's nose. Tate is trying to go in for a shoot, and gets caught in a guillotine choke
Pennington has it in tight! Miesha is in real trouble, trying to walk backwards up the fence to relieve the pressure. Tate breaks free, and she finally gets the takedown, grinding Pennington up against the cage. Pennington is back to her feet. Both fighters are standing but Miesha has one hook in and she's hanging on to Pennington, making her carry all her weight. They drop with Pennington falling in Tate's guard just as the horn sounds.
FanSided scores the round 10-9, Pennington.
WHOA @RockyPMMA has the tight choke but @MieshaTate gets out of it! #UFC205 #UFCNYC https://t.co/8CrqoY5f8o

— #UFC205 (@ufc) November 13, 2016
Round 2: Big right and left from Raquel. They tie up against the cage, trading knees. Miesha is throwing knees at Raquel's head but not connecting. Pennington gets Miesha's back, as the two continue tied up against the cage. Pennington has Tate tied up back first against the cage now. A lot of foot grappling and trip attempts happening here as the action grinds to a halt. It's clear that Tate wants no part of Pennington's striking ability and rather hold the action against the cage. Seconds left, and the two break off to throw some bombs, with Tate connecting with one of her best punches of the fight.
FanSided scores the round 10-9, Pennington.
Round 3: Tate immediately jumps onto Pennington, trying to pull guard. They drop to the ground, and Tate begins trying to work in the armbar. Pennington back to working a possible guillotine choke. They fall to the mat, and Tate tries for a heel hook. It's strange that Pennington continues to engage Tate on the ground when she is so dominate in the striking department. Pennington is grinding Tate against the cage now, landing shots to the thighs and head. Pennington is outstriking Tate in every position, and now she scores a takedown falling into Tate's guard. Pennington unleashes a torrent of hammer fists and punches in the final seconds of the round, putting a stamp on an outstanding performance.
FanSided scores the round 10-9, Pennington.
Pennington wins by unanimous decision: 30-27, 30-27, 29-28
In the aftermath, Tate retires from the sport of mixed martial arts. She says that her lackluster performance led to her decision to retire.
This article originally appeared on