UFC 205 results and highlights: Nurmagomedov vs. Johnson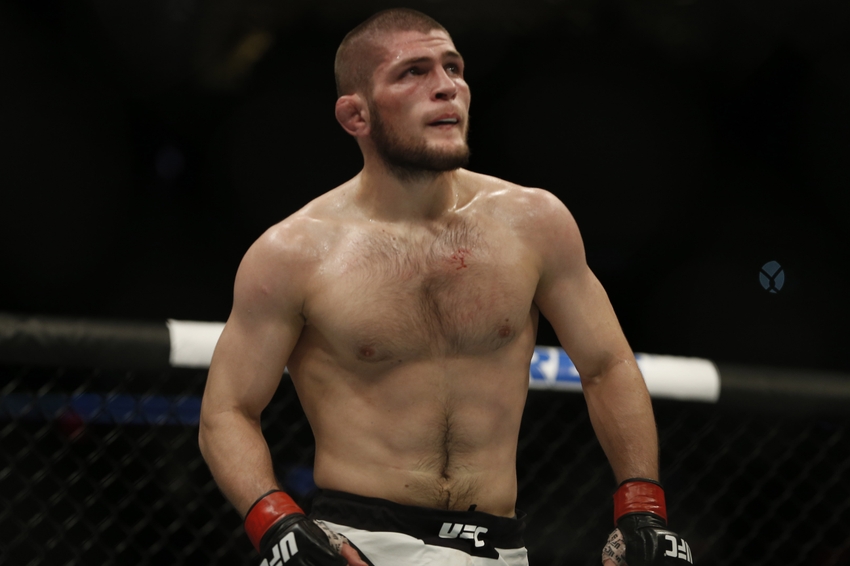 Here is how the UFC 205 lightweight contest between Khabib Nurmagomedov and Michael Johnson played out.
Before Conor McGregor and Eddie Alvarez even took to the cage for the main event at UFC 205 in Madison Square Garden, there were many fans and experts who had already allowed their mind to drift to who might be next in line for a shot at the lightweight belt.
After an impressive win over Rafael Dos Anjos just one week ago, Tony Ferguson has very valid claims to be the man deserving of that shot, but a win in New York could have seen Khabib Nurmagomedov fly past him, or maybe even make Michael Johnson worthy of consideration.
Nurmagomedov was once a candidate to headline this event against Alvarez, even signing contracts for that fight before the shot became Conor McGregor's at the 11th hour. As a result, not only did the Dagestani fighter enter this contest with a record of 23-0, but he did so with all of the motivation needed to make a statement too.
For Johnson, after taking a lengthy break to recover after losing a war to Nate Diaz in December 2015, he returned to action just under two months ago with an emphatic victory over then top contender Dustin Poirier. Another impressive knockout akin to that one over Khabib would have been sure to transform Johnson's career.
Here is how the fight unfolded, round-by-round, including FanSided's scoring of the fight.
ROUND 1:
The fight opens with both men circling in the middle of the cage, attempting to establish their range. The early striking success falls the way of the underdog Michael Johnson, who demonstrates his skilled fast hands with some wild swings. As Johnson continues to swing wild, looping hooks, he catches Khabib Nurmagomedov clean. After a brief stumble from Khabib, the Russian recovers to bring Johnson to the ground. The former combat sambo champion, Nurmagomedov, gains control on the mat with a mounted crucifix, before transitioning round to half guard to land some heavy ground and pound. After a strong start, Johnson appears to be doing nothing more than attempting to hang on for the final 90 seconds. Khabib edges Johnson to the fence and proceeds to pummel Johnson's face from the back. Johnson escapes with a late scramble, but the bell just managed to save him from a first round defeat.
FanSided scores it 10-9 Nurmagomedov.
ROUND 2:
As the second round starts, both fighters return to circling each other as it's now clear how important it is for Johnson to stay on his feet. After a minute's action Nurmagomedov tries a couple of quick takedowns that are well defended by Johnson. When Khabib returns for a third attempt, Johnson attempts a guillotine choke but has to watch his opponent wriggle free and take top position. Nurmagomedov continues with a relentless onslaught of ground and pound strikes, gradually working Johnson towards the fence and making it almost impossible for him to return to his feet. As Khabib continues to unload, Johnson somehow finds a way to see out the round having taken an immeasurable amount of damage.
FanSided scores it 10-8 Nurmagomedov
ROUND 3: 
After a very brief exchange of standup, Nurmagomedov brings Johnson to the canvas again within 30 seconds of the final round. Pinned against the fence, Johnson is helpless to defend himself as Nurmagomedov continues to unload. The Russian then moves to full mount in search of an arm triangle as Johnson tries to kick off of the cage and roll his way back on top. When that failed, Nurmagomedov turned to a kimura that although Johnson tried to withstand, he was forced to tap to avoid a broken arm. A dominant win for the Russian as John McCarthy steps in.
FanSided scores it 10-9 Nurmagomedov (prior to submission)
OFFICIAL SCORE:  Khabib Nurmagomedov def. Michael Johnson by submission (30-27, 30-27, 30-27) 
UFC 205
|
LIGHTWEIGHT
|
Match Result
Michael Johnson
vs.
Khabib Nurmagomedov
QUOTES:
Khabib Nurmagomedov:
"I want to stay humble, but I have to talk because the other guys talk too much. You know what's interesting? I understand crazy power of UFC PR machine, but your guy, beginning of the year he tapped like chicken, end of the year he fight for the title. Crazy! This is true. Irish only 6 million, Russia 150 million. I want to fight your chicken because this is the number one easy fight in the lightweight division."
This article originally appeared on