UFC 205 results and highlights: Miller vs. Alves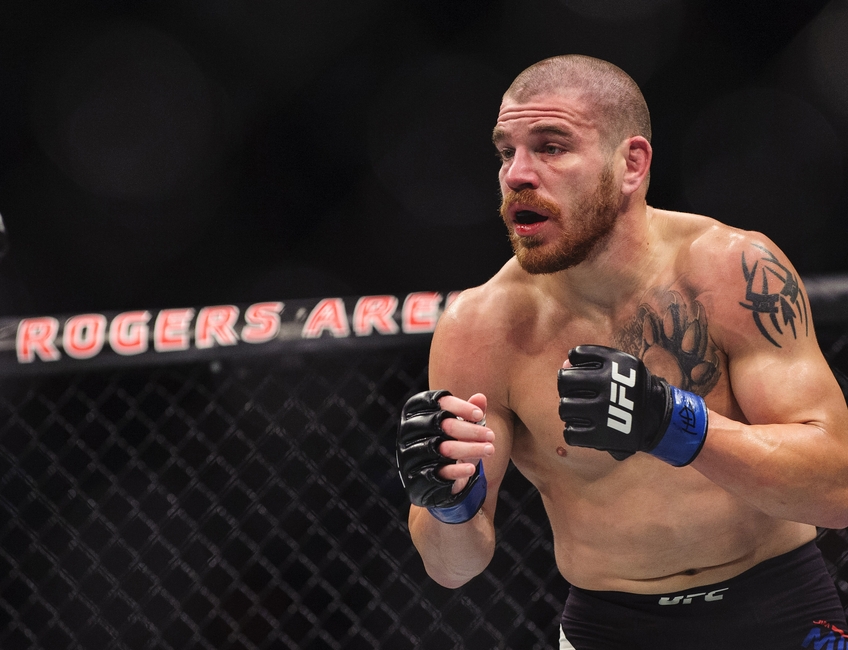 Here is how the UFC 205 catchweight bout between Jim Miller and Thiago Alves played out.
As the featured UFC Fight Pass contest on one of the most anticipated fight cards of all-time, UFC veterans Jim Miller and Thiago Alves were guaranteed to get their share of attention at UFC 205.
Unfortunately, in the days prior to the fight the pair have been in the limelight for the wrong reasons. Originally scheduled to be a lightweight contest, when Thiago Alves missed weight by just under seven pounds on Friday, Miller was also forced to miss weight to ensure that the New York commission would allow the fight to proceed at a catchweight.
Alves, who had previously struggled to hit weight for many of his UFC contests at the 170-pound welterweight mark, blamed his challenging weight cut on a recent bout of food poisoning. Considering Miller has had his own struggles with illness of late, suffering from lyme disease, he probably didn't have too much sympathy for his opponent.
Miller had bounced back from a rough spell of form with wins in his last two contests against UFC legends Takanori Gomi and Joe Lauzon, while for Alves, this fight marked his return to the Octagon for the first time since he lost to Carlos Condit in May 2015.
Here is how the fight unfolded, round-by-round, including FanSided's scoring of the fight.
ROUND 1: 
The veteran duo start the contest off with a respectful touch of gloves, before Jim Miller quickly looks to take control of the center of the Octagon. Thiago Alves catches Miller ducking his chin a little low and grazes his chin with a knee; a reminder of just how dangerous he can be. Alves catches Miller with a head kick, but the New Jersey native catches his foot on the way down to bring his opponent to the ground. Miller comfortably holds top position, but is made to work to advance position as Alves works his way to the fence. As Alves turns into half guard, he manages to explode back to his feet as Miller looks to take his back. With both men standing again, Miller continues to walk Alves down, landing a crisp kick to the body. With 20 seconds remaining both men begin to exchange before Miller drives Alves on to the cage. Octagon control likely just sees Miller edge a close round.
FanSided scores it 10-9 Miller
ROUND 2:
Miller struggles to get within range in the first minute of the second as Alves maintains distance with a diverse variety of kicks. Like he did in the first, Miller used that aggressive kicking style against the Brazilian to grab a single leg. Alves bounces back up, but it's only a matter of seconds before Miller changes levels and takes Alves back down to the mat. Miller continues to showcase his comfort on the ground, as he sits in half guard looking for any opportunity to transition for a takedown. Just as Miller works the ground and pound on Alves in the corner of the Octagon, the Brazilian manages to get back to his feet. For the second straight round, Alves tries to close with a flurry, but Miller clinches up to see out the round.
FanSided scores it 10-9 Miller
ROUND 3:
Alves starts the final round on the front foot, but Miller is happy to burst with combinations to ensure he can't get too comfortable. Alves continues to throw flurries with both his hands and legs, maintaining an impressive pace considering his weight struggles. Getting overly aggressive, Alves leaves his guard down and gets taken to the floor with yet another powerful Miller takedown. Again, Alves prevents Miller from any real joy in the half guard. The Brazilian returns to his feet showing real urgency, but turns to a high kick that allows Miller to capitalize with yet another takedown. With just over a minute to go, Miller looks for a deep guillotine that Alves just manages to slip loose from. Alves manages to get to top position to close the fight, but fails to land any meaningful blows as Miller defends well.
FanSided scores it 10-9 Miller
OFFICIAL SCORE:  Jim Miller def. Thiago Alves by unanimous decision (30-27, 29-28, 30-27) 
UFC 205
|
CATCHWEIGHT
|
Match Result
Thiago Alves
vs.
Jim Miller
QUOTES:
Jim Miller:
"I know most folks won't believe it but gaining weight is really hard. It happens, guys have bad cuts. I just wanted to step into the cage with Thiago. He's a legend of the sport, fought for the belt at [1]70s. He's a big dude, he's a lot of meat to throw around, but it was an honor to share the Octagon with him.
"I feel like I'm back to the way I was in 2008, 2009, 2010."
This article originally appeared on