UFC 205: Raquel Pennington Edges Miesha Tate, Extends Win Streak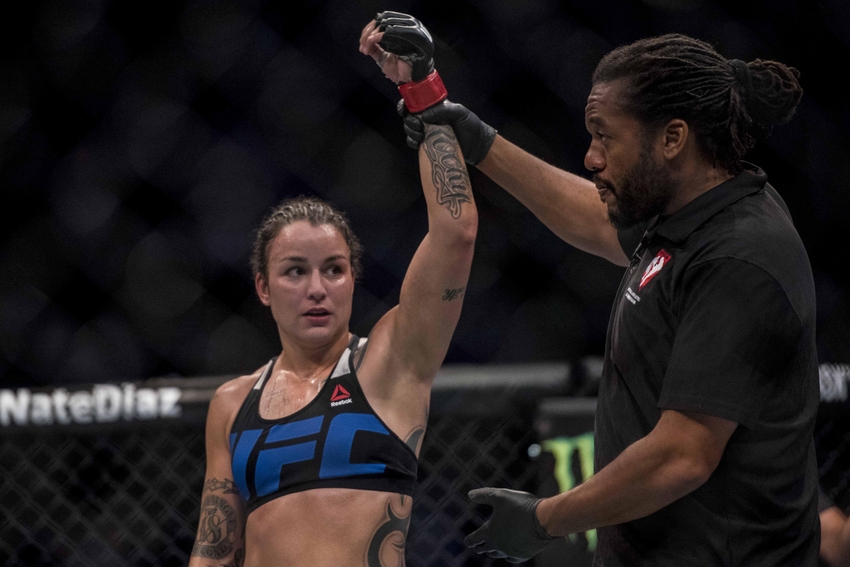 UFC bantamweight Raquel Pennington has quietly put together a 3-fight win streak. At UFC 205 she added to it in a three round showcase of striking and clinch work.
Pennington defeated former UFC champion Miesha Tate via Unanimous Decision (29-28, 30-27, 30-27) at UFC 205 on Saturday marking the biggest win of her MMA career.
Pennington is now owner of  4-fight win streak with victories over Jessica Andrade, Bethe Correia and Elizabeth Phillips.
Pennington was coached by Tate on The Ultimate Fighter Season 18 so this truly was the student surpassing the teacher.
Pennington used her striking early and often landing very solid jabs on Tate anytime the former champion attempted to get close.
Want your voice heard? Join the Cage Pages team!
Tate attempted to take the fight to the ground multiple times in the fight but was stuffed by Pennington on most of those attempts. At times Tate found herself having to defend the choke and even using the cage to do so in one of those attempts.
Tate came out firing in the third round knowing she would need to finish the fight in order to win. She pulled guard trying to get Pennington to the ground but Raquel was able to defend all of her submission attempts. The fight ended with Pennington in top position landing some massive ground and pound shots.
The constant pressure, takedown defense, and crisp striking were all key to the biggest win in Pennington's career.
Following the fight Pennington spoke with Rogan about the win and Tate as an opponent.
"To go against Miesha, I must be doing something right. She's somebody I've always looked up to," she said to Rogan.
Following the fight Miesha Tate announced her retirement ending one of the most impressive careers in women's MMA history.
This article originally appeared on