UFC 205: Other barriers for the UFC to break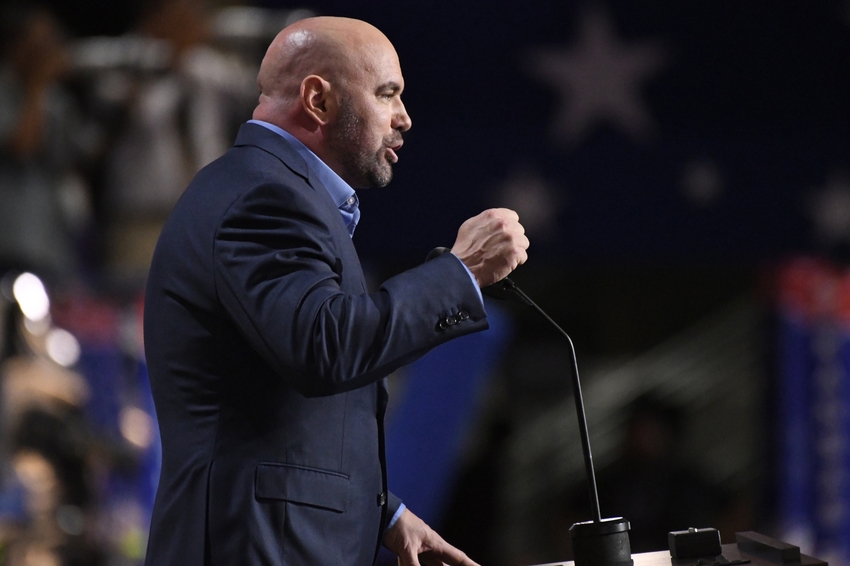 With UFC 205 marking the first time the world's most famous MMA organization will stage an event in New York City, where do they need to break through next?
After years of hard work, red tape and paperwork, Saturday night in Madison Square Garden will be a landmark day for the UFC.
With a long-running ban leaving the sport of mixed martial arts outlawed in the state of New York since the mid-1990s, the arrival of a UFC event in the Big Apple will be just the latest historic moment in a venue that has played host to countless sporting greats throughout the years.
To mark the occasion, those lucky enough to get their hands on a ticket for UFC 205 will be treated to one of the greatest cards the organization has ever hosted.
Packed with recognizable names from top to bottom, and with three title fights including a matchup between the reigning featherweight and lightweight champions, Conor McGregor and Eddie Alvarez, the focus of all UFC fans at present is on Saturday night and no further.
Once the curtain comes down at MSG, the questions will soon turn to what's next, though. Not only is that question relevant for all of those competing, but also for the UFC themselves. The war to bring their product to New York is over, but where are the other major cities that the UFC has yet to debut in?
Which destinations should be made top priority among all others, though? Let's take a closer look at six of the leading contenders.
Amsterdam
With a rich history in martial arts, most notably kickboxing, the Netherlands has long been one of the biggest international producers of elite UFC fighters. That hasn't necessarily translated to the Dutch fans getting a regular taste of live UFC action, though.
The organization only made its first trip to the country earlier this year, when a Fight Night card headlined by Alistair Overeem and Andrei Arlovski took place in Rotterdam. While that event was deemed to be a big success, the Netherlands' most famous city still remains an untapped market for the UFC.
With legislation difficulties preventing easy access for all major MMA organizations in the city, Amsterdam has yet to stage the kind of big show that the fans and fighters from that part of the world are craving to see.
Speaking to Ariel Helwani on The MMA Hour after the UFC visited Rotterdam in May, Dutch middleweight contender Gegard Mousasi explained the complications that have prevented the UFC from holding an event in Amsterdam to date.
"In Amsterdam, they're not allowed to have shows or kickboxing fights because the mayor doesn't allow it. Criminals come there…it doesn't have a good name. So, in Amsterdam, big shows aren't allowed. The only time was Glory in Amsterdam, but they had good connections, I believe. I think we showed in Rotterdam that it was a great event, a great success, and hopefully they support it for next year. Maybe, in Amsterdam."
Challenges certainly still lie ahead for the UFC in getting a deal done when it comes to logistics and red tape, but with fighters like Mousasi, Overeem, Stefan Struve and Germaine de Randamie already on the roster, the motivation to get the green light certainly shouldn't be lacking.
Beijing
Just like the rest of the world's major sport leagues, the UFC has long been believed to have their eye on establishing a firm foothold in the colossal, emerging Chinese market.
Asia on the whole has provided a host of challenges to the UFC in recent years, best highlighted by the recent cancellation of a proposed event in Manila, Philippines, but still the appeal of the Asian market is undeniable.
Prior to the sale of the organization to WME-IMG earlier this year, potential Chinese investors made a UFC event in mainland China seem closer to reality than ever before. With the Chinese territory of Macau acting as the closest the UFC has come to realizing that goal in the past, the prospect has excited Chinese fans and fighters alike.
Perhaps the most notable of those is welterweight and UFC fighter since 2014, Li Jingliang. With a 3-2 record in that time, Jingliang has continued to build his star in his homeland. As Jingliang explained to MMA Junkie earlier this year, an event in mainland China could transform the sport in his country too.
"If the UFC would come to China, it would be huge; it would help (the sport) grow so much," Jingliang said. "Right now there are maybe 20 promotions doing fights … but all the fighters want to fight in the UFC. … I think China's ready for an event. It's just a timing issue."
While Jingliang would not be close to a big enough star to carry a card on his own, there are a number of talented Asian stars who could bolster a card alongside him. Koreans like Chan Sung Jung, Dong Hyun Kim and Doo Ho Choi and Japanese fighters like Kyogi Horiguchi and Takeya Mizugaki would all boast significant appeal for an event in an Asian market, including China.
Honolulu
With a New York City card taken care of, for many the question now moves to what other parts of the United States now need to be given the chance to host their first UFC event. At the top of that list for a whole host of reason stands one obvious contender.
In the history of the organization, the state of Hawaii has never hosted a UFC event. While for certain US states or international cities that may seem like no big deal, the fact that the state is the home of B.J. Penn, one of the sport's all-time greats makes it a somewhat strange situation.
While regulations proved to be the biggest obstacle to an event in the Aloha State for a significant portion of Penn's prime, once that was no longer an issue, the financial elements of hosting an event in Hawaii became the latest stumbling block.
This isn't a new problem, as demonstrated by comments Dana White made to the Honolulu Star Bulletin back in 2008.
"We finally get some regulations and they slap this huge tax on us that's out of control, so probably never," White says. "I guess it's their way of saying 'OK, we'll sanction this, but we'll make sure nobody ever shows up and comes and does an event here."
If the cost of an event in Hawaii was ever going to be worthwhile for the UFC, it would probably be now, though.
Not only has Penn returned to the UFC, but with Hawaiians like Max Holloway, Louis Smolka, Travis Browne, Brad Tavares and Russell Doane making impressions in their own right in the organization, one of the most passionate fighting fan bases in the world now has no shortage of their own to root for.
Outside of Hawaiian natives, you could expect no shortage of stars interested in fighting there too. Nate Diaz has expressed interest in a potential fight in Hawaii, and with star power of that ilk, a sell-out in the 50,000 capacity Aloha Stadium could be in play.
Moscow
With a combination of star talent similar to those who have come out of the Netherlands, and a market size that can only be bettered by the likes of China and India internationally, it makes perfect sense for the UFC to hold an event in Russia in the near future.
Speaking in August on the UFC's Unfiltered Podcast, UFC president Dana White revealed that making that a reality remains at the top of the organization's priority list when it comes to international expansion. A big reason for that motivation must come in the fact that they already have a proven contender who could be a star in that market on the roster too.
"Khabib [Nurmagomedov] has been blowing me up. I haven't really given Khabib any information, but obviously Khabib in Russia wouldn't be a bad idea," White said. "So we're talking about going into Russia possibly with Khabib."
Nurmagomedov, who fights Michael Johnson on the prelims at UFC 205, was once a likely candidate for a main event lightweight title fight with Eddie Alvarez on Saturday. In the aftermath of missing out on that fight, he now becomes a central figure in the organization's future in his homeland.
Khabib could drive a UFC card to exceptional heights in Russia, but that's also leaving him in a position where he can work towards leveraging that influence over the powers that be too. As he recently stated on The Luke Thomas Show.
"UFC thinks Conor has power? Ireland only has like 6 million people. I am from Russia, 150 million people. If UFC don't give me the title fight after this fight, I'm going to show how I have power in Russia and I know if I don't fight for the title next fight, UFC will never ever go to Russia."
If Nurmagomedov does get his wish and helps to pave a path for the UFC to come to Russia, a card including him and fighters like Ruslan Magomedov, Albert Tumenov, Rustam Khabilov, Rashid Magomedov and Ali Bagautinov would be guaranteed to thrill the local fans and those watching elsewhere around the world.
Rome
One of a number of major European cities to never have hosted an event, the Eternal City would seem like a perfect fit for the UFC. Although a lack of native stars over the years has potentially given the organization pause for thought on hosting events in Italy, the historical backdrop that Rome could provide creates its own stories.
The home of the Coliseum and the gladiators of yesteryear would seem like a natural narrative fit to host the Octagon and some of the warriors of modern-day sport.
With the Italian heritage of the previous owners Frank and Lorenzo Fertita, the organization has certainly explored making a mark in Italy in the past. If Rome wasn't to work out, Milan is another high-profile candidate, and one where Lorenzo Fertita notably looked into holding an event in previously.
Although there's still a lack of household names that would energize the local market, UFC 202 saw the emergence of a young contender, Marvin Vettori, who could help to tap into those domestic interests. After submitting Alberto Perreira in the first round in his debut on that night, the 23-year-old spoke about embracing the attention that he can draw from home.
"It's awesome," Vettori said. "You have to let this good energy (take you) toward where you want to be, and not feel like it's pressure. But just like good energy, to pump you, to get you in the right mindset once you step in. That's how it was. I'm happy to have a whole country behind me."
If Vettori can impress with another win at UFC 207 against Antonio Carlos Jr., it would seem likely that the UFC's interest in going to Italy could be revitalized again.
Paris
Much like Italy, it's strange to think that as one of the most influential countries in not just Europe, but the world, France still hasn't hosted a UFC event. Unlike Italy and many of the other destinations on this list, the path to the UFC breaking through into this market could prove to be much more troublesome, though.
While it's only a little over a year since the first ever MMA contest using a cage and unified rules was held in the country, the outlook for MMA in France has grown considerably bleaker in the time since.
With new regulations introduced by the French Sports Ministry in October, MMA no longer seems like a plausible option in the country. The new rules place a ban on ground and pound, elbows and the fights taking place in a cage, leaving the remnants of something that wouldn't come close to resembling the UFC.
The CFMMA president Bertrand Amoussou, head of France's MMA federation, reacted to the news stating his intention to appeal.
"The Ministry takes us for idiots," Amoussou told L'Express. "All countries have recognized MMA in Europe, except France and Norway. … I hoped it would not come to this but the CFMMA will launch a legal action to contest this decree."
What's unfortunate about this latest twist for the future of MMA in France, is that it comes at a time where it appears as if there may be a rising star who the country's fans could have united and rallied around.
Although born in Cameroon, heavyweight up-and-comer Francis Ngannou grew up and regularly trains out of Paris and has been on a knockout tear since arriving in the UFC last December.
With New York resolved, Paris may stand as one of the biggest challenges left for the UFC in terms of battling red tape and bureaucracy. If Ngannou can continue to impress, perhaps he could be the man to help make a fight in the fashion capital of the world a reality.
This article originally appeared on