UFC 205: Khabib Nurmagomedov's Title Quest Might Get Overlooked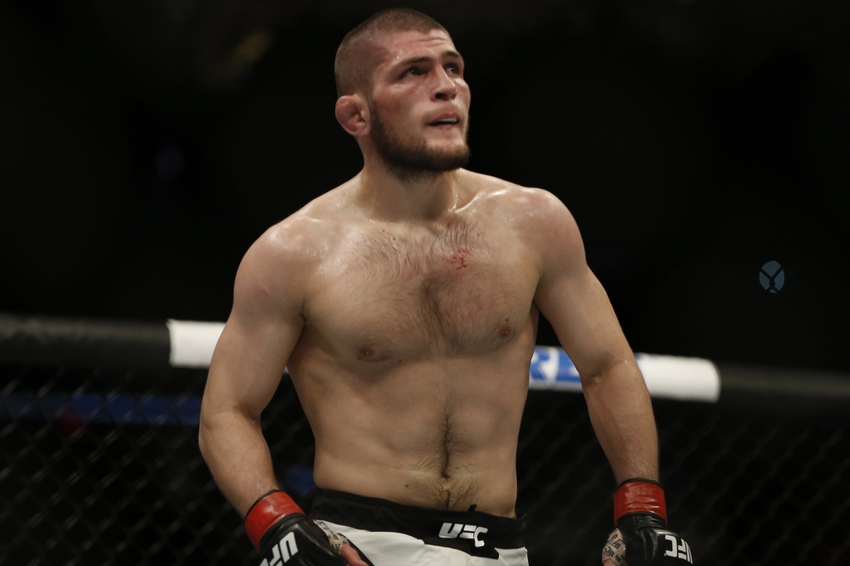 On the prelims of UFC 205, Khabib Nurmagomedov will look to stake his claim as the number-one lightweight contender, and not many are taking notice.
When a fight card is immensely stacked like UFC 205 is, there are bound to be some matchups that flow below the radar and this card is no exception and Khabib Nurmagomedov's elusive title shot might get overlooked with many exciting fights on the stellar card.
The historic card has so many thrilling fights that could go either way and one that seems to be threading under light water is the lightweight contest between Khabib Nurmagomedov (23-0), ranked the number two lightweight by Cage Pages, going for his eighth straight Octagon victory against the sixth-ranked Michael Johnson (17-10), who is coming off a spectacular knockout of Dustin Poirier in the first round in Hidalgo, Texas, in September.
That was Johnson's first fight in 2016 after two straight losses to Beneil Dariush and Nate Diaz in 2015. Johnson had shoulder surgery earlier this year.
Nurmagomedov has been angling for a title shot since his return after suffering various injuries the last few years that have caused him to pull out of big fights with the likes of Cowboy Cerrone and Tony Ferguson, amongst others.
Nurmagomedov and his camp have been vocal about their displeasure with the UFC, who they feel used Nurmagomedov as a bargaining chip against Conor McGregor.  Nurmagomedov has claimed he signed bout agreements to face Eddie Alvarez for the lightweight championship at UFC 205 and UFC 206, but then McGregor was unexpectedly booked to fight Alvarez in the main event of the historic card in New York.
Johnson himself has said he feels Nurmagomedov may be overlooking him in his quest for a title shot but is ready to make a statement of his own and go after "money" fights.
Want your voice heard? Join the Cage Pages team!
Further complicating matters is the fact that Ferguson himself just defeated the former champion, Rafael dos Anjos, this past weekend.  Ferguson is also riding a nine-fight winning streak, which includes a win over another contender in the division, Edson Barboza, and is jousting for a title shot of his own.
Nurmagomedov has strongly declared he will no longer fight in the UFC if he is not granted the next title shot if he goes on to beat Johnson.
Both Ferguson and Nurmagomedov have strong cases for being named the number one contender and next in line for the title fight, but many believe, including Dana White, that Nurmagomedov's inactivity in recent years, even due to injury, might hinder his chances of gaining that elusive title fight.
Much will be cleared after the dust settles this weekend in one of the strongest divisions in the promotion, but one cannot envy the numerous possibilities facing matchmakers.
Things can get even more compelling if McGregor goes on to defeat Alvarez and claim his second championship.  Does he vacate the featherweight title which he hasn't defended since his stunning knockout of Jose Aldo last December?  Does Alvarez get an immediate rematch?
I can sympathize with Nurmagomedov's situation and understand why he would feel deserving of the opportunity to fight next for the title, and though the injuries he has sustained have been out of his control, I can't see him overcoming Ferguson's recent dominance and activity.
Maybe a fight between Nurmagomedov and Ferguson will be the only way this can be resolved… and that is a clash no fight fan would oppose to seeing come to fruition.
This article originally appeared on