UFC 205: Khabib Mauls Johnson, Remains Undefeated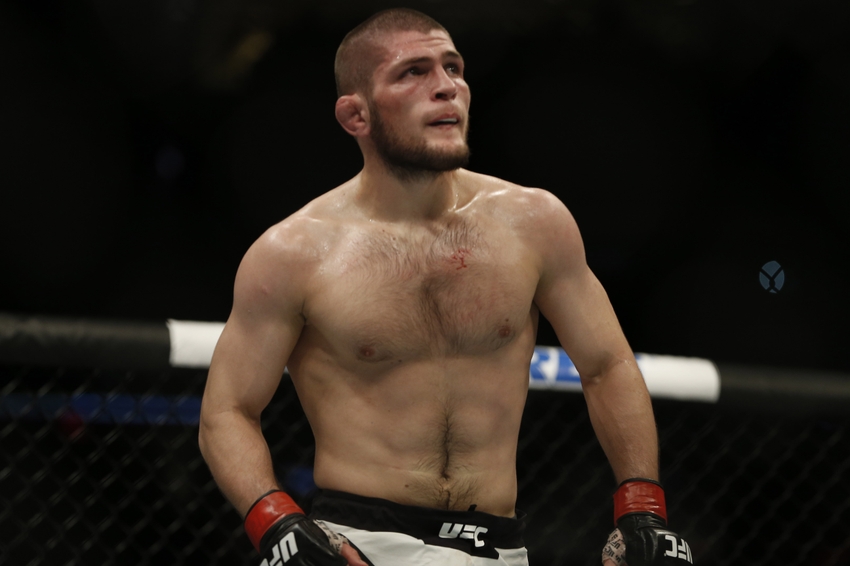 If fans were wondering which version of UFC lightweight Khabib Nurmagomedov was going to show in New York, they know now. 'The Eagle' remains as dominant as ever.
In a possible title challenger bout Nurmagomedov defeated #6 ranked lightweight Michael Johnson via submission (kimura) at UFC 205 on Saturday to remain undefeated and stake his claim to a title shot.
Nurmagomedov last fought in April where he defeated Darrell Horcher via 2nd round TKO. Before that he had been out for two years due to injuries which put his future as a title challenger in question.
Johnson came into this fight after defeating Dustin Poirier via KO in what was one of the most important wins of his career.
The fight began with Johnson reaching with his strikes trying to stay away from any takedown attempts that Nurmagomedov was planning. He even hurt him momentarily before the Russian shot in for a takedown, took the fight to the ground, and dominated Johnson landing some devastating ground and pound.
Want your voice heard? Join the Cage Pages team!
The last two rounds were more of the same with Nurmagomedov using his takedowns and wrestling to get to dominant positions and pinning one arm or the other leaving an entire side of Johnson's wide open for shots.
In the third, Nurmagomedov was able to get to mount multiple times landing hammer fists and straight punches. Finally he got a hold of a kimura lock on Johnson forcing him to tap.
Nurmagomedov is normally a quiet guy in post-fight interviews but he's been paying attention to the biggest names in the UFC and he took the promotion and one fighter in particular to task.
"I wanna say something. I want to stay humble. But I have to talk because the other guys talk too much. I understand how crazy power UFC PR machine," he said to Joe Rogan.
Nurmagomedov then went on to talk about Conor McGregor's loss to Nate Diaz at UFC 196 where he tapped. Khabib mentioned that McGregor tapped quickly and then got a title shot.
This win gets Nurmagomedov to 24-0, a fact that he made sure the crowd heard, and he made it clear that he feels he deserves a title shot.
Amid the boos he asked Rogan if he thought Nurmagomedov deserved a title shot to which the commentator agreed. He ended the interview in style.
"I want to fight your chicken."
It's difficult to deny 'The Eagle' a title shot since most of his wins are in dominant fashion.
The loss takes Johnson to 1-3 in his last four fights and likely back to the drawing board if he's looking to contend for the title anytime soon.
This article originally appeared on